Alumni Takeover Weekend
Come back to campus July 21st - 23rd to relive your college days!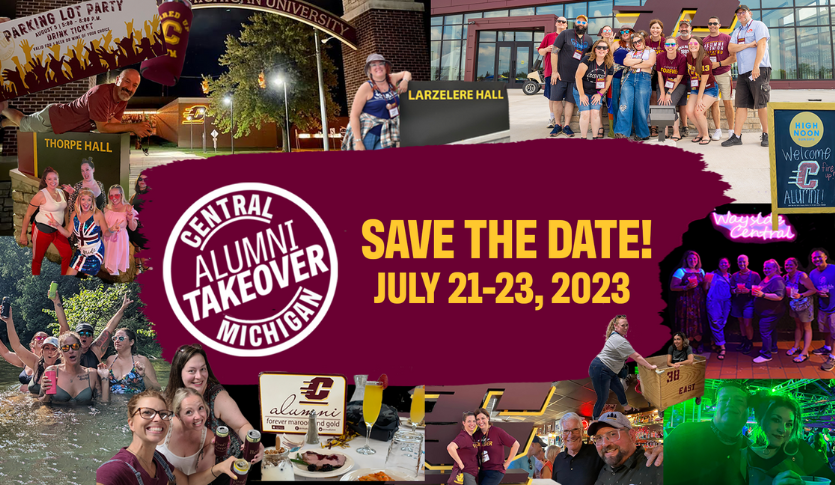 Watch the 90-second Alumni Takeover Weekend recap reel below.
Alumni Takeover Weekend 2023
Daily activities
Click the '+' to see the schedule for each day of the Takeover Weekend.
**Activities are subject to change without notice.

Friday, July 21
Noon | Residence Hall Check-in

4:00 - 8:00 p.m. | Parking Lot Party
Grab your tailgate supplies, wear your CMU gear, and some special surprises! This event kicks off the weekend; you don't want to miss it!

7:00 - 9:00 p.m. | LGBTQIA+ and Ally Wine and Cocktail Social
This event is hosted by Alumnus Bill O'Dell, on July 21, from 7:00 - 9:00 pm at 510 S. University Ave., between campus and downtown at a private residence. We will meet/greet and discuss how we can best support our Alma Mater, Alumni, and each other. Wine, cocktails, and non-alcoholic beverages will be available at no cost. RSVP to wmodell2@gmail.com by July 19.

6:30 - 9:30 p.m. | The Dots at Rubbles Bar
If you were at CMU in the 80s, you remember The Dots playing the Foolery! Rock out with the original members playing power pop & new wave hits from the 70/80s.

9:00 p.m. - 2:00 a.m. | Dance Night at the Wayside
Enjoy drink specials and dancing!

9:00 p.m. | Pajama Party in the Lobby
Games, cards, and great reminiscing!

Saturday, July 22
7:00 - 9:00 a.m. | Breakfast in the Residence Hall
The East Community residential restaurant, Dine and Connect, will be open for breakfast! See how campus dining has changed since you remember it. (Included in Alumni Takeover Weekend package.)

10:00 a.m. - 1:00 p.m. | Back to Class! | $30
Select up to three classes. Learn the expertise and hobbies of fellow alumni by going "back to class!".

10:00 - 2:00 p.m. | Gentle Friday on a Saturday
Relive the relaxing vibe of Gentle Friday on a Saturday in Warriner Mall. Bring your own lunch and enjoy acoustic/mellow tunes, hackysack, cornhole, frisbee, and more. Please note: Alcoholic beverages and drug use are strictly prohibitedin Warriner Mall.

6:00 p.m. - 2:00 a.m. | Mt. Pleasant Bar Crawl
Explore food and beverages across town. Maps and a suggested schedule will be available on the Meet Mt. Pleasant App.

Sunday, July 23
9:00 a.m. - Noon | Check out of the Residence Halls
If you are staying in a residence hall, you must check out by noon so that conference services can prepare your room for the next guests!

9:30 a.m. - 12:00 p.m. | Send Off Brunch | Cost: $20
This is not your average brunch! CMU Catering will create an incredible 5-star culinary experience. Cap off an amazing weekend with your friends and reminisce about all the fun you had!

Fired up for more? Visit this link to find resources and opportunities!

Weekend resources
Click the links below to access digital resources during your time on campus.
Create your own adventure
Fill the Chip! Canoe, Kayak, or Tube down the Chippewa River

Reservations required; contact for more information:
Explore downtown Mt. Pleasant

Head downtown and see everything that Mt. Pleasant has to offer. Learn more here.
Golf

For more information about courses and tee times, visit this page.
Enjoy the great outdoors

See the list of outdoor adventures available to you at this link.
Shopping
Support the local economy! See the listing of retail options here.
Soaring Eagle Casino and Resort
Check out Soaring Eagle information here.
Mission Street Tattoo
Mission Street Tattoo is offering "Chip Stamps" to anyone who wants them (average cost $60-100). They are also offering free color or 20% off on any "Get What You Get" tattoos that weekend if you are wearing CMU apparel. Contact Kylee at (989) 317-0888.
Thank you to Meet Mt. Pleasant for these resources.
Stay connected with alumni