Dick Enberg CMU Alumni Commitment Award
The McGuirk Family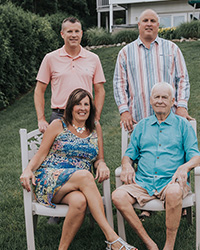 This award is named after legendary sports broadcaster and alumni Dick Enberg, '57. Throughout his career, Enberg gave endlessly of his time, talents and treasure, building an endowment that would do for thousands of others what CMU had done for him — and a quarter million other alumni.
The McGuirk family through the efforts of Jim McGuirk as well as Leroy & Ginger McGuirk has a generational tradition of commitment to supporting CMU. Lifelong Mount Pleasant resident Jim McGuirk built the city's largest provider of student housing, and with a lead gift in his family's name, the university's basketball facility was renamed McGuirk Arena in 2010.
Jim's niece Sandy Dean and nephews Rick and Chuck McGuirk have proudly continued that legacy of philanthropy.
"We were raised to support CMU and we carry on the tradition in his honor," Dean said of her and her brothers. "Jim felt the university was such a big asset to the community, and we feel the same way."
Rick McGuirk and his wife Julie are proud CMU Graduates of 1995 and just 10 years after graduating Rick joined CMU's Advancement Board and served on the national campaign steering committee for the Fired Up for Excellence campaign. Chuck McGuirk shares his knowledge of contracting and construction — as well as in-kind gifts — for projects focused on athletics and improving the fan experience. And Sandy, Rick, and Chuck oversee the family's gifts of land and funding to benefit athletics, the ROTC and the United Apartments McGuirk Family Scholarship that was established in 2018 to benefit CMU students. In addition, McGuirk Family of Companies have sponsored several Registered Student Organization and community events hosted by CMU.
The Central Michigan University Alumni Association is honored and proud to announce the McGuirk Family as the recipient of this year's Dick Enberg CMU Alumni Commitment Award.