Distinguished Alumni Award
Robert "Bob" Oros '90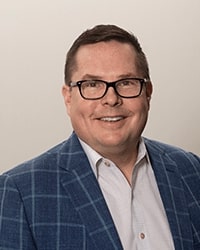 As the chairman and CEO of Hightower Advisors in Chicago, Robert "Bob" Oros has been instrumental in building the firm's advisor-focused infrastructure, increasing the size of the company by 30%. Today, Hightower has 130+ financial advisory practices across the country, managing more than $119 billion.
Bob uses his bachelor's degree in business administration and finance from CMU to help recruit, retain and support financial advisors. He is active in the community, particularly in the areas of mental health and financial literacy and education. Bob chairs the board of the Mental Health Association of Greater Chicago and is a board member of EEqual, providing advocacy and support to students experiencing homelessness.
Bob is particularly dedicated to creating opportunities for current CMU students interested in careers in finance and business. In 2021, he hosted five CMU students in New York City at a large conference for financial advisors. He arranged for a tour of the New York Stock Exchange where they met the vice chairman and caught the "final bell" for the day on the trading floor. Bob has hosted many other opportunities for students, including private tours of Wrigley Field and the Chicago Board of Trade.
He supports CMU in board service, including as a member of the Finance Department Advisory Board (2005-12), a member of the College of Business Administration Dean's Advisory Roundtable (2021-present) and as a judge for the New Venture Challenge (2022-present). In 2021, he established the Bob Oros Multi-Asset Investment Fund with a $500,000 gift.
The Central Michigan University Alumni Association is honored and proud to announce Bob Oros as the recipient of this year's Distinguished Alumni Award.