Alumni Service Recognition Award
Daniel Stoudt '70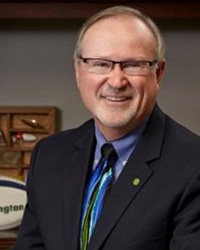 Born on November 12, 1946, in Muskegon, Michigan, Daniel Gene Stoudt was the third child of Mary Elizabeth and Howard Gene Stoudt. Dan's parents' strong work ethic as employees of local manufacturing businesses instilled in him values from a young age.
Daniel attended Muskegon Catholic High School, where he received a Catholic education. It was during this time that he met his future wife, Susan Laurin, whom he describes as the "perfect woman". Dan participated in the Spanish Club and dabbled in sports, attempting to play baseball and football.
After graduating high school in 1964, Daniel attended Ferris State College (now University), where he earned a bachelor's degree in business in December 1968. During this time, he and Susan got married, marking the beginning of a wonderful almost 45 years until Susan's passing. Dan misses Susan dearly and credits her as the primary reason behind any success he has enjoyed in life. Together, they had two children, Daniel Laurin Stoudt and Sheila Jennine Bryant (Stoudt), both of whom live nearby in Traverse City. Daniel is now the proud grandfather of five grandchildren, all of whom played travel hockey.
In January 1969, Daniel continued his education at Central Michigan University. Dan and Susan arranged academic schedules to alternate class and work times throughout the year. Susan worked at the Holiday Inn in Mt. Pleasant, while Dan worked for Giantway Discount Stores. In June 1970, Dan graduated from CMU with a master's degree in business administration.
Daniel's banking career started at Hackey Bank in Muskegon as a commercial lender from 1970 to 1976. Seeking a smaller community life, Dan and Susan moved to Traverse City in 1976, where he joined Empire National Bank as a commercial lender. Over the years, his responsibilities grew, and he became an assistant vice president, senior loan officer, and executive committee member. In 2010, he assumed the role of Northern Michigan Community president at Huntington Bank, where he worked until his retirement in 2016. Not one to sit still, Daniel rejoined the workforce just nine days later, joining Traverse City State Bank as a senior vice president until 2018. Today, he continues to work as a senior vice president at First Community Bank, where his expertise and experience are highly valued.
In addition to his impressive banking career, Daniel believes in giving back to the community. He has given his time and talents to many non-profit organizations over the years, including the Mona Shores Kiwanis Club (president), Muskegon Jaycees (member), the Urban League (board member), and the United Way Fund Drive. In the Grand Traverse Region, he has served on the Chamber of Commerce (now Traverse Connect), the Industrial Fund (board member and former president), the Economic Development Corporation (board member and former president), and the Junior Achievement board (former president and instructor). He has also volunteered with Big Brothers/Sisters as a mentor, the American Heart Association as a fund developer, the Enterprise Forum as a board member and former president, the Grand Traverse Area Catholic Schools as a fund developer, and Involved Citizens Enterprises as a founding board member and president.
Of particular importance to Dan are organizations that support individuals with disabilities. He spent 20 years as a board member and president of both Grand Traverse Industries and NW Michigan Supportive Housing. GTI provided employment opportunities, while NNMSH provided housing for individuals with diagnosed mental illnesses.
As a founding member of the Grand Traverse CMU Scholarship Golf Outing, Dan has served as a committee member for 35 years. Through his dedication and hard work, the outing has raised over $350,000 in local scholarships and more than $110,00 to the endowment, providing countless students with the opportunity to attend CMU.
Daniel remains optimistic and confident in his ability to make a positive impact.