10 Within 10 Recognition
Stephanie Trexler '13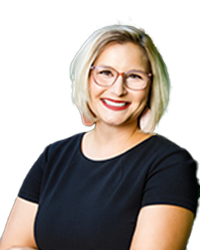 College: College of Business Administration
As the owner and financial planner at Golden Goose Wealth Planning, Stephanie has created a business model to help busy women and their families build wealth and plan for retirement through a monthly subscription model to make financial planning advice available to those who typically don't fit into most other business models.
Stephanie dedicates her time and energy to giving back to the students in the financial planning program at CMU. Since graduating, she has returned to campus to attend capstone presentations by financial planning students, as well as invited other advisers from across the country to come to the presentations and see the talent CMU has to offer. She also serves on the personal financial planning alumni board.
She created and has chaired the Student Success Summit, a virtual conference for aspiring financial planning students across the country. Over the past three years, more than 700 students and university professors have attended the event to learn from leading financial planning speakers across the profession. She has raised and awarded over $10,000 to students pursuing a career in financial planning. In addition, she also created a mentorship program through the FPA of Michigan for aspiring planners, pairing students with mentors and providing them with resources.
When she isn't at work, Stephanie volunteers as a Court Appointed Special Advocate for children in the foster care system with CASA of Kent County, earning the organization's Advocate of the Year Award. She is the founder of the Once Upon a Room Grand Rapids chapter, a nonprofit organization that decorates hospital rooms for pediatric patients experiencing a long-term stay at Helen DeVos Children's Hospital and Mary Free Bed Rehabilitation Center. Stephanie also serves as the alumnae relations advisor for her sorority Alpha Chi Omega.