Future Alumni Leader Award
Tyler Zimmerman 2024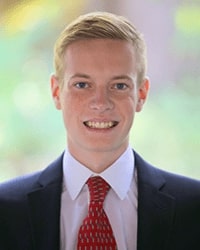 Tyler Zimmerman is a Leadership Advancement Scholar, a Maroon & Gold Scholarship recipient working toward a degree in environmental health and safety with a minor in leadership, graduating in December 2024. He maintains a 3.82/4.0 grade-point average.
Throughout his time at CMU, Tyler has been active in the campus community. He is currently the President of the Student Government Association, Senator on the Academic Senate, and Chaplain for the Phi Delta Theta fraternity. He also is the former president of the Refugee Outreach Collective, focused on educational programming and funding for the Global Classroom Program in Malawi. And he has been a member of the Leadership Safari Core Staff and served as a Leadership Safari Guide.
During the pandemic, Tyler was a member of the COVID-19 Response Team at CMU, helping administer testing and maintaining PPE and sanitation standards on campus.
Post pandemic, Tyler is employed in the CMU Office of Risk Management, Environmental Health and Safety as an Environmental Compliance Assistant. In his role, Tyler trains CMU employees on safe work practices, conducts inspections to ensure that buildings are up to code, and helps to oversee projects improving campus safety.
His advocacy and love for CMU is evident to his classmates and professors. Tyler's enthusiasm for supporting student success through programs such as Leadership Safari and Student Government Association help turn the next generation of CMU graduates into engaged alumni eager to give back to their alma mater.
The Central Michigan University Alumni Association is honored and proud to announce Tyler Zimmerman as the recipient of this year's Future Alumni Leader Award.