Alumni Takeover Weekend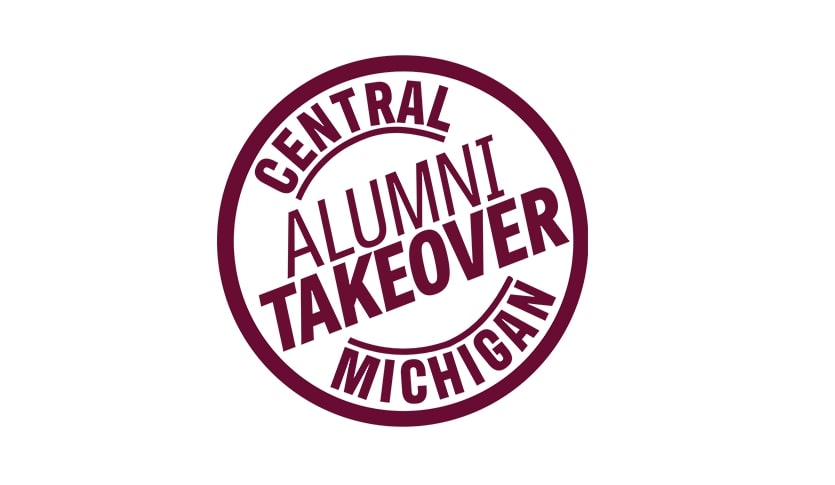 CMU Chippewas, are you ready? It's time again to get FIRED UP! That's right! Grab your favorite throwback memories, rock your favorite jams, and tell your F.R.I.E.N.D.S. that the popular reunion weekend is BACK! And you don't want to miss it. Mark your calendar and make your reservation. ALL alumni are invited to this EPIC weekend; you won't want to miss it. Mark your calendar and register today. See you in July!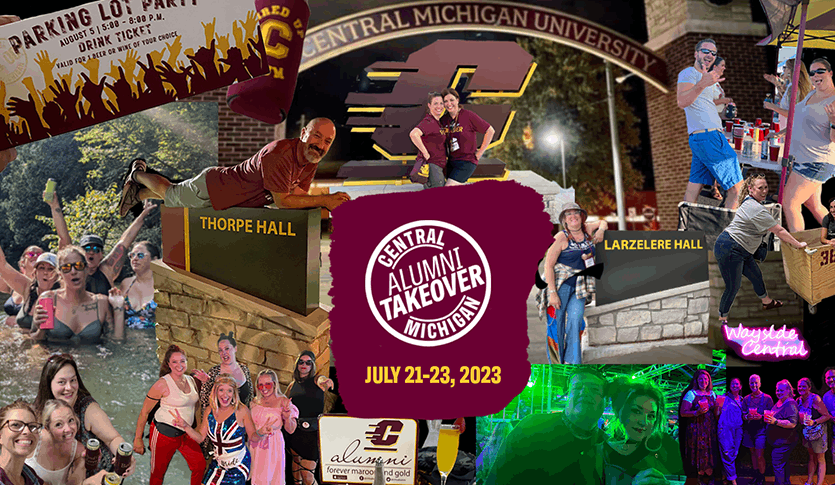 Use the tabs below to toggle between daily activities for the 2023 Alumni Takeover Weekend. Be sure to check back regularly as new activities are being developed. All activities are subject to change without notice.
12:00 p.m. | Residence Hall Check-in
Did you ever think you would stay in a residence hall again?! Not only will you have a residence hall experience, but you will also have the opportunity to eat in a residential restaurant!
4:00 p.m. - 8:00 p.m. | Parking Lot Party
It's a PARTY! Grab your tailgate supplies, wear your CMU gear, and get ready for some special surprises! This event kicks off the weekend; you don't want to miss it!
7:00 - 9:00 a.m. | Breakfast in a Residential Restaurant
The residential restaurant, or "dorm dining", will be open for breakfast! Grab a tray and see how campus dining has changed since you remember it.
10:00 a.m. - 1:00 p.m. | Back to Class! | $30
Select up to three alumni-led classes (to be released)! Learn about the expertise and hobbies of fellow alumni while going "back to class!"
All Day Activities
- Fill the Chip
- Mt. Pleasant Bar Crawl
- So much more!
9:30 a.m. - 12:00 p.m. | Send Off Brunch | Cost: $20
This is not your average brunch! It is a 5-Star experience. CMU Catering will create an incredible culinary experience. This is where the weekend will conclude with your new friends and memories. Your alumni experience does not end here, visit this link to find resources and opportunities!
Stay in a residence hall and fully immerse yourself in campus life

Residence hall: TBD | air-conditioned
2-Night Package | Friday – Saturday - $95.00
Pricing is per person for one room within the 4-person air-conditioned suite. This means all people in your room MUST register individually. More information on roommates is available below.


Residence hall dorm suites are *air-conditioned, including four bedrooms, XL twin beds, and two bathrooms. There is no university furniture in the shared common area.

Click here for a recommended packing list!
Rooms in the residence hall are available on a first-come, first-served basis. Pricing is PER PERSON for an individual room within the suite.
Roommates
All rooms within the suite will be assigned. List your roommates or indicate your group in the custom field on the registration page. Alumni staff will do their best to assign rooms based on roommate requests. If you do not indicate a roommate on your registration, a roommate will be assigned to you.