Summer learners camp out on the computer
CMU shifts in-person programs online to meet community needs
The "ping!" from scores of high school students joining online Zoom meetings this week was music to the ears of James Batcheller and Kristin Pagels: It meant their decision to take Central Michigan University's summer band camps virtual was a success.
For the first summer in years, the sights and sounds of young musicians attending band camps is missing from campus: The COVID-19 pandemic kept them at home.
Virtual band camps are just one example of how CMU is meeting community needs in spite of the pandemic by moving in-person summer learning experiences online.
Virtual successes
Band camps and the Summer Speech Language Specialty Clinics (see below) are two CMU programs that successfully moved online this summer, but they're not the only ones. Here are a few other examples from around the university:
The Center for Excellence in STEM Education is hosting virtual camps for children in grades K-9 and their families, focused on activities such as coding, LEGO Challenges and making sail cars. CMU students in the STEM Education Scholar program help run the camps. STEM Center Director Julie Cunningham said registration, participation and feedback have been overwhelmingly positive.
The CMU Literacy Center's second annual Summer Institute for continuing professional learning takes place online this month. Director Betsy VanDeusen said the 49 participants include teachers, speech and language professionals, administrators and more.

The College of Medicine moved its CampMed program online. The experience for high school students interested in medical careers included a virtual anatomy lab.

A participant in the STEM Center's LEGO Challenge camp shows off his creation.
Crescendo of participation
Just how successful were the band camps? The 446 participants more than tripled the usual number of campers, said Pagels, director of musical events for the School of Music. Not only were there more campers than usual from Michigan, but nearly 1 in 3 students were from out of state, as were 40% of participating band teachers.
"We've got kids in California, we've got kids in Missouri," said Batcheller, School of Music faculty member and director of the Marching Chips. "But to all of them, it will be as if the camps were one on one."
Converting the camps for drum lines, drum majors, color guards and music teachers — plus leadership sessions for all — to online experiences meant changing instructors' usual focus on group performance.
"Mostly what we're doing is demonstrating and having conversations," Batcheller said. Instructors might play a passage and have participants at home play it back, with their computers' microphones turned off.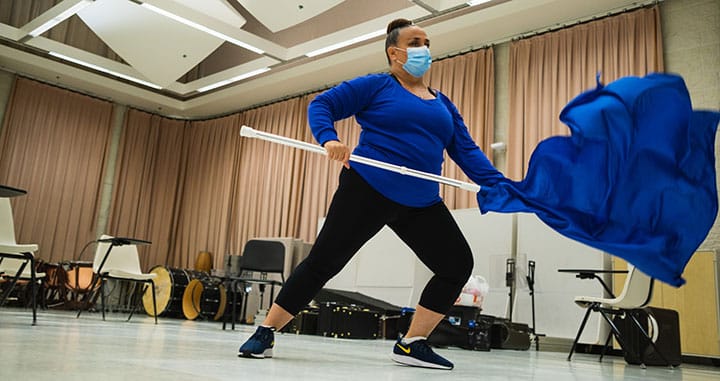 The virtual camps were free of charge to participants. Pagels, who handles logistics and communications for the camps, said momentum built quickly as word spread.
Shelby Shawl, director of bands at Breckenridge Community Schools in Michigan, was one of 29 band directors who signed up. She's a 2017 CMU music education graduate who attended CMU band camps in high school.
Shawl said the leadership emphasis was an "overwhelming positive" this year.
"Leadership lessons and activities benefit all student leaders, regardless of what marching band will look like in the fall," she said.
New connections for speech clinics
When it comes to CMU's Summer Speech Language Specialty Clinics, Communication Sciences and Disorders faculty member MaryBeth Smith has two objectives: "What our camp is all about is training graduate students and reaching out to serve our community."
Shifting the clinics online enabled her to do both. Forty grad students are building their clinical experience as they connect by computer with 55 clients ages 4-15 who have speech and language issues.
The multiweek program normally is held at CMU's Child Development and Learning Laboratory, where learning goes hand in hand with social interaction. But online has its own advantages, Smith has found.
"In person, we were able to model and provide intervention through children playing with other children," Smith said. "This summer we are able to go into homes, virtually, and provide intervention to the client and families while taking into consideration family cultures and values.
"We still are reaching families. It's just in a different way."
Mount Pleasant resident Alyssa Warden's 6-year-old son meets online with grad students Morgan Root and Allison Hodge twice a week for an hour at a time. The sessions are interactive, with games, show and tell, and dress-up days.
"He opened up to them after just a few classes," Warden said. "They've made it so fun and engaging for him that he has no problem paying attention."
Smith is gathering data to bolster the anecdotal success stories.
"I'm really looking forward to seeing outcomes," she said.