The road to Match Day and beyond
College of Medicine's first two graduating classes describe what drew them to CMU, their residency experiences and their hopes for the future
​On Friday, March 15, this year's CMU College of Medicine graduates-to-be will find out where they'll serve their residencies. Join the excitement on CMU News and Facebook and Twitter.
The third graduating class of Central Michigan University's College of Medicine will find out on Friday, March 15 — Match Day — where they will spend the next few years getting hands-on experience in their chosen specialties.
While they celebrate, members of the college's first two graduating classes will be in the midst of their residencies, 15 of whom are at CMU's residency program in Saginaw. There they work side-by-side with CMU doctors, learning the newest techniques in medical care.
Three residents in the Saginaw program agreed to share their journeys through CMU's young medical school and offer an inside perspective on residency.
"Exciting, alarming"
Courtney Hollingsworth of Saginaw, Michigan, a member of the college's second graduating class, remembers the excitement of opening her envelope on Match Day a year ago to find out where she was accepted.
She had chosen to do her residency training in emergency medicine.
"It's exciting on Match Day to find out where you will spend your residency," she said. "It also is alarming because you realize that you have all this new responsibility. But then you remember that you've received more than two years of exposure to the clinical side of medicine during medical school, and you regain your confidence."
Soon after beginning her residency, she became part of the daily decision-making, she said. The faculty make it a point to get residents involved early to help them grow.
"It's really challenging but also exciting to work in the emergency department. There is not a day that I regret my decision about coming here."
She said a typical day begins by finding out which attending physician she will be assist and whether she will work in pediatrics, geriatrics or high needs.
When a patient is assigned to her area, she decides on a diagnosis and consults with the attending physician on her plan. The patient then moves to their next stage, and Hollingsworth interviews her next patient.
"I have to be able to multitask and follow up on the labs and imaging of the patient I saw earlier," she said. "I must decide sick or not sick. If they are sick, do they need to be admitted to the hospital or can they go home. It's a fast-paced environment with many stressors, but it's a challenge I enjoy."
Fellow Saginaw resident Mahela Ashraf of Canton, Michigan, wants to be a psychiatrist. The member of the college's first graduating class said a typical day working in the inpatient psychiatry unit begins with the psychiatric interview of a patient, who may be voluntarily or involuntarily admitted.
"Building a rapport with our patients is essential, and unlike an adult blood pressure cuff, one size does not fit all," she said. "So, where one psychiatric interview may entail calmly listening to the suffering of an individual struggling with depression related to loss of a family member, another may be calming down an acutely psychotic patient."
After the interview, she works with the other healthcare professionals on a diagnosis, treatment and education of the patient.
Dedicated to students, mission
While their jobs are wildly different in residency, their reasons to attend CMU's College of Medicine were similar, largely revolving around the word "family."
Both wanted to be close to home and were pleased with the family feeling of interview day.
"Everyone at CMU seemed to really care about the people they were picking and were willing to help us through every step of the process," Hollingsworth said.
She also said it was important to her that her choice of practicing emergency medicine in the Saginaw area contributes to fulfilling the medical school's mission of reaching underserved populations.
That dedication to mission and students also stood out to Ashraf.
"I met faculty members and physicians who were dedicated to us as students and compassionate in embracing the mission," Ashraf said. "They saw a problem and wanted to do something about it. Those things impressed me."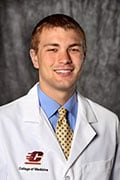 The dedication to mission and students also impressed Joshua Forsyth, of Chesaning, Michigan, who is in his first year of residency and is studying to be a family care physician like his father, who also is a preceptor in the College of Medicine's Comprehensive Community Clerkship program.
"I especially appreciate the mission of developing primary-care doctors for central and northern Michigan," he said.
Team-based learning
"Family" also can describe the team-based learning approach to education, Hollingsworth said.
It works like this: The students attend lectures and then break out into their chosen small groups to work on the material together. The students explain the material in different ways to ensure that everyone understands. Then the students come back together as the larger group and discuss their answers.
"That approach not only helped us learn, but it helped create a cooperative atmosphere where we helped each other and became like family."
Beyond the finish line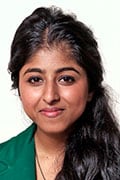 When Ashraf looks down the road, she sees herself being part of building the resident psychiatry program and working with its director, Dr. Furhut Janssen
"We have some really great minds coming to CMU," Ashraf said. "I am surrounded by good, humble role models. That is fulfilling to me."
Hollingsworth sees herself becoming an integral part of a community-based hospital in Michigan, preferably in mid-Michigan.
And Forsyth feels humbled by the whole experience.
"It still hits me at times — the idea that I am now here taking care of people is a very humbling one. I've been very lucky to be at this residency."
In the future, he hopes to practice in mid-Michigan like his father.
"It's important to give back."