Clerkship Years 3 and 4
Clinical education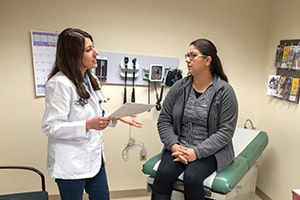 Years three and four represent the logical extension of student learning into the clinical environment. The curriculum includes a 16-week longitudinal integrated clerkship in primary care, entitled the Comprehensive Clinical Clerkship (CCC). Primarily focused in rural or urban underserved areas of Michigan, students are provided a comprehensive experience in the context of community.
Longitudinal care of patients is featured, with a goal for students to understand the challenges patients face with access to care. Aligned with our mission, this unique experience will equip students with the knowledge and skills necessary to address the public health challenges facing Michigan.
The remainder of year three is spent completing a series of five required rotations in hospital medicine, surgery, pediatrics, psychiatry, and obstetrics/gynecology. In addition, Year three students are offered a four-week elective.
Year four of the curriculum consists of four-week rotations in emergency medicine, a required sub-internship and 28 weeks of elective rotations.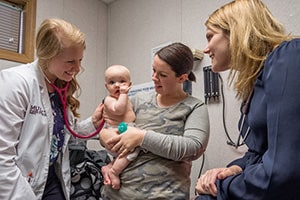 At the College of Medicine, we place great emphasis on experiential learning. Over the course of the third and fourth years, students will have the opportunity to train using the latest medical simulation technologies at our highly-advanced CMU simulation facilities.
CMU participates in the AAMC Visiting Student Learning Opportunities (VSLO) network, allowing our students to complete up to 12 weeks of "away" elective clerkships at institutions across the United States. Students may also pursue international learning opportunities through CMU's Office of Study Abroad.

Comprehensive Community Clerkship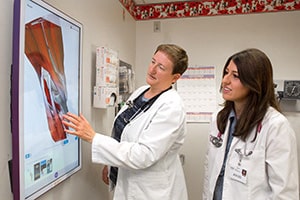 The Comprehensive Community Clerkship (CCC) is a unique longitudinal integrated clerkship that occurs in the third year of the medical school curriculum. The goal of the CCC is to immerse students in a primary care experience to learn the values of comprehensive patient-centered medical care in the context of a community.

Medical students are placed in a rural or urban underserved primary care practice for a 16-week immersion experience, working 2 ½ days per week with a family medicine or internal medicine physician.
Clinical encounters provide students numerous opportunities to develop strong history taking and physical exam skills. Students also have opportunity to work in emergency medicine, with community health organizations, and other medical and surgical specialty experiences. Students learn population health and plan a quality improvement project.

Videoconference technology connects the students weekly for small group sessions giving oral presentations on patients and core primary care medical topics. Students live in and experience the communities to which they are assigned across Michigan and Northern Ohio. These partnerships with hospitals and clinics are vital to CMU College of Medicine's mission to educate physicians to provide medical care for rural and underserved populations.

Clerkships
Required clerkship rotations and electives
Hospital-based clerkship locations
Covenant HealthCare - Saginaw
Ascension St. Mary's Hospital - Saginaw
Ascension St. John Hospital - Detroit
Corewell Southwest Michigan - St. Joseph
MyMichigan Health - Midland

In addition, affiliate sites at HealthSource - Saginaw, Children's Hospital of Michigan - Detroit, Ascension Genesys - Grand Blanc and Trinity Health - Livonia provide inpatient clerkship opportunities.
Year 3 clerkships include

General Surgery (8 weeks).
Hospital Medicine (8 weeks).
Obstetrics and Gynecology (4 weeks).
Pediatrics (4 weeks).
Psychiatry (4 weeks).

Year 4 clerkships include

Emergency Medicine (4 weeks).
Selective sub-Internship (4 weeks).
Students will also be required to complete 28 weeks of elective rotations. As available, students may choose from electives offered across our clinical education network. In addition, up to 12 weeks of "away" electives can count toward the graduation requirement.

The College of Medicine curriculum is focused on educating and training medical students to follow generalist specialty choices aligned to our mission. It also is designed to reinforce skills in self-study, self-reflection, team-based medical practice and lifelong learning so essential to successful medical practice in the future.
Regional campus coordinators

MyMichigan Medical Center Midland
TBD
Clerkship Assistant
Email:
Phone:
College of Medicine Clinical Education Team