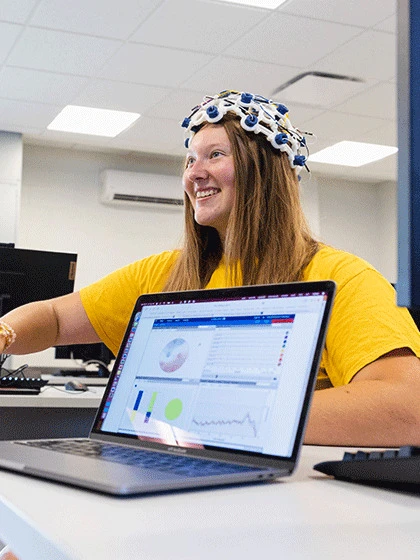 Department of Computer Science
Our computer science program will prepare you for careers in fields like computer architecture, soft​ware engineering, network security, computer graphics, artificial intelligence and database management.
Learn from those who do
Our faculty have practical experience in the fields they teach. Put your lessons to work and utilize the special-purpose labs running advanced software applications.
​The Department of Computer Science offers a major in Computer Science in the B.A. and B.S. degrees. Graduates have found careers in industry, business, and government as programmers, systems engineers, software designers and consultants.

The major consists of 40 semester hours of computer science and 16 hours of mathematics and statistics.

Program educational objectives
Graduates of the computer science program are expected to engage in the following activities within the first five years after graduation:

Graduates will contribute to their chosen profession, developing a reputation for solving complex problems.
Graduates will engage in lifelong learning activities in computer science or related fields.
Graduates will conduct themselves in a professional, responsible and ethical manner in their chosen profession.
Graduates will demonstrate a commitment to teamwork, communicating effectively with others from diverse backgrounds.
Computer science student enrollment and graduation data
| | 2015-2016 | 2016-2017 | 2017-2018 | 2018-2019 | 2019-2020 | 2020-2021 | 2021-2022 |
| --- | --- | --- | --- | --- | --- | --- | --- |
| Degrees Awarded | 33 | 46 | 52 | 33 | 60 | 56 | 46 |
| Students in Program | 150 | 165 | 202 | 209 | 210 | 218 | 186 |
Student outcomes
By the time of graduation, students in the computer science program will have:

An ability to analyze a complex computing problem and to apply principles of computing and other relevant disciplines to identify solutions.
An ability to design, implement, and evaluate a computer-based solution to meet a given set of computing requirements in the context of the discipline.
An ability to communicate effectively in a variety of professional contexts.
An ability to recognize professional responsibilities and make informed judgments in computing practice based on legal and ethical principles.
An ability to function effectively as a member or leader on a team engaged in activities appropriate to the discipline.
An ability to apply computer science theory and software development fundamentals to produce computing-based solutions.
I found mentors inside and outside the classroom that have aided me socially, educationally, professionally, and mentally. I cherish many great moments and relationships from CMU. In short, it formed a strong foundation to my life and reinforced me to follow my dreams.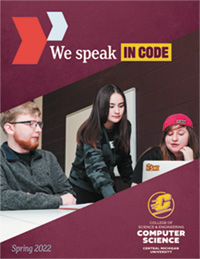 2021-2022 was both a challenging and rewarding academic year at CMU. Click to read the latest updates from the Department of Computer Science in our Spring 2022 Newsletter.