World travel opens doors of opportunity
CMU students and faculty explore new ideas through their international experiences
As technology blurs boundaries between countries, job-seeking students must have skills that will allow them to compete in a global society.
At Central Michigan University, students and faculty used the summer months to explore countries around the globe, building their cultural competency, learning new languages, meeting people from a variety of life experiences and adapting to new cultures.
Some chose to share their knowledge with others, like broadcasting and cinematic arts instructor Eric Limarenko, who served as a guest lecturer at the Guangxi Arts University in Nanning, China. Some used the time to pursue experiential learning, such as the creative marketing internship Victoria Vitale, a integrative public relations major from Monroe, Michigan, completed in Tokyo. And others used the time to pursue a passion. Carolann Plank, a junior from Brighton, Michigan, spent six weeks studying theatre and acting in Ireland.
Here are just a few examples of ways CMU students and faculty put their stamp on the world this summer.
Study Abroad Scholars
Darius Washington, from Chicago, Cara Thomas, from Warren, Michigan, and D'Shyla Hodges, from Flint, Michigan, received prestigious Benjamin A. Gilman International Scholarships to study abroad.
Washington, a sophomore psychology major, traveled to Thailand for five weeks, where he attended classes at a university, built friendships with students from around the globe and explored the country's national parks.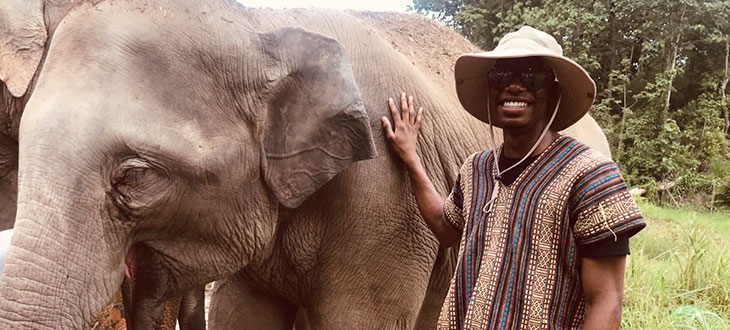 "This trip gave me the opportunity to experience Thai culture, see things I'd never seen before and embrace the unknown," Washington said.

Thomas used her scholarship to pursue an international internship in Chiang Mai, Thailand. The senior advertising major spent nine weeks working at MPlus, a nonprofit that supports the LGBTQ+ community. She assisted with marketing and public relations and even helped the staff practice their English language skills.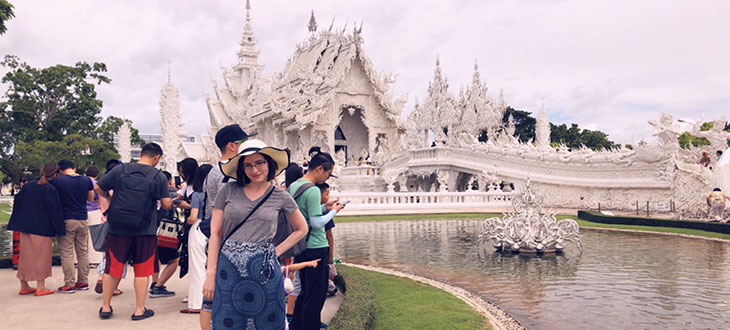 "Being in a foreign country has shown me that similar problems exist everywhere. I'd like to bring awareness to world issues and help to bring about positive change," she said.
On her four-week journey through South Africa, Hodges, a third-year psychology major, took a cultural and global studies course called In the Footsteps of Mandela. She traveled to Johannesburg, Cape Town and more as she followed the history of Nelson Mandela, one of the country's most famous leaders.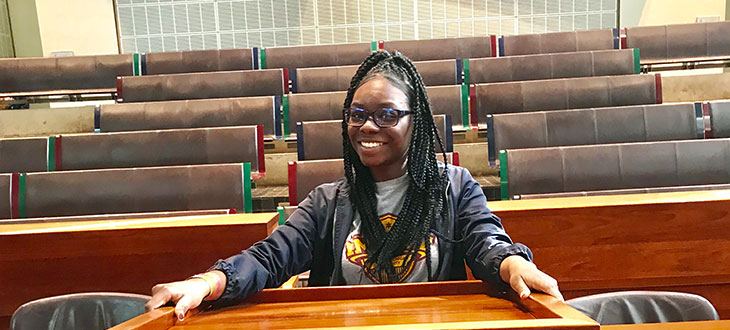 One of my favorite experiences was meeting local university students while staying in Pretoria. We had so many conversations and were able to create friendships.
"I can now say I have friends in South Africa," Hodges said.
Entrepreneurship abroad
Sydney Harless, a senior information systems and international business double major from Farmington Hills, Michigan, traveled to Verona, Italy, with her mentor, finance and law faculty member Mark Potts, to present their research paper at the Innovation, Entrepreneurship and Knowledge Academy conference.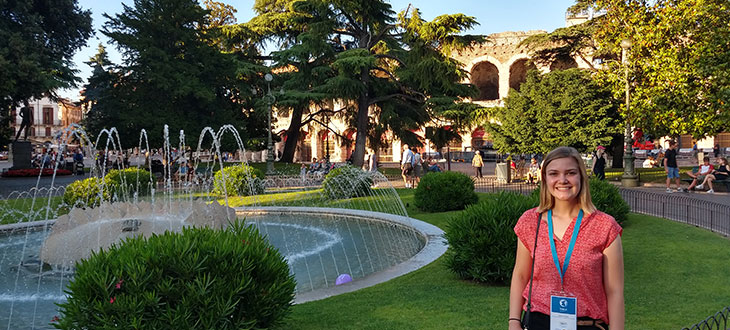 The paper, a derivative of Harless' thesis for the Honors Program, won best paper award for its submission to the International Journal of Emerging Markets.
Harless said presenting her work at an international conference allowed her to connect with and receive feedback from people from all over the world.
"Part of my research included an analysis of Ecuador, and in the audience were Ecuadorians who were able to give me a perspective that I wouldn't have been able to get from only doing research online," Harless said.
Feasting on culture
Yejean Han, a senior from Mount Pleasant, Michigan, chose Florence, Italy, as her fourth and final CMU study abroad journey. Han, an Honors Program student studying secondary education, took a class on food, health and wellness at Florence University of the Arts. The class was taught in the university's restaurant and focused on how the culinary arts affect Italian culture.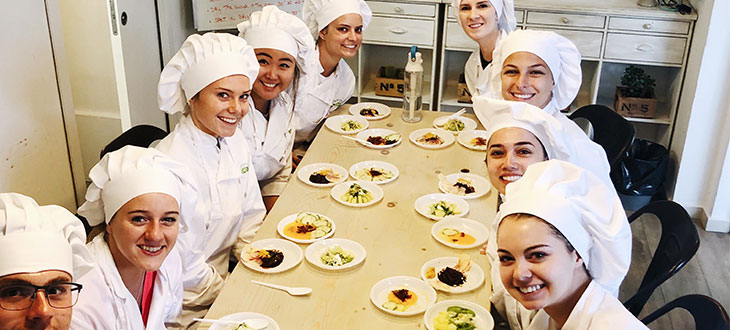 The future educator said her study abroad experiences have helped her understand people from various lifestyles and experiences — something that will be important in her teaching.
"I hope to incorporate the new things I've learned into my own classroom someday and will share my stories and experiences with my future students. I hope it will inspire them to see and do more globally."
Social Justice in South Africa
This summer, Frimpomaa Ampaw, an instructor in educational leadership, took a group of students to South Africa to study the lingering effects of apartheid on current society.
The class met with educational administrators and students from many academic levels in several South African cities to understand their challenges. In Johannesburg, the class visited a secondary school with the highest test scores in the area. In spite of the school's high academic performance, the school offers no college preparation programs, only vocational training, due to limited funding.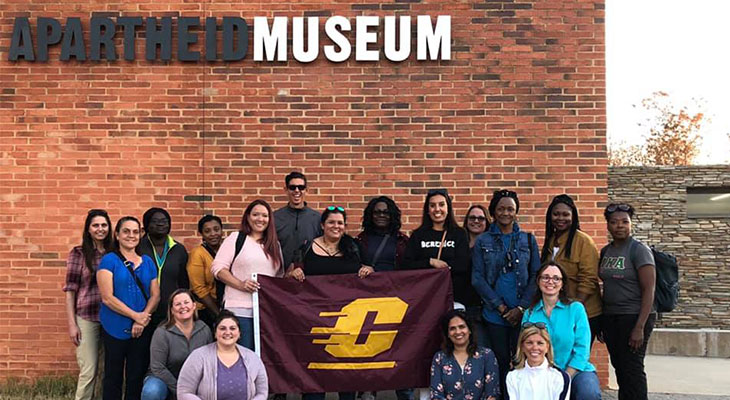 "We talked about race as a barrier in both the U.S. and South Africa, but there also are other issues of power," Ampaw said.
"We teach students how to identify and mitigate some of those problems."
Doors to new worlds
For Junhao Dong, an international student from Yunnan, China, studying at CMU meant a 15-hour flight from home. The experience of living in a completely new culture inspired Dong to continue exploring the world, this time on a three-week study abroad trip to Florence, Italy.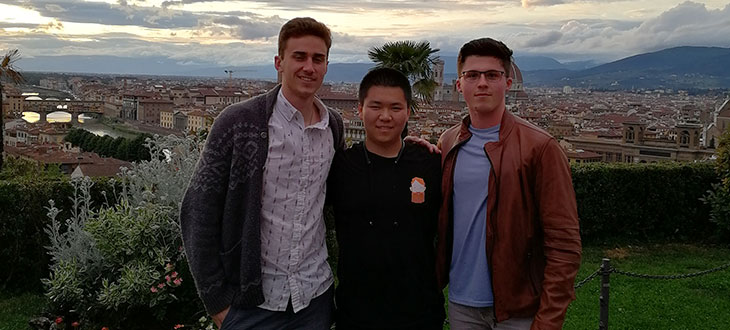 English is not my first language. Neither is Italian. I just kept trying to talk without fear, and people were patient and friendly," Dong said.
The electrical engineering major developed strong friendships with his Italian roommates. They took him to visit the Tower of Pisa, introduced him to many of their favorite foods, and helped him navigate cultural and language barriers.
"They opened the door to a new world for me," he said.
Think globally
Employers often list cultural competency among the most-desired skills they want to see in job applicants. CMU offers students dozens of ways to build and practice those skills — explore options to begin your global journey online by visiting the Office of Global Engagement, Cultural and Global Studies and the Department of World Languages and Cultures.
University Communications interns Annika Clemens, Mimi Liu and Rachael Thomas assisted with this story.