Alma's Gardener: Louisa King
"The Fairy Godmother of Gardening"
Alma, Michigan 1863-1948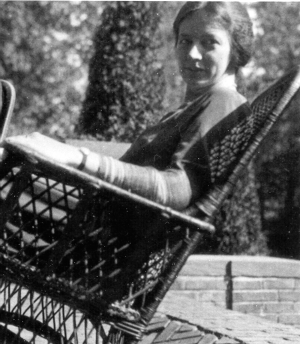 "Give this house, oh traveler, Pray
A blessing as you pass this way
And if you've time, I beg your pardon
While you're at it, bless this garden"
-Inscription over the entrance to Mrs. King's Alma garden
Emma Currie, a graduate student in the Central Michigan University Department of History, researched and wrote the text of this exhibit. She also selected most of the illustrations. Frank Boles completed the exhibit and did final editing of the text and the final selection of graphics.
About Mrs.King
Between World War I and World War II, Louisa Yeomans King was one of the nation's most prominent authors of gardening books. "Mrs. King," as she was known to the many readers of her publications, dedicated most of her life to gardening. House and Garden magazine declared her the "fairy godmother of gardening." She was also called "the best-beloved and best-known American woman gardener" of her era. This exhibit describes Mrs. King's life and activities and offers many views of her most elaborate garden, maintained in Alma, Michigan from about 1907 through 1927.
Biography
Louisa Yeoman was born in Washington, New Jersey in 1863. Her father was a Presbyterian minister from Massachusetts and her mother was from Baltimore. Her parents valued highly reading, religion, and music, but had no particular interest in gardening. In 1890 Louisa married Francis King, whom she had met through friends in Chicago. Francis was the son of a wealthy Chicago couple and the newlyweds purchased a home in Elmhurst, Illinois, near Francis' parents. The marriage was durable and blessed with three children, but Francis' health was poor. In 1902 he sought relief in a sanitarium located in Alma, Michigan. The cure proved successful and in 1903 the couple, along with their three children, decided to remain in Alma.
Francis was involved in several manufacturing enterprises in Alma. He also served the community as mayor and was one of the important members of the state Republican party. Over time he became interested in the emerging automotive industry. In 1913 he organized and became president of the Alma Truck Co. which eventually became Republic Truck. Republic proved very successful and by 1920 it had become one of the major truck manufacturers in the nation. The substantial income made possible by Republic's success enabled Mrs. King to indulge her interests in gardening and to develop a substantial garden around their home. The unexpected and untimely death of Francis in 1927 left his widow financially unable to maintain the lifestyle she had enjoyed for many years. Although she was by no means destitute, the house and garden were sold and Mrs. King left Alma for Europe.
After an extended tour of Europe, Mrs. King returned to the States in 1928 to campaign for Herbert Hoover. Traveling by train from a radio address in Schenectady, New York, she happened upon a conversation with two women who spoke so highly of their town of South Hartford, New York, that Mrs. King chose to investigate a house for sale in the community. She was charmed by a "sweet and stately little white house" which she promptly purchased. There she began a new garden, naming it Kingstree.
Mrs. King continued to write in her new home, although at a lesser rate than in her years in Alma. She published The Story of the Garden in 1932 and Planning Your Planting for Montgomery Ward in 1943. Until the very end of her life she continued to lecture and give gardening advice. Following World War II she became a strong supporter of the United Nations and the proposed idea of the International Horticultural Society.
Upon her death, in January 1948, Mrs. King's ashes were spread over her garden at Kingstree.
Introduction to Gardening
Mrs. King was first introduced to gardening after her marriage. Her mother-in-law, Mrs. Henry King, was an avid gardener who owned a large collection of gardening books and grew over two hundred different types of herbs around her Lake Forest, Illinois home. In later years Mrs. King recalled fondly that her mother-in-law, "had an old-fashioned formal garden on the order of that at Mount Vernon." Louisa came to share her mother-in-law's enthusiasm for plants and gardens and started her own garden at her nearby home in Elmhurst. Although Louisa was deeply affected by her mother-in-law's interest in gardens, she quickly advanced beyond her conservative taste in plantings. Louisa began to explore the latest English garden writings of authors such as William Robinson and Gertrude Jekyll and began to develop ideas more closely related to theirs than to the American gardening antecedents of Mount Vernon and the Victorian era.
The Garden in Alma
In 1902 the decline in Francis health led to a decision to seek treatment in Alma, Michigan. It was reputed that King sought treatment for alcoholism, a specialty of the Alma sanitarium. Whatever his disease, by 1903 he was cured. Mrs. King, never particularly comfortable living in an urban setting, seems to have been very pleased by the family's decision to remain in rural Alma. The couple purchased a half-square city block, about two acres, on Alma's most desirable street and ordered the large, red brick house then on the property removed.
In its place was constructed a Tudor Manor House similar to the one the family had left behind in Elmhurst. Louisa was careful to locate "Orchard House," as the couple came to name it, on the northern edge of the property, leaving considerable room for the garden taking form in her mind.
As she was formulating her ideas for a garden in Alma, Mrs. King read two books which she credited with greatly influencing her. Elizabeth and her German Garden, published in 1898 by Annette Beauchamp and Helena Rutherfurd Ely's 1903 volume A Woman's Hardy Garden both caused considerable comment. Mrs. King wrote that "The former created the desire to garden; the latter gave practical advice towards the garden's making." The basic design for the new garden was drawn by English horticulturist William Consabel. By 1907, with the help of full-time gardener Frank Ankney, the garden started to take clear shape. In the garden, brick walks crossed at a center pool. The resulting four sections were each divided into eight flower beds, divided by sod paths. Although this early plan was never fundamentally altered, Mrs. King soon became dissatisfied with it. She concluded it was too open a design and began to include elements within the garden that would create smaller, more private areas. She added hedges, garden gates, high wooden fences, and a gazebo.
King's philosophy was that somewhere in the garden flowers would be in bloom all year round and no soil was to show. King was driven in her desire to achieve the maximum possible effect. She toured widely to see examples in other gardens of plantings that she might use.
She also maintained a small, but concealed, experimental plot in her own garden where she planted four specimens of a potential addition to the garden and noted carefully its characteristics over a growing season. Only after this "trial" did she decide whether or not to introduce the species into her "real" garden. Each Sunday morning she toured the full garden with a specially designed notebook, carefully recording what was in bloom and taking other notes. Based on her notes, each fall adjustments were made among the perennials to ensure her goal of continual color would be met.
The result of this constant attention was plain to see. The snow would be barely off the ground when King's scilla bulbs burst forth. Crocus followed. Mrs. King did not plant a bulb here and there. She thought in terms of mass blooms involving hundreds and thousands of bulbs. Tulips came next, supporting then giving way to lilac. By mid-summer shasta daisies and roses had taken center stage, backed by foxglove and the tall spikes of larkspur and delphinium. So it continued until autumn's frost brought an end to mid-Michigan's growing season.
King's garden was the background for several important flower events in the 1920s. In the spring an annual flower festival featured her tulip bulbs and seventy variety of lilac. The event drew visitors from throughout the midwest in part because Louisa King herself played a role in the festival. Each year she delivered well-attended lectures eagerly anticipated by gardeners such as Mrs. Henry Ford. In the summer Orchard House's south lawn served as the backdrop for an equally colorful, but more local, annual flower show. Local people from throughout mid-Michigan swarmed over the lawn to see the best their neighbors had to offer.
The Author
Mrs. King's Alma garden had been designed by a leading expert in the field and over time she developed regular contacts with many of the leading British and American gardeners of the early twentieth century. They recognized in her a woman of considerable talent both in the garden and with a pen and encouraged her to publish information drawn from her garden. In 1910 Mrs. King's first article was published in The Garden. It discussed the beauty of continual successions of blooms and how plants can enhance each other to better the garden. Other articles followed, catching the imagination and attention of American gardeners.
Her first full-length book, The Well-Considered Garden, was published in 1915 and was dedicated to her mother-in-law. King wrote nine gardening books between 1915 and 1931 as well as innumerable articles for such magazines as House and Garden, House Beautiful, Saturday Evening Post, Shelter, and the Spur.
Her most productive period was during the 1920s. Particularly interesting are several books she wrote during this period, such as such as The Little Garden, Variety in the Little Garden, and, The Beginners Garden. that gave advice to those with small pieces of property. In all, she wrote or edited nine volumes in the Little Garden series and her persuasive powers encouraged other professional gardeners and well-known horticulturists, such as Charles Sprague Sargent, Ellen Shipman, and Gertrude Jekyll to contribute to this series.
The "Little Garden" series was aimed at a new and much broader audience than Mrs. King had written for in her earlier work. Mrs.King's, as well as many other authors, had largely written gardening advice for women of substantial means who were interested in creating a garden to enhance the appearance of their very large homes. To help this affluent audience, in her first book Mrs. King included a discussion regarding the problems of managing hired help and offered the opinion that a satisfactory full-time gardener should be employable for about $100 month.
In the 1920's, however, King discovered a new audience in the burgeoning post-war suburbs. Gardens were the rage in these newly settled areas and Mrs. King's "little" garden books were targeted at the wives who by their own work would convert the small lots on which so many of these homes rested into tiny islands of nature. The Little Garden Series proved the vehicle for both her and her friend's efforts to broaden gardening beyond those who could hire it done.
Part of King's success in twisting others' arms to write for the series was her generous praise of other authors. King and Gertrude Jekyll, for example, both loved color in the garden. Although King was the American master of garden color she was generous in her praise of the British Jekyll, The English author, who may have been one of the few in the era whose skill with color surpassed King's own, benefitted mightily from this kind words since her more difficult writings would not likely have been as influential had King not both popularized Jekyll's beliefs and regularly pointed American readers to her books.
In talking about gardens, Mrs. King discussed design, color, planning, and function with an emphasis on the garden as an entire unit of space. She had little to say about pests or diseases. Her interest lay in the garden as a work of art. Design, not pest control, was her crusading interest. "It is the lack of a plan that is responsible for most that is ugly in America."
The Organizer
On an English tour, Mrs. King became impressed by the British Woman's Garden and Farm Organization. She returned to the United States determined to recreate the organization in this country. In 1912 she took her first step in this direction by forming the Gardeners Club of Michigan. In 1914 she became a founding member and first president of the Women's Agricultural and Horticultural Association in America. (later renamed to Woman's National Farm and Garden Association). She was also instrumental in forming the Garden Club of America, serving as President and Founder and receiving their top honor, a Gold medal, in 1923.
The Gardeners Club of America was particularly successful in attracting as members prominent women from the American social elite: the Biddles of Philadelphia, the Ridgeleys of Baltimore, and the McCormicks of Chicago, all became members. Despite the important role these women played in promoting gardening, Mrs.King believed that garden clubs were not elitist. Rather, she believed gardening was fundamental to American democracy and in her writing argued that a love of plants could break down differences between different economic groups and neighbors. Adopting a very Jeffersonian spirit she believed that gardening served the human spirit.
"Rich or poor, old or free, when we garden we are at the same work; we work in faith that the seasons will still roll for us and for our sowing's and plantings. There is no other such meeting-ground there is no community of interest such as this of gardens."
The garden clubs in which Mrs. King was involved did indeed prove to be more than simple social organizations of individuals with similar avocational interests. The clubs provided an outlet for women to organize themselves and gave them access to educational sources, discussion groups, and resources. The WNFGA led by Elizabeth Leighton Lee and Jane Browne Haines, the founder of the Pennsylvania school of horticulture for women, provided scholarships and funding for women to go to agricultural colleges and schools of landscape architecture. The groups provided an outlet for many whose access to formal higher education was limited or denied.
During World War I Mrs. King immersed herself into war work with the WNFGA and the GCA's Women's Land Army in New York City. This plan had placed over 15,000 "farmerettes" on farms throughout the country to alleviate the problem of a shortage of expert help on the land. The operation was a success, despite concerns, and Mrs. King won the Bronze medal from the National War Garden Commission for her efforts in food production. Mrs. King believed the WNFGA encouraged women to join together from both the city and the farm, crossing the economical boundaries that were to be found in other aspects of society.
The Michigan branches of the WNFGA were particularly strong under the watchful eye of Mrs. King. Many Michigan gardeners participated in the Mid-West Branch from 1915-1926, which began at Mrs. King's Alma house. The Michigan branch also benefitted from the presence of Mrs. Clara (Henry) Ford of Dearborn. Mrs. Ford was the national President from 1927-1934 and was a devotee of Mrs. King's lectures and books On several occasions she visited Mrs. King in Alma. Today, at least one branch of the WNFGA remains active in Milford, Michigan.
Mrs. King was also actively involved in local gardening groups and projects in the Alma area. This involvement continued throughout her life and included such activities as hosting the annual flower show, giving regular lectures, and participating in the Civic League of Alma. The League, formed in May 1907, contributed to many beautification projects during the 1920s: the cleanliness of streets and yards, establishing more water fountains, planting elm trees along the road to St. Louis as a memorial to those killed in World War I, planting a beautiful rose hedge at the train depot and planting a lilac grove at the Great Union school. During this time Mrs. King was vice president of the League. Her strong belief in the democratizing effect of gardening was clearly seen in Alma where she encouraged individuals of various ages, privileges, and economic standing to become involved in the projects and took particular time to involve the community's children.
Mrs. King had a particular concern for involving children in the garden. In 1910 she helped produce a collection of verses for the Michigan Forestry Association. The verse was used on "Forestry Day," which was marked by programs presented in the Woman's Clubs and Granges of Michigan, and, perhaps more importantly in her mind, for Arbor Day, the celebration of gardening in the schools. She firmly believed that children could and would appreciate the beauty and peaceful nature of a garden. In 1921, in her book The Little Garden, she clearly saw that gardens could be designed with children in mind: "In the successful treatment of ground small in dimension, in the beautiful quality of the little garden, lies the true future beauty of America."
In 1921 the Horticultural Society of Massachusetts awarded her the George Robert White medal - making her the first female recipient and only one of two women to receive it until 1968. Mrs. King was a prominent figure listed in Who's Who of America. As well as her national and local involvement in gardening clubs and the Civic League she was a strong voice in the Women's League of Voters and always maintained a distinct thread of feminism through all the organizations she joined.
Paving Paradise: The Garden's Fate
Her husband's death in 1927 meant a loss of much of the King's family income. Mrs. King was forced to sell her cherished home in Alma. It was purchased by the Ladies of the Modern Maccabees who in 1929 opened it as the Frances E. Burns Maccabees Home for Elderly Ladies. By that time Mrs. King had resettled in New York. Of her old garden in Alma she later wrote:
The beauty of the four apple trees over the crosswalks, pleached to form a bower of leaves and fruit; the happy repetition of squares of brick and gravel in this upper garden, the delicate little distances of flower-bordered walks, of thick tunnelings, of green, of lilac, of deutzia, and of apple--all is so sweet, so exquisitely dear, each leaf and blade is so known and loved, that soon to see it in other hands is a martyrdom. But this--and more--gardeners must sometimes endure.
Although the Maccabees employed her long-time gardener, Frank Ankney, to maintain the grounds without Mrs. King's guiding spirit and considerable financial means the garden slowly decayed. The home closed in the late 1960s and stood vacant until 1971 when Alma Public Schools opened it as an administrative building. The building was again sold in 1980 to Don Dewey of the Dewey Funeral Home. He built a parking lot between the building and the south lawn.
Garden Image Gallery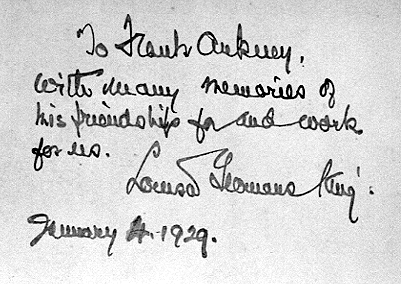 In 1907 as the garden began to take shape, Mrs. King began a scrapbook of the garden. In 1929 she gave the book to her gardener Frank Ankney, Ankney had spent twenty years helping Mrs. King create and maintain the practical side of what she had envisioned. The Clarke Historical Library has over two hundred photographs and negatives of Mrs. King's Alma garden, including those in the scrapbook.