Exhibitions
We make history accessible. The Clarke Historical Library's galleries, online exhibits, and traveling exhibits display and interpret the Library's historical and unique collections.
---
Seeking a Pleasant Peninsula:
Michigan Migration Stories

Michigan's complex cultural landscape has been defined by the people who, for centuries, have moved to, from, within, and through our state. These migrations happen because of forces that push people from one location to another and that have drawn people to Michigan. Through the migration stories highlighted in this exhibition, those who find themselves here in Michigan can reflect on what steered them to these two pleasant peninsulas and how their experiences contribute to the culture of this state.
On exhibit in the Clarke Historical Library:
April 26, 2023 - December 21, 2023
Monday-Friday 9 am- 5 pm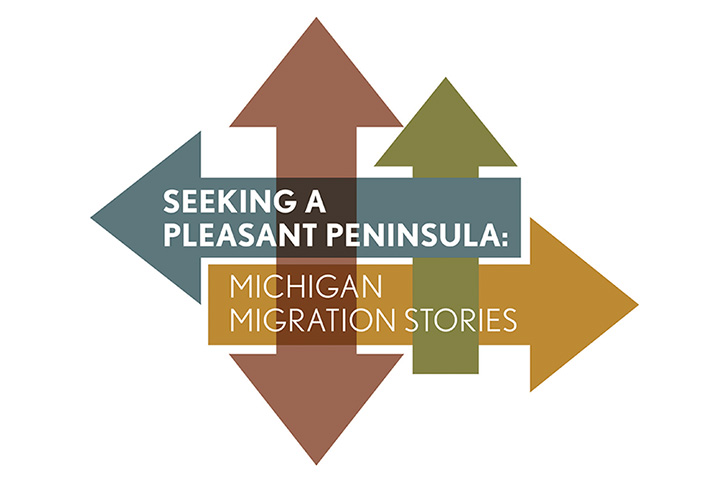 ---
Online Exhibitions
​Drawing from the Clarke Historical Library's many and diverse resources, online exhibits and digital collections showcase the history of Michigan and the Great Lakes region. The mix of primary source material and interpretation allows everyone to learn more about our shared cultural heritage.
---
Traveling Exhibitions
​Some exhibits that have been prepared by the Clarke Historical Library staff are available for loan. Traveling exhibits are available on the following topics:
The History of Photography

Nineteenth Century Native American Images Created by J.O. Lewis
Flint

The exhibits may be borrowed without direct cost. The borrower is responsible for transportation of the exhibit from Mt. Pleasant to the exhibit site, as well as for returning the material when the loan is completed, insurance of the items while on loan, and, in the case of original material, ensuring proper preservation standards and appropriate security precautions are in place.
For additional information about borrowing an exhibit, please call 989-774-3352.