Unpublished Women's History Materials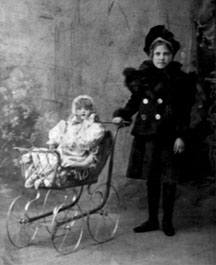 The Clarke Historical Library's holdings for the study of women and their roles in society are varied. In the collection are the accounts of teachers, authors, activists, politicians, missionaries, homemakers and other women who have left a record of their lives. This bibliography should make this rich manuscript resource more easily available to researchers.
In compiling this bibliography not only individual collections but also large collections of materials have been scanned for material related to or by women. In order to locate the material in the larger collections, it is necessary to consult the Finding Aid for that collection. An entry that includes the word, IN, and names of a particular collection will have a Finding Aid in the Clarke Historical Library. For example, to find the Abbott, Mary Correspondence in Williams Family Papers you will need to check the Finding Aid for the Williams Family Papers to determine the exact location of Mary Abbott's letters within the collection.
This bibliography was compiled in the summer of 1998. Additional materials are always being added to the collection. Please consult the staff if you have questions.
The Clarke Historical Library is a research library and does not loan materials. These materials must be consulted in the Reading Room of the Clarke historical Library. View the Clarke's Hours of operation.