Afterword
Exhibits originate in many ways. Some celebrate newly acquired treasures. Other exhibits commemorate the passage of time and the arrival of a particularly significant anniversary. The Reed Draper exhibit, however, recalls a past act of considerable generosity. It is to the late Reed Draper and his wife Joanne Draper, who presented to the Library many of the sportfishing books displayed in this exhibit, that our first, and undoubtedly largest, debt of gratitude is owed.
Robert Kohrman remembered both the generosity of Mr. & Mrs. Draper and recognized the importance of their gift to a wide variety of library users. Dr. Kohrman shared his vision regarding the collection's importance and its suitability for an exhibit with a library staff not well versed in subjects relating to rod and reel. His gentle education and consistent passion helped make this exhibit a reality. His knowledge of both the practice and literature of fly-fishing also led to this catalog. We are extremely grateful to him for his help in bringing this exhibit and this catalog to fruition.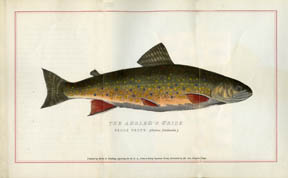 If Dr. Kohrman brought to the project vision and a knowledge of both the practice and literature of sportfishing, several others brought additional talents that helped to complete this exhibit. Student intern Julie Herringa leafed through thousands of pages of angling books, flagging potential illustrations. Rebecca Zeiss used those illustrations, as well as others she selected, to create the exhibit's visual appeal. Similarly, Amy Motz used the illustrations, as well as her talent in arranging print, to create the final version of the catalog. Through it all Mary Graham ensured that our grammar was correct and our spelling accurate (not an easy task when quoting from publications published over four centuries), as well as saving us from other errors too numerous to mention. As always, our friends at CMU Printing Services delivered to us a high-quality publication. Pat Thelen brought the web version of this document to the Clarke's website.
As always, a debt of gratitude must also be acknowledged to my family, including my children Matt and Nick, as well as my wife Valerie, who participated in the process, supplied many good ideas, helped sink a few awful ideas of mine, and suffered through the creation of an exhibit. My sincerest thanks to my family and everyone else involved in the process of completing this project.
Frank Boles