Hemingway's Michigan
Bear Lake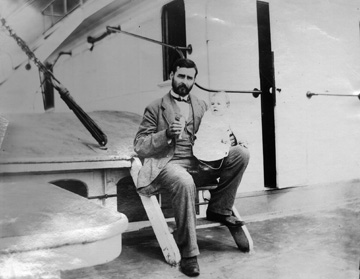 The year before Ernest as born, Clarence, Grace, and baby sister Marcelline, boarded a Great Lakes steamship for a trip to the wilderness of northern Michigan. They had heard stories of Michigan's beauty and the wonderful effect the fresh air there had on people's health and Dr. Hemingway was interested in seeing it himself. It took the family two days to reach their destination near Petoskey- Bear Lake -- where they stayed with Grace's cousins at Wildwood Harbor.
What the Hemingways discovered was a region in the midst of change. The lumbering era was coming to an end after having turned tremendous old growth forests into bare stump fields. Tourism was emerging as an economic force, replacing lumbering and taking advantage of rail lines and areas opened up by the loggers. Large resort hotels were being built on a number of inland lakes and steamship and railroad companies began to promote the region as a tourist destination. Soon people from all over the Midwest were enjoying the beautiful views, fresh water, and outdoor activities in northern Michigan.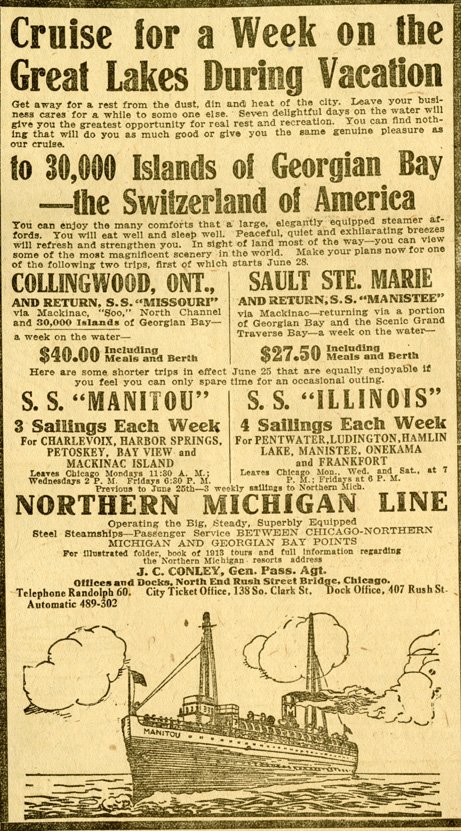 What happened at Bear Lake was very typical of what was happening at other lakes in the region. Once a rail line was completed to Walloon Village, it became possible for resorters from as far away as St. Louis and Kansas City to easily reach the lake. Rail companies such as the Grand Rapids and Indiana and steamship companies operated elaborate publicity campaigns to lure tourists north. Resort hotels were opened and people came to enjoy the beautiful views, great fishing and boating, and socializing with other resorters. As it grew in popularity, locals changed the lake's name in 1900 from Bear Lake to Walloon Lake to avoid confusion with other Bear Lakes in Michigan.
The Hemingways' first trip in 1898 was when some visitors were deciding that they would prefer to own a cottage rather than stay at a resort hotel. This appealed to Dr. Hemingway and he liked the idea of his family enjoying summers in a healthy natural environment where opportunities for hard work and for enjoying nature were plentiful. The lake was beautiful and opportunities for fishing, boating, and swimming abundant. The Hemingways decided they wanted to buy property on the lake and investigated available sites. One particular parcel interested them more than others. It was a full acre of waterfront on a small bay with maple, birch and hemlock trees and a lakeshore perfect for swimming. It was owned by Henry Bacon, a farmer whose property bordered the lot, and was close to "Bacon's Landing" - a spot where the lake steamships regularly stopped. Before they returned to Oak Park, the Hemingways purchased the lot on which they would build their cottage and where they would spend their future summers.
Getting There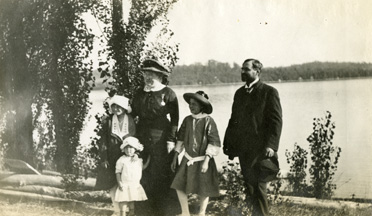 Between 1899 and 1921 Ernest Hemingway and his family spent at least part of every year in northern Michigan. Like thousands of other people, they relied on steamships and trains to get them from their homes to their Michigan destinations.
The Hemingway's journey began at a pier in Chicago where they boarded one of the several Great Lakes steamers that traveled along Michigan's west coast. The SS Manitou was their most common choice. It was the best known and most luxurious of the steamers with its finely furnished cabins and ornate public areas. Porters would help the Hemingways load trunks filled with clothes, books, and provisions onto the ship and the family would settle in and enjoy the day and a half trip. When the Manitou docked in Harbor Spring, the Hemingways transferred themselves and their cargo to a "dummy train" at the rail station. (These trains were called this because they did not travel on to far away locations. They ran back and forth between local stops carrying people and goods.) The train the Hemingways boarded took them around the edge of Little Traverse Bay to Petoskey with several stops at resorts like Bay View.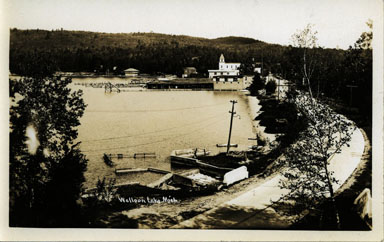 Once at the Grand Rapids and Indiana railroad station at Petoskey they needed to make one more transfer. This time it was to another dummy train that took them to Walloon Village at the shore of Walloon Lake. There they made one more change to a small wood burning steamship that would take them to their cottage. The Tourist, Outing, and Rapid Transit made regular trips around the lake stopping at resorts and individual docks if signaled to do so by a flag at the dock's end.
Years later, when roads had improved, the Hemingways traveled north by car. The first of these trips was in 1917 and was done in Dr. Hemingway's Model T Ford. It took 4 days to reach Walloon Lake with the family camping along the way.
Getting There Photo Gallery
Windemere Cottage
A six week old Ernest Hemingway made his first trip to Michigan in September 1899. Pictures reveal an excited family determining just the right spot for the cottage with Ernest safe in his parents' arms. His parents had excitedly been making plans for their new cottage and wanted to return to the property to make final arrangements for its construction. It would cost $400.00 and be modest in size (20 X 40).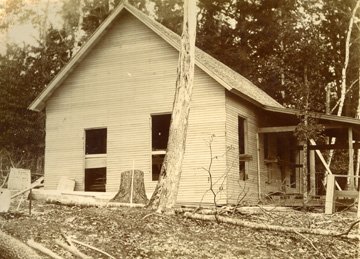 Windemere under construction
fall 1899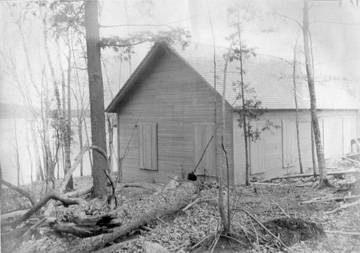 Windemere shuttered for the winter​ before being painted, ca. 1899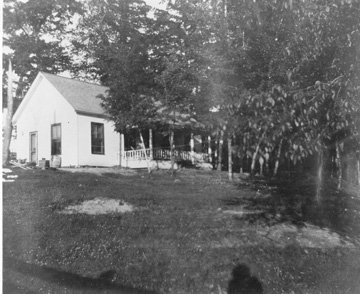 Completed Windemere
cottage, 1900
Inside the cottage, there would be a small kitchen, two bedrooms and extra deep window seats on either side of the fireplace that would double as beds for young Marcelline and Ernest. The furnishings would be simple and functional. They decided to name their home away from home "Windemere" and promptly had postcards and stationary made bearing that name.

Interior view, Windemere Cottage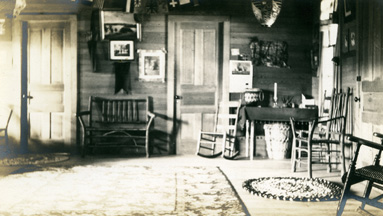 Interior View, Windmere Cottage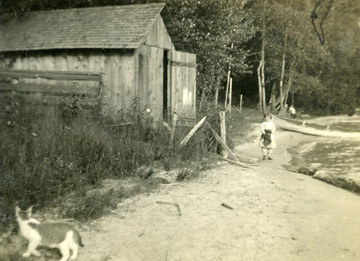 Windemere was situated facing west in a grove of trees. Behind it, a fence separated the Hemingways' property from Henry Bacon's farm. To the north was Murphy's Point (which would become a favorite campsite for the children) and to the south Bacon's Landing.
The Bacons were good and valued neighbors. Their farm supplied the Hemingways with needed fresh food and the children spent hours there learning about farm life. When Henry Bacon decided to build a new barn in 1900, the Hemingways were invited to the barn raising where Clarence recorded the event with his camera and was even asked to drive in the final stake.
Over the years, the small original structure of Windemere underwent changes and additions. Both a kitchen wing and a large screened eating porch were added over the years. As the family grew to include six children, a three-bedroom sleeping annex was built behind the cottage. The boathouse safely stored the canoe and boats in the off-season.
Windmere Cottage Photo Gallery
Cottage Life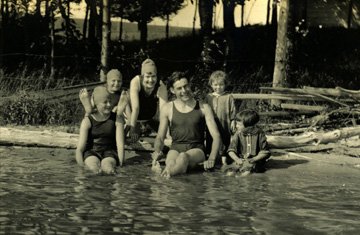 The Hemingways' Michigan summers typically began when the school year ended and ended in late August. Grace would spend the entire time there assisted by a hired local girl or one brought with them from Oak Park. Doctor Hemingway joined them as much as his medical practice would allow.
When he was there, Dr. Hemingway loved to be outside. He gave his children swimming lessons and taught them how to safely deal with an overturned boat. Friends and family members also made frequent visits.

At the lake most of the time was spent outdoors where they swam, fished, roasted marshmallows, went boating, and sat around doing nothing. They also enjoyed playing dress up and entertaining family and friends. When Ernest tuned eleven years old, the family celebrated with 75 guests whose 20 boats filled the shore.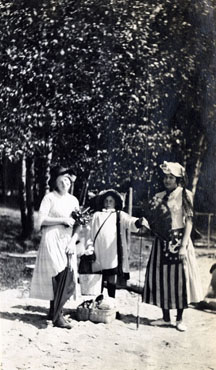 Another favorite activity was target shooting. Dr. Hemingway instructed all the children on gun safety and they enjoyed spending Sunday afternoons competing to see who was the best shot.
Carol Hemingway was born at Windemere during July 1911. Both she and Ernie shared July birthdays and a family tradition was started. Just before the birthdays, the family would walk into the woods where they would cut and bring back a "birthday tree." The tree would be placed on the screened porch and decorated much like a Christmas tree.
In 1905 Grace used money she, inheritance to buy a 40-acre farm across the lake from Windemere and "Longfield Farm" became a regular part of Michigan summers. Trees were planted there and with the help of local farmers, hay was cut and vegetables planted and harvested. As he got older Ernest enjoyed camping on the property while he worked there. In 1919 Grace had built a small cottage on the highest part of the property that she called "Grace Cottage." Here she occasionally spent time away from the hectic pace of her children.
Hunting and Fishing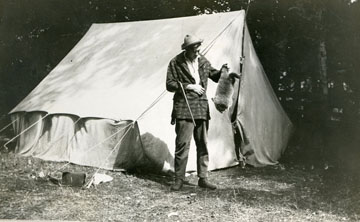 Ernest's special interests were hunting and fishing. Doctor Hemingway taught his children how to use guns safely and insisted they used them responsibly. Killing was reserved for game that could be eaten. This lesson was applied when young Ernest and a friend shot a porcupine that had injured the Bacon's dog. After proudly showing the family the dead animal they were reminded of the rule and the porcupine was prepared for them to eat!

There were many streams and lakes close by for Ernest to explore and on these he developed what would be his lifelong passion for fishing.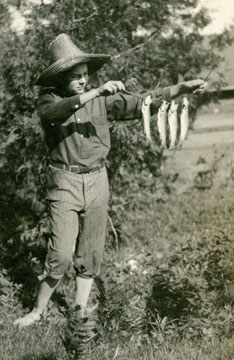 In 1915 and 1916 Ernest decided to hike to Walloon Lake. In 1915 he and his Oak Park friend Louis Clarahan took the steamer Missouri to Onekama, Michigan, and from there walked, fished, and camped their way north. They repeated the trip the following year with Ernest completing the trip on his own after Louis took a train home midway through the hike.
In his notebook, Ernest noted possible story ideas and the locales around Kalkaska and Mancelona eventually used in several short stories including The Battler.
Ernest Hemingway and his writing are usually associated with African safaris, marlin fishing off Cuba's coast, bullfighting, and exotic international sites like Paris, Spain, and Italy. All his life, Hemingway sought, enjoyed, and wrote about new places and experiences. The first of these places was much closer to his hometown of Oak Park, Illinois; it was northern Michigan.
This website explores those years Ernest Hemingway spent in Michigan and the literature he wrote about this state. It also tells the story of the Hemingway family's shared summers between 1898 and 1921.
Hunting and Fishing Photo Gallery
Horton Bay
Ernest Hemingway and his writing are usually associated with African safaris, marlin fishing off Cuba's coast, bullfighting, and exotic international sites like Paris, Spain, and Italy. All his life, Hemingway sought, enjoyed, and wrote about new places and experiences. The first of these places was much closer to his hometown of Oak Park, Illinois; it was northern Michigan.
This website explores those years Ernest Hemingway spent in Michigan aAs he got older, Ernest spent less time at Windemere and more time with friends at the village of Horton Bay. To get there, Ernest rowed across Walloon Lake from Windemere and then walked through hills 4 additional miles. The little town nestled on Lake Charlevoix had been a lumbering center in the late 1800s but had faded into a small cluster of buildings including a general store, blacksmith shop, inns, and several cottages. At the bay was a warehouse where crates of locally grown vegetables were stored awaiting steamers to transport them to markets elsewhere. The pier was also a gathering spot for swimmers and young people.
When Ernest stayed at Horton Bay is was usually with his friends or at Pinehurst Inn. Owned by the local blacksmith, Jim Dilworth, and run by his wife, Elizabeth, rooms were available and the chicken dinners were very popular with tourists and locals. Ernest frequently stayed and ate here and it was the site of his wedding reception in 1921.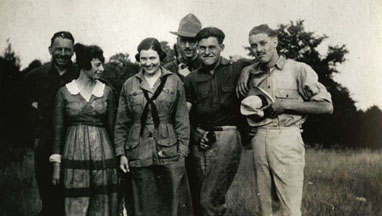 Ernest also spent time with other vacationers such as Bill Smith and his sister Katy who visited from their home in St. Louis, and Carl Edgar, who lived in Kansas City. These young people fished and swam and entertained each other with stories. Their company was a welcomed escape from his family and the chores he had at Windemere and Longfield Farm.
Horton Bay would also be the setting for Ernest's wedding on September 2, 1921. He had met and fallen in love with Hadley Richardson, a 27 year old woman from St. Louis, Missouri, and Ernest wanted the wedding to be held in Michigan, far from the formalities of Oak Park. They were married in a now demolished Methodist Church at Horton Bay and walked across the road to the reception. A Model T Ford took them to the shore of Walloon Lake where Ernest rowed Hadley the mile across the lake to Windemere where they spent their honeymoon.
Eventually Horton Bay would figure prominently in several of Ernest's short stories, including Up in Michigan, The End of Something, and the Three Day Blow
1919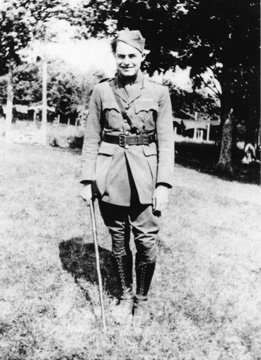 For Ernest Hemingway 1919 was a year of healing and changes. During the summer of 1918 he traveled to Italy where he served in World War I as an ambulance driver for the American Red Cross. One day while delivering cigarettes and candy to solders at the front, he was severely wounded. An exploding shell and machine gun fire left the doctors thinking that he would never walk again and would be a cripple. This near death experience left Hemingway both emotionally and physically shattered and, as he began his recovery, he fell in love with his nurse, Agnes Von Kurkowski. By December he was well enough to travel home to Oak Park where he continued his healing at his parents' home and dreamed of marriage to Agnes.
His time at home was difficult. He missed his girl, resented living at his parents' home, and longed to recapture the excitement he had experienced in Europe. He did several speaking engagements (including one at Oak Park High School where he captivated the staff and students with stories of the war). Then in early March he received a letter from Agnes in Italy telling him she had fallen in love with another man and that she was ending her relationship with Ernest. This left him devastated.
He looked to Michigan as a place to escape his parents' increasingly uncomfortable concern over his future plans and to heal his physical and emotional wounds. Anxious to recreate previous summers of sport and good times, he corresponded with a number of friends urging them to join him. These included his war time friend Jim Gamble who he pleaded with to spend time with him "up north.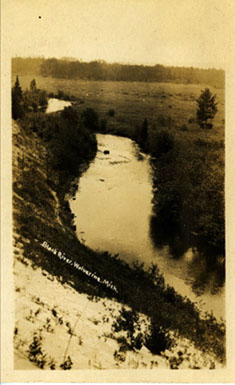 Once at Walloon Lake, he spent most of his time at Horton Bay and he went with friends on fishing trips to a favorite area called the Pine Barrens near what is today Vanderbilt, Michigan. There they camped and fished the Black and, Sturgeon River.

But perhaps the highlight of his summer was a trip he took with Jock Pentacost and Larry Barnett to the Fox River near Seney in Michigan's Upper Penninsula. This trip and that trout stream would eventually be the inspiration for perhaps his most famous and best short story, The Big Two Hearted River. In this story a wounded young man fishes deliberately and heals his body and mind.
In the fall Ernest stayed in Michigan and moved to a rooming house in Petoskey run by Eva Potter when both Windemere and Pinehurst were closed for the season. In Petoskey he made friends with local schoolgirls such as Grace Quinlan and spent time with Majrorie Bump, a girl who he had met at Pinehurst where she was a waitress. On one occasion he was asked to speak about his war experiences at the local library. Harriet Connable heard his talk and approached him about coming to live with her family in Toronto to provide companionship to her disabled son. Hemingway agreed and spent 5 months in Toronto before returning to Michigan. While there he also established contacts that lead to a job as a Toronto Star newspaper reporter.
Oak Park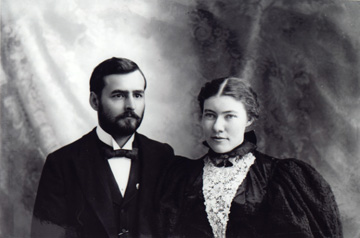 On July 21, 1899, at 8:00 in the morning, Dr. Clarence Edmunds Hemingway and his wife, Grace Hall Hemingway, welcomed their second child (and first son) into the world. Ernest Miller Hemingway had thick black hair, was 23 inches long, and weighed nine and a half pounds. Even amid the celebration of his birth, no one could have predicted his eventual fame. He was simply the latest child of a middle class family from suburban Chicago.
The Hemingways lived in Oak Park, Illinois, a pleasant and prosperous suburb 10 miles west of downtown Chicago. Clarence Hemingway was a respected family doctor whose office was at the family home and who specialized in obstetrics. He visited his patients using his horse and buggy and later, a new Model T Ford. He was also a man who enjoyed being outside and he spent many hours hunting and fishing and studying the natural world. He liked gathering plants and bringing them back to his office and looking up information in his library.
He delighted in taking his children to the zoo and the natural history museum and taught them to be careful observers of nature. He enjoyed cooking and canning preserves and typically he was soft spoken and affectionate but he was given to mood swings and could be harsh in his punishments. His Christian beliefs were strong and he disliked the use of tobacco and alcohol.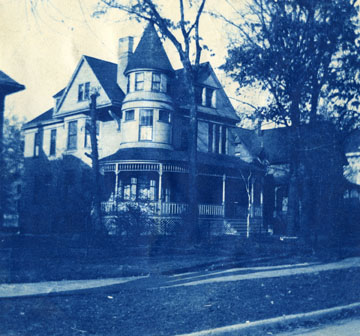 Grace Hall Hemingway was a talented and modern woman for the time period. Before her marriage to Clarence Hemingway in 1895, she had prepared for a career as a professional singer and had even spent time in New York City taking lessons and performing. After the marriage, she turned to giving music lessons and, according to her daughter, the income she received from these often was greater than the money her husband made as a doctor. She disliked traditional household responsibilities (cooking, cleaning, and sewing) and benefited from having one or two hired girls to perform these chores. She was very involved in cultural affairs and took it upon herself to see that her children experienced art, music and theater. Eventually she also discovered that she had talent as a landscape painter. She was strong willed, verbal, and, like Clarence, was a strict and devout Christian.
When Ernest was born the Hemingways lived with Grace's father, Ernest Hall, in a large Victorian home. After his death in 1905, the Hemingways built a new three story modern home at that had eight bedrooms, a music room for Grace and a medical office for Clarence.

Grace's uncle Tyler "Tyley" Hancock was a traveling salesman who often stayed with the family and he always had a room set aside for him. He would also visit them at their Michigan cottage where he and Dr. Hemingway would go on fishing trips - sometimes as far away as to Brevort Lake in Michigan's Upper Peninsula.

The family would eventually grow to six children - Marcelline (b. 1898), Ernest (b. 1899), Ursula (b. 1902 ), Madelaine "Sunny" (b. 1904), Carol (b. 1911), and Leicester (b. 1915). (Beach family portrait) The children were all very involved in church and community activities and the Hemingway household was one in which everyone was expected to be God fearing, educated, and active. Dr. Hemingway especially disliked idleness and was quick to make sure the children were always involved in doing something worthwhile.