Materials in the Clarke
The Clarke Library holds an extensive collection both about Ernest Hemingway and the Hemingway summer cottage on Walloon Lake, and about Walloon Lake and the Little Traverse Bay area between 1900 and 1920. Discussed in this section of the website are Ernest Hemingway items, items created by the Hemingway family, contemporary manuscript material by individuals who knew Ernest Hemingway or the Hemingway family, material collected about Ernest Hemingway by Michael Federspiel, and photographic material made available to the Clarke Library by the Little Traverse Bay Historical Museum and the Harbor Springs Historical Museum.

Ernest Hemingway Items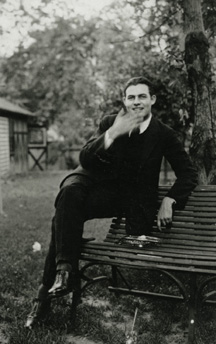 The Clarke Library holds an impressive group of items documenting Ernest Hemingway's many summers spent in Michigan. Perhaps the single most evocative item found in the Clarke Library linking Hemingway to northern Michigan is a long, is a long, typed letter written by Hemingway after his service in World War I to his friend and former commanding officer, James Gamble. Written in the spring of 1919 Hemingway attempts to persuade Gamble to abandon Europe and instead spend the summer in northern Michigan. The letter addresses those things most dear to Hemingway, the beautiful landscape, the freedom from care, and the fish.

Other letters by Hemingway are also found in the Clarke Library. Among them is a small postcard written by Hemingway to his father while on a fishing trip in Michigan's Upper Peninsula, a trip that would eventually become a shorts tory, "The Big Two-Hearted River."
Other important items found in the Clarke include what might well be the first story ever written by a very young Ernest Hemingway, "published" on pieces of his father's stationary that had been cut in half and bound with string. Another youthful effort found in the Clarke, written while Hemingway was in high school, is an unpublished story set in a Michigan lumber camp.

Also available is an extensive collection of photographs taken by or of the Hemingway family in northern Michigan. The collection also features rare signed, first editions. One of the most interesting of these is a copy of Asa Gray's Manual of the Botany of the Northern United States, given to Hemingway's father by his mother, and signed by both his parents.
The Clarke Library's collection is rich in material describing Ernest Hemingway's boyhood adventures in northern Michigan and his abiding love for the place in which he learned so much about life.