Scholarships for Freshmen
Maroon and Gold Merit Recognition Awards
Our Maroon and Gold Merit Recognition Award program provides scholarship opportunities to incoming freshmen based on high school academics. These scholarships cover anywhere from 20–65 percent of the cost of 30 credits per year for up to four years. These scholarships are based on a percentage of the cost of tuition, so their value increases if tuition increases.
Incoming freshmen who have applied to CMU are automatically considered for these awards. We are test optional, meaning you do not have to submit an ACT or SAT score in order to be admitted or be considered for one of our Maroon and Gold Merit Awards.
No additional application is required. Apply by December 1 to receive priority consideration.
Merit awards based on GPA and test score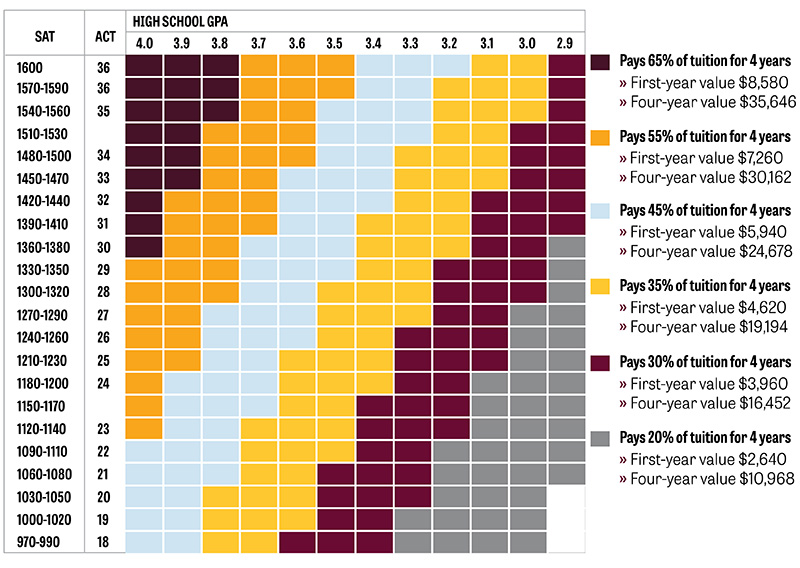 Merit awards based on GPA only:
| Percent of tuition | HSGPA | First-year value | Four-year value |
| --- | --- | --- | --- |
| 50% | 4.0 | $6,600 | $27,420 |
| 45% | 3.9-3.99 | $5,940 | $24,678 |
| 40% | 3.8-3.89 | $5,280 | $21,936 |
| 35% | 3.7-3.79 | $4,620 | $19,194 |
| 30% | 3.6-3.69 | $3,960 | $16,452 |
| 25% | 3.0-3.59 | $3,300 | $13,710 |
(Scholarship values above are for the 2022-2023 academic school year.)
Renewal requirements
All students must live on campus for two years. In your first year, as long as you're enrolled full-time (12 credits fall/spring), and you earn 30 new CMU credits over the academic year (summer included), you'll keep your merit scholarship for your second year.
In order to renew your scholarship for a third year, you must have a 3.0 GPA and have earned 60 new CMU credits.
Estimate your merit award
Enter your information below to see what your results are:
Competitive scholarships
Our competitive scholarships for incoming freshmen are awarded based on a variety of factors, including academic success, community engagement, leadership, enhancing diversity, multiculturalism and inclusion, and more. They require a separate application and have application deadlines different than our merit awards.
Departmental scholarships
Several of our academic departments also offer competitive scholarships based on the major you plan on going into.
Additional scholarship opportunities
Scholarship Universe is a great new tool for finding both CMU and external scholarships. Log in using your new CMU account and answer profile questions that will match you to scholarship opportunities. Then, choose the scholarships you'd like to apply to. Don't Wait! Apply by March 31st.