Choral Ensembles
We have a long tradition of excellence dating back to our first performance of Handel's Messiah over one hundred years ago. Singers at Central Michigan University have various performing opportunities through choirs and performance and music education degree programs. Our students have sung all over the United States, Europe, and China. Our faculty are highly trained, widely experienced, and committed to helping students attain their full potential as singers and artists. Private study with voice professors is available to those who apply and are accepted as music majors or minors.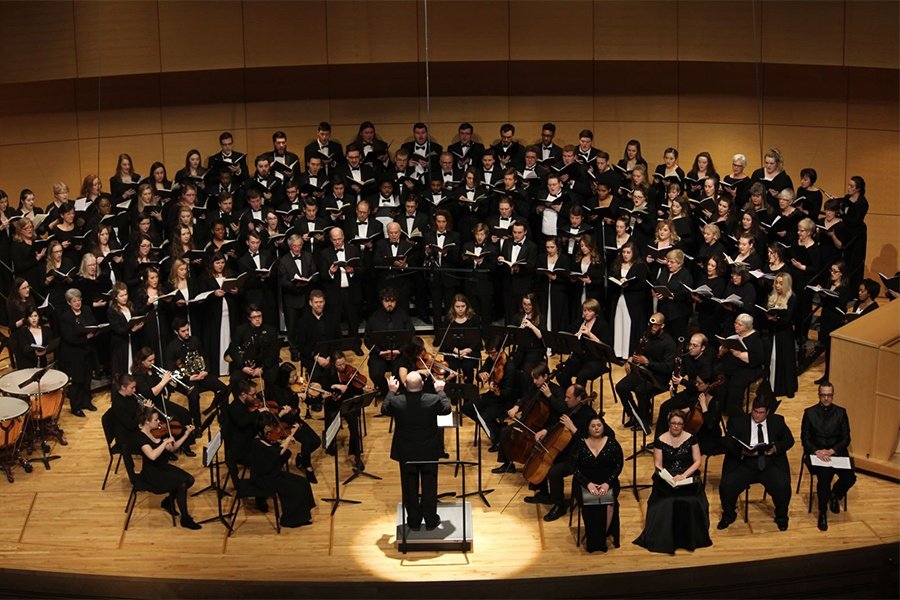 Enrollment in Chamber Singers, Concert Choir, and Festival Chorus is open to all university students by audition. Auditions are held during the week before the start of classes in August. Alternately, students may contact conductors to schedule an appointment to audition for their respective choirs. In addition, Festival Chorus is available without enrollment credit to faculty, staff, and members of the greater Central Michigan community.
CMU ensembles are open to all university students by audition.
Chamber Singers
Chamber Singers, directed by Dr. Amon Eady, is CMU's most highly selective ensemble of 20-30 singers, primarily upperclassmen and graduate students. Chamber Singers perform the highest quality music of all periods, focusing on the a cappella literature of the Renaissance and 21st-century choral chamber music. Chamber Singers have also been honored to sing the premiere performance of many new choral works and perform at regional conventions of the American Choral Directors Association and the Music Educators National Conference. They have performed in Ireland, Czech Republic, Slovakia, Italy, Austria, and China. Their May 2007, concert tour to Ireland and France included performances in Dublin's St Patrick's Cathedral, La Madeleine in Paris, and Chartres Cathedral. The Chamber Singers are also pleased to host the annual Vocal Chamber Music Day, where guests have included Chanticleer, the King's Singers, Cantus, and the Brazeal Dennard Ensemble.
Concert Choir
Concert Choir, directed by Dr. Amon Eady, Director of Choral Activities, is an ensemble of 75-100 students whose majors represent a variety of specialties within the university. In addition to annual Fall, Winter (Yuletide), and Spring concerts, they also join with the Festival Chorus and Symphony Orchestra for the annual performance of a major choral/orchestral work. This group also performs regularly with the Midland Symphony Orchestra. The group also performs shorter choral works of all genres, including spirituals, folk-song arrangements, contemporary masterworks, and multi-cultural choral literature.
Members of the Concert Choir performed in Ireland in 1988 and New York's Carnegie Hall in 2005 and 2013. In 2003, the Concert Choir, Chamber Singers, and Festival Chorus joined for a 10-day tour of China with concerts in Beijing, Xian, and Shanghai. In 2010, they returned to China, where they performed the Faure Requiem with a Chinese Orchestra as part of the Shanghai Expo 2010.
Festival Chorus
Festival Chorus is directed by Dr. Amon Eady. In a long tradition of "town and gown" choirs, Festival Chorus draws students, faculty, staff, and community members together in the fall semester to perform more significant masterworks for chorus, soloists, and orchestra. Major choral/orchestral works performed in recent years have included Brahms and Mozart Requiem, Bernstein Chichester Psalms, Copland Old American Songs, Vivaldi and Poulenc Gloria, Handel Messiah, and Mozart Requiem. Members of the Festival Chorus recently performed Vaughan Williams Dona Nobis Pacem in Carnegie Hall.