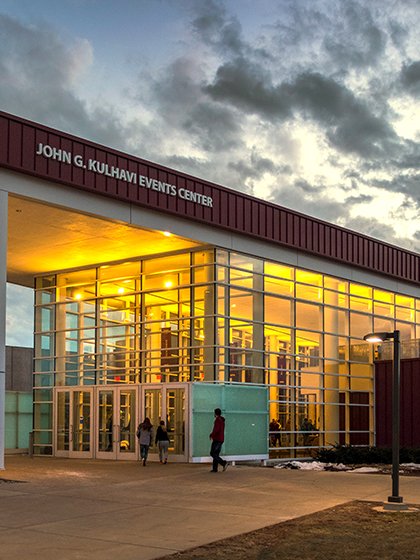 From athletic events to theatre productions, Ticket Central is the place to buy tickets to university events.
2022 Fall Learn To Swim Sessions Information
Use the link below to view the swim schedule and register for classes.
2022-23 University Theatre season
Season passes (a savings of up to 66% off door prices) and tickets are on sale now for our 2022-23 season! Below are show details for the season.
Dancing at Lughnasa - Winner of the 1992 Tony Award for Best Play, Dancing at Lughnasa follows five strong sisters as they eke out a living in rural, 1936 Ireland.
Kinky Boots - Kinky Boots, the Tony Winning musical by Cyndi Lauper, tells the story of Charlie Price who has reluctantly inherited his father's struggling shoe factory. Trying to live up to his father's legacy and save his family business, Charlie finds inspiration in the form of Lola, a fabulous entertainer in need of some sturdy stilettos.
Lysistrata - Written in 411 BC, but as timely as ever, Lysistrata is a bawdy, anti-war comedy about a group of extraordinary women so intent on ending a pointless war, that they withhold sex until peace is achieved.
Indecent - Indecent is a new play inspired by the true story of the controversial 1923 Broadway debut of Sholem Asch's God of Vengeance. Written by Pulitzer Prize winning playwright, Paula Vogel, and set at a time when waves of immigrants were changing the face of America, this play with music is a riveting look at an explosive moment in theatrical history.
UTDC Dance Concert - Back again with their high energy, expressive dance, Japan's Masashi Action Machine joins our very own CMU Dance Students for a dance concert you won't soon forget.
We have returned to full capacity seating, and masks are recommended but are not required. Policies may change as the University responds to our health care needs and can be viewed on the current season webpage.
Athletics updates
Season and single game football tickets and parking passes are on-sale now! Also, Men's and Women's basketball season tickets are on sale for the 2022-23 season.
For accessibility accommodation requests, please contact us directly.