University Art Gallery
Located near the library and university center, the Central Michigan University Art Gallery's mission is to provide you and other mid-Michigan community members the opportunity to see contemporary art by emerging and established regional, national and international artists.
The gallery also serves as a laboratory and classroom for you to learn the process and concepts of exhibiting your creative work through juried student shows and senior BFA and BAA exhibitions.
We showcase art
We feature up to 12 exhibitions a year, as well as related lectures and films. Our schedule includes original curated exhibitions and national traveling exhibitions. You will be able to exhibit your work in an impressive 1890 square feet of display space and 290 running feet of walls in two galleries, equipped with LED track lighting, computer monitors, wifi, and a high-definition digital projector with a sound system.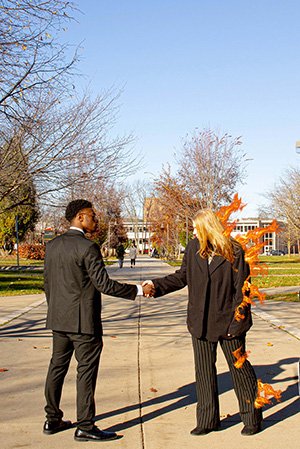 Diverse Duo: Bachelor of Applied Arts in Art, Fall 2023 Exhibition
Event Dates: Dec 1st-16th
Reception: Dec 8th 4-6pm
Free and Open to the Public - Approved for ART 096
University Art Gallery
This art exhibition showcases the work by CMU Department of Art & Design candidates for the BAA in Art degree. BAA candidates are Andrew Thomas and Mariah Wilson. The exhibition fulfills part of the requirements for their degree and capstone class taught by Anne Gochenour, Director of the University Art Gallery.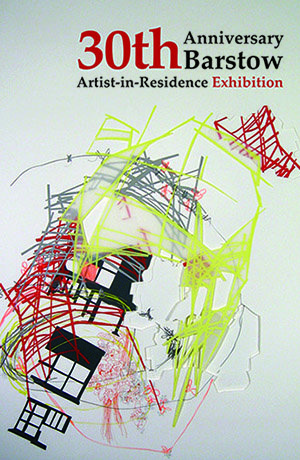 30th Anniversary Barstow Artist-in-Residence Exhibition
Event Dates: Dec 1st-16th, 2023
Reception: Dec 8th 4-6pm
Free and Open to the Public - Approved for ART 096
University Art Gallery
The Barstow Artist-in-Residence Program is 30 years old! This program was made possible by the generous gift of the late Stephen Lawrence Barstow. Barstow was a prominent architect and civic leader in Midland who believed in the value of art and art education. His endowment allows the Department of Art and Design to bring in a visiting artist every year. The artists live in the beautiful Barstow designed house on the banks of the Chippewa River. The gift also provides scholarships for students and funding for the Barstow Speakers Series. The Department of Art & Design has been bringing in Barstow Artists-in-Residence since 1992 and most of them gifted a piece of their art to the Central Michigan University Art Collection. These works will be featured in this exhibition.
Admission
The gallery is free and open to the public. There is never an admission charge.

Tours and Group Visits
Tours are available at no cost to school groups or other visitors. To schedule tours or group visits of over 15* people contact 989-774-7457.
Addresses
Mailing address
University Art Gallery
Wightman 132
Central Michigan University
Mt. Pleasant, MI 48859

Shipping address
University Art Gallery
Central Michigan University
251 E. Preston St.
Mt. Pleasant, MI 48859