University Art Gallery
We showcase art.
Located near the library and university center, the Central Michigan University Art Gallery's mission is to provide you and other mid-Michigan community members the opportunity to see contemporary art by emerging and established regional, national and international artists.
The gallery also serves as a laboratory and classroom for you to learn the process and concepts of exhibiting your creative work through juried student shows and senior BFA and BAA exhibitions.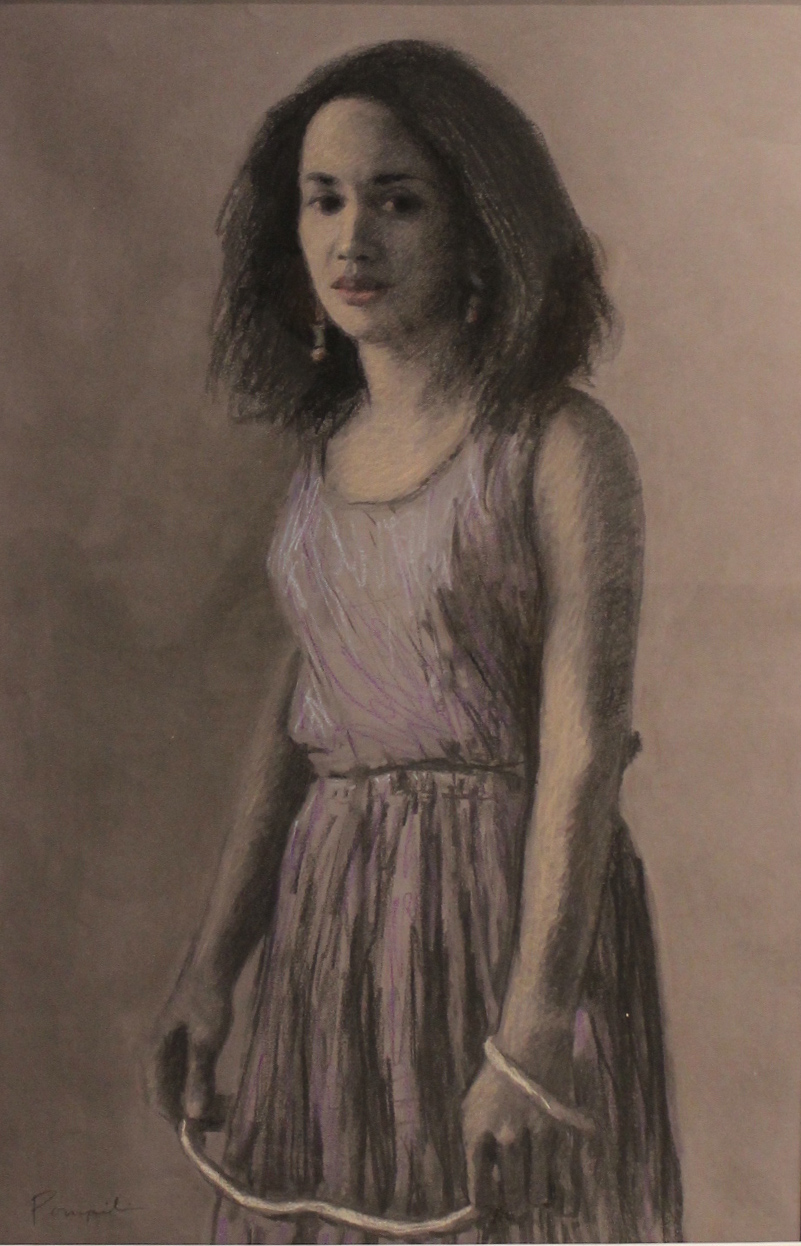 Art Works: Paintings and Works on Paper by Charles Pompilius from the Douglas and Brenda Baker Art Collection
October 14 - November 19, 2022 at the University Art Gallery and the Baber Room in the Park Library
Tuesday - Friday, 11 am to 6 pm and Saturday, 11 am to 3 pm or by appointment (989-774-7457)
Charles Pompilius is a prominent Michigan artist and CMU alum whose work primarily concerns the figure in interior spaces. You will have the unique opportunity to see the daily work of an artist. Sketches, sketch pads and preparatory drawings for paintings as well as finished works are featured from the collection of Douglas and Brenda Baker. You are invited to a reception Thursday, October. 20, 2022, 5-8 pm with the artist talking at 7 pm in the Baber Room at the Park Library.
at left: Charles Pompilius, Girl with Rope
Locating the Gallery
The UAG is located in the heart of the Central Michigan University campus in Mount Pleasant, Michigan. We are the A-Frame Building across from Park Library and next to the Bovee University Center on the corner of Franklin and Preston Streets.


251 E. Preston St.
Mt. Pleasant, MI 48859
Hours
Tuesday – Friday: 11 a.m. - 6 p.m.
Saturday: 11 a.m. - 3 p.m.
For appointments, call 989-774-7457

The gallery is closed between exhibitions for installation - please check the exhibition schedule.

Admission
The gallery is free and open to the public. There is never an admission charge.

Tours and Group Visits
Tours are available at no cost to school groups or other visitors. To schedule tours or group visits of over 15* people contact 989-774-7457.
Addresses
Mailing address
University Art Gallery
Wightman 132
Central Michigan University
Mt. Pleasant, MI 48859

Shipping address
University Art Gallery
Central Michigan University
251 E. Preston St.
Mt. Pleasant, MI 48859