University Art Gallery
Located near the library and university center, the Central Michigan University Art Gallery's mission is to provide you and other mid-Michigan community members the opportunity to see contemporary art by emerging and established regional, national and international artists.
The gallery also serves as a laboratory and classroom for you to learn the process and concepts of exhibiting your creative work through juried student shows and senior BFA and BAA exhibitions.
We showcase art
We feature up to 12 exhibitions a year, as well as related lectures and films. Our schedule includes original curated exhibitions and national traveling exhibitions. You will be able to exhibit your work in an impressive 1890 square feet of display space and 290 running feet of walls in two galleries, equipped with LED track lighting, computer monitors, wifi, and a high-definition digital projector with a sound system.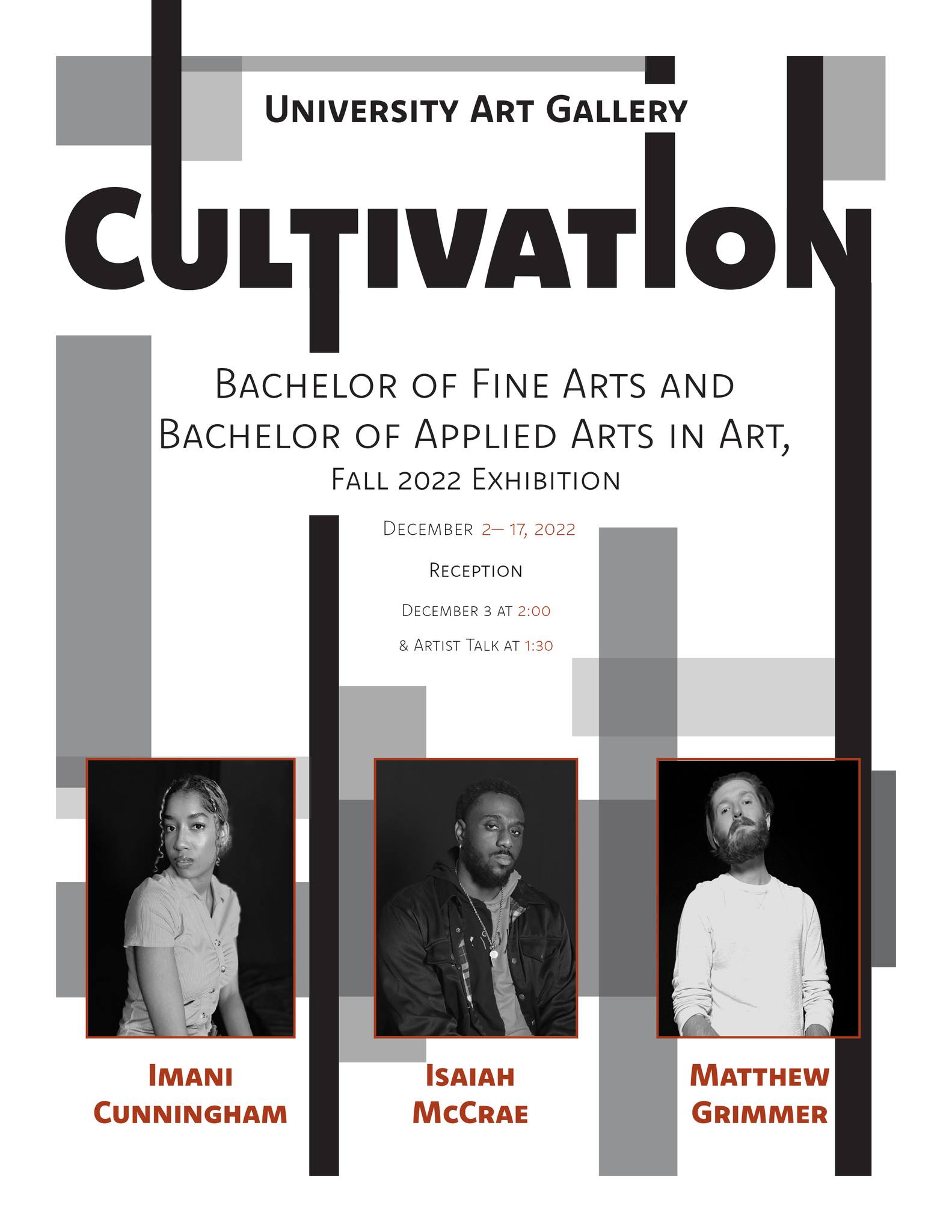 CULTIVATION: Bachelor of Fine Arts & Bachelor of Applied Arts
Fall 2022 Exhibition
December 2 - December 17, 2022 at the University Art Gallery
Tuesday - Friday, 11 am to 6 pm, and Saturday, 11 am to 3 pm or by appointment (989-774-7457)

Artist Talk begins at 1:30pm, Reception is on Saturday, Dec 3rd at 2pm.
This exhibition features work by BAA students Imani Cunningham & Isiah McCrae and BFA student Matthew Grimmer.
Julie Benda- Barstow Artist-in-Residence
For What It's Worth - Exhibition
December 2 - 17, 2022 - University Art Gallery
Reception, Dec 3rd @ 2pm
Julie Benda - Bio
Julie Reneé Benda is a printmaker, sculptor and public artist. Originally from the Upper Peninsula of Michigan, she earned her MFA from the Minneapolis College of Art and Design and has since been the recipient of the Metropolitan Regional Arts Council Next Step Grant, Minnesota State Arts Board Artist Initiative Grant and the Jerome/MCBA Mentorship. Her work has been featured by Make MN Magazine, MN Original and McSweeney's Internet Tendency.

She grew up at the end of a road, at the edge of a cliff in the cartographically dismissible Upper Peninsula of Michigan. Her formative years were largely spent collecting firewood and attempting to gain a suitable audience amongst a lot of maples and pines. She now creates carves, writes, and draws for humans.
Admission
The gallery is free and open to the public. There is never an admission charge.

Tours and Group Visits
Tours are available at no cost to school groups or other visitors. To schedule tours or group visits of over 15* people contact 989-774-7457.
Addresses
Mailing address
University Art Gallery
Wightman 132
Central Michigan University
Mt. Pleasant, MI 48859

Shipping address
University Art Gallery
Central Michigan University
251 E. Preston St.
Mt. Pleasant, MI 48859