University Art Gallery
We showcase emerging artists
Located near the library and university center, the Central Michigan University Art Gallery's mission is to provide you and other mid-Michigan community members the opportunity to see contemporary art by emerging and established regional, national and international artists.
The gallery also serves as a laboratory and classroom for you to learn the process and concepts of exhibiting your creative work through juried student shows and senior BFA and BAA exhibitions.
See contemporary art and exhibit your own art work
We feature up to 12 exhibitions a year, as well as related lectures and films. Our schedule includes original curated exhibitions and national traveling exhibitions. You will be able to exhibit your work in an impressive 1890 square feet of display space and 290 running feet of walls in two galleries, equipped with LED track lighting, computer monitors, wifi, and a high-definition digital projector with a sound system.
Locating the Gallery
The UAG is located in the heart of the Central Michigan University campus in Mount Pleasant, Michigan. We are the A-Frame Building across from Park Library and next to the Bovee University Center on the corner of Franklin and Preston Streets.


251 E. Preston St.
Mt. Pleasant, MI 48859
Hours
Tuesday – Friday: 11 a.m. - 6 p.m.
Saturday: 11 a.m. - 3 p.m.
For appointments, call 989-774-7457

The gallery is closed between exhibitions for installation - please check the exhibition schedule.

*Please note that COVID-19 precautions limit the number of people in the gallery to 10. Masks and social distancing are required.​​

Admission
The gallery is free and open to the public. There is never an admission charge.

Tours and Group Visits
Tours are available at no cost to school groups or other visitors. To schedule tours or group visits of over 15* people contact 989-774-7457.
Addresses
Mailing address
University Art Gallery
Wightman 132
Central Michigan University
Mt. Pleasant, MI 48859

Shipping address
University Art Gallery
Central Michigan University
251 E. Preston St.
Mt. Pleasant, MI 48859
Current and Upcoming Exhibitions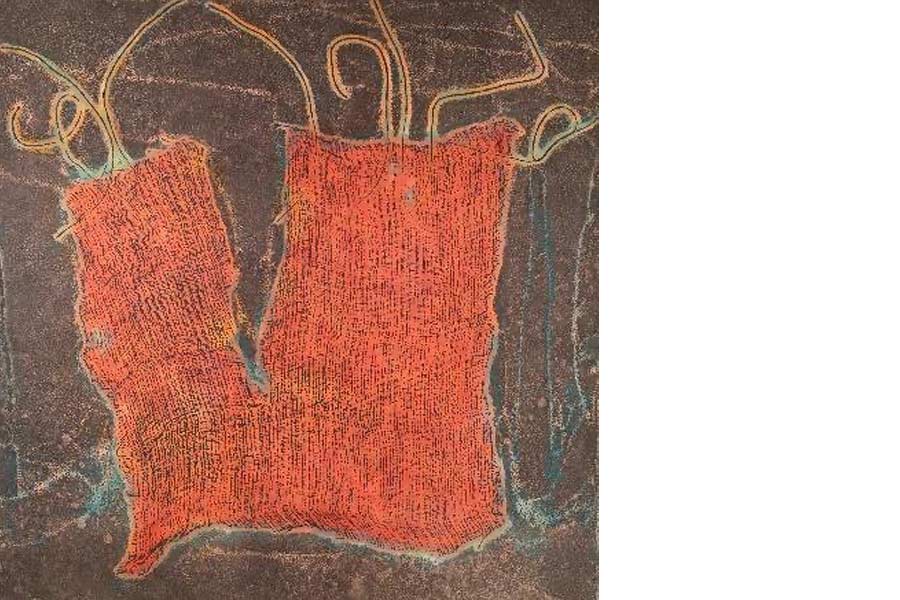 FLASHPOINTS: Material / Intent / Fused

January 14 – February 12, 2022
Enticed by touch, FLASHPOINTS: Material / Intent / Fused explores materials and processes linked through craft and meaning. With a shared focus on encaustic (pigmented hot wax) four artists, Kristy Deetz, Reni Gower, Jane Nodine,and Daniella Woolf, beautifully underscore where material and intent converse and fuse. Whether a painting, a tapestry, an installation, or an artist book, the artworks resonate with a profound tactility echoed through substance, image, and idea. FLASHPOINTS: Material / Intent / Fused celebrates the art of making across a wide interdisciplinary matrix.
---
2021 Annual Juried Student Art Exhibition
February 2022

Information will be coming soon. Fill out the application form.
---
Graphic Design 2022 Bachelor of Fine Arts Exhibition
April 1 – April 16, 2022

Exhibition done as part of a Bachelor of Fine Arts in Graphic Design and the capstone class taught by David Stairs. It features work by candidates for the BFA in Graphic Design.
---
Bachelor of Fine Arts & Bachelor of Applied Arts in Art, Spring 2022 Exhibition
April 22 – May 7, 2022

This art exhibition showcases the work by CMU Department of Art & Design candidates for the BFA in Art degree: Danielle Nefe, Courtney Rekowski, Sienna Rogers and Bachelor of Applied Arts in Art: Chance Delor, Rebecca Herman, Alexander Roesly, and Brittney Simms. The exhibition fulfills part of the requirements for their degree and capstone class taught by Anne Gochenour, Director of University Art Gallery.
---
Mount Pleasant Public Schools 2022 Exhibition
May 10 - 20, 2022

Artworks by Mount Pleasant Public Schools students, grades 1-12 will be featured. The MPPS art educators select and install the works.

Previous Artists Presentations