College of the Arts and Media Dean's Welcome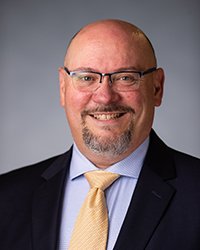 Welcome to the College of the Arts and Media at Central Michigan University!
We are a group of scholars, artists, researchers, and educators dedicated to the success of our students throughout their time with us in the College of the Arts and Media. The breadth and quality of the programs found in our college is a point of pride for all of us, especially the achievements of our students and alumni.
When looking for a program that will guide you towards maximizing your potential and preparing yourself for success outside of the university, we know that our programs with their student-centered curriculum and activities provide that opportunity. Our college offers a constellation of experiences for students to pursue their passions for performance, production, research, and writing, as well as experiential experiences through internships and study abroad programming. With hundreds of events in Bush Theatre, Staples Family Concert Hall, Chamichian Recital Hall, and the world-renowned guest artist and resident faculty presentations and performances, you can be assured that you will find opportunities to expand your understanding of your field, the world, and yourself.
Our departments and schools host award-winning programs featuring faculty who have achieved at the highest levels of their field and received the highest honors from their professions. Our facilities offer students the chance to learn skills from animation and broadcasting to publication, performance, and production. Our faculty and advising staff work with you individually to provide a path to success and ensure that you find your home in CAM.
We offer the opportunities of a school twice our size, with twice the personal attention.
Come visit us in Mt. Pleasant and see for yourself what CMU and CAM can offer you for your future. Attend a performance, visit our gallery, read our work, or come to a Chippewa football game to see and hear the marching band. Everything you need is here waiting for you. Come join us and you'll know why we say, "We Do."
I look forward to seeing you around campus soon,
Jefferson Campbell, D.M.A.
Fire Up Chips!