Escape from 'Station Eleven'
Students, faculty from several colleges collaborate for Critical Engagements escape room
You've survived the end of the world. Now, the future of your fellow survivors depends on your ability to work together to solve a series of puzzles — all while you're crammed together in a room with only one hour to escape.
Sound exciting? Beginning this month, members of the Central Michigan University community will have the chance to test their wits against a new interactive escape room developed by faculty, staff and students from the colleges of the Arts and Media, Liberal Arts and Social Sciences, and Science and Engineering.
Survival is insufficient
The escape room is part of the university's Critical Engagements program, which brings together students and faculty from across the campus to consider pressing issues and challenging topics such as this year's theme: the end of the world.
Jonathan Truitt, history faculty member and director of CMU's Center for Learning through Games and Simulations, led an interdisciplinary team of faculty and students to create a post-apocalyptic escape room — the perfect place to solve a mystery based on Emily St. John Mandel's award-winning novel "Station Eleven."
Plan your getaway
Could you escape? Faculty, staff, students and community members are invited to sign up for one of the scheduled sessions. The escape room can accommodate groups of six to 10 people and will run March 29-31 and April 5-7.
Exploring new skills and talents

Working on this project allowed me to collaborate with professionals and faculty I wouldn't have had the chance to work with otherwise," said Veronica Gregory, a history major from Traverse City, Michigan.
Gregory was part of the Honors Program course, Games for the Greater Good, co-taught by Truitt and computer science faculty member Tony Morelli, when she began working on the escape room project. The experience allowed Gregory to bring together things she learned through her major, her minor in multimedia design and her certificate in creative writing.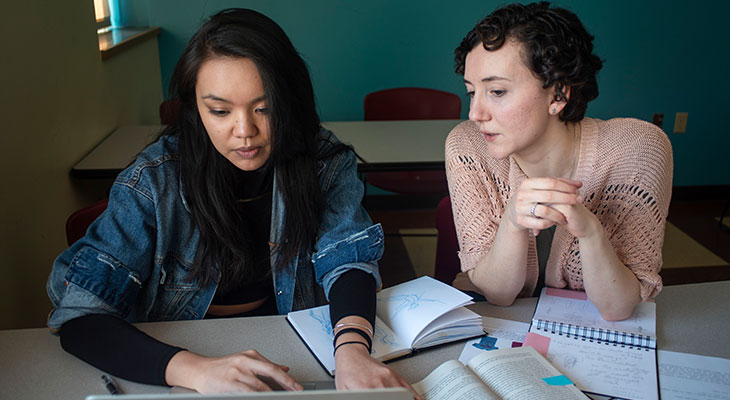 "This collaboration lets us show our multiple dimensions as scholars and creators and to bring our different interests together. This opportunity to explore many academic areas has been one of my favorite college — and life — experiences so far," she said.
Gregory worked with May Napora, a junior from Chicago double-majoring in graphic design and animation, on several elements of the escape room.
Art and design faculty members Steve Leeper and Jeremy Davis worked closely with the team in the animation lab and the Makerbot Innovation Center to create items specifically mentioned in the novel.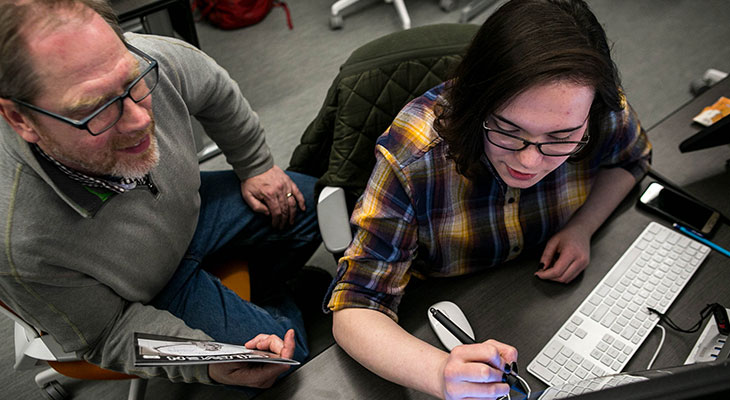 "As a graphic designer, I always want my designs to convey a message. This project was very interesting because I had to incorporate hidden messages and codes for people to find. It's a fine line determining if things are too hidden or too obvious," Napora said.
The sounds of "Station Eleven"
To make the escape room experience completely immersive for participants, junior computer science student Anthony Escalante worked alongside music professor Mark Cox to develop a soundscape in line with the room's theme.
"Musicians work with more than just instruments — they are required to know most aspects of the music and electronic world, such as how to use a mixing board and software editing programs," Cox said.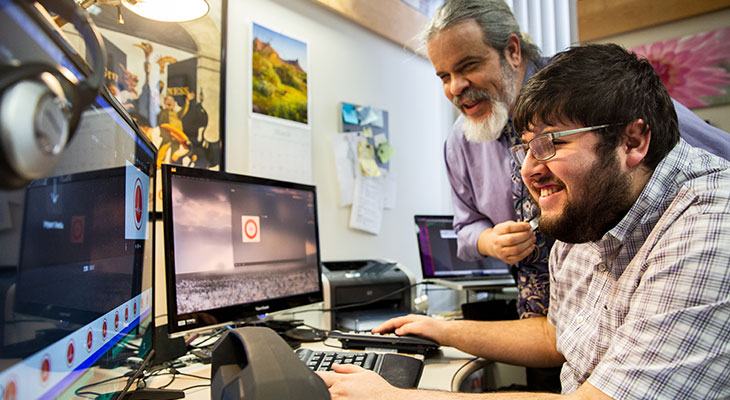 Escalante and Cox recorded sounds from around campus and leveraged the talents of CMU's Symphony Orchestra to create a soundtrack for the participants' experience. For Escalante, who also is minoring in music, it's a chance to fuse his passion for music with his career aspirations and interest in information technology.
"This project let me see a different way to make music," he said.
Critical collaborations
The escape room project is just one way CMU faculty and students are working across academic areas to address real challenges through Critical Engagements.
This week, the program co-hosted a visit from LaDonna Brave Bull Allard, founder of the Sacred Stone Camp, to discuss her protest of the Dakota Access Pipeline. Later this month, the English department and University Theatre will co-host the Pigeon Creek Shakespeare Company for a "Station Eleven" themed performance as part of the series.