Center for Learning through Games and Simulations
Announcing Monumental Consequence

Monumental Consequence by Mary Beth Looney is a single-session, live-action game for classrooms, team building, and social gatherings. Players take on the role of villagers and confront the moral question of whether art is ever worth dying for. Sign up for the CMICH Press mailing list and follow the CLGS on Facebook and Twitter to get updates.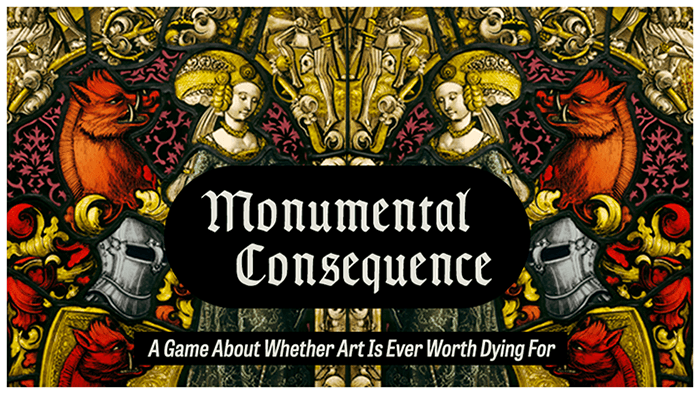 CLGS Gen Con Inspired Dragon Deck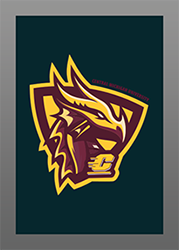 To celebrate Central Michigan University's third year of participation in Gen Con, the Center for Learning through Games and Simulations at CMU is cosplaying as CMU's original mascot, the Dragon! And now you can get a limited edition deck of fantasy playing cards bearing our new dragon design.
Show your CMU pride and get your dragon deck today! Fire up chips! Proceeds from deck sales go to support the mission of the Center for Learning through Games and Simulations at Central Michigan University.
Scholarship and Lore: Games for Learning
Central Michigan University Press, in conjunction with the Center for Learning through Games and Simulations at Central Michigan University, is actively seeking proposals and submissions of pedagogical games for publication that fall within the framework of our core mission and values below.
Central Michigan University Press seeks to support scholars and game designers in fostering the use of games and meaningful play in the classroom. In doing so, the Press is committed to:

Organizing and securing a high-quality, peer-review process that examines both the mechanics and subject matter of press games equally.
Promoting games as worthy scholarly endeavors that make meaningful contributions to the academic pursuit of knowledge, wisdom, and discovery.
Supporting a diverse array of game designers who are typically underrepresented in game development and scholarship.
Prioritizing affordable games that have potential promise as educational learning tools over games driven primarily by wider financial or commercial considerations.
Welcoming game submissions that are innovative, experimental, or take risks.
Embracing a range of academic disciplines, gameplay, and mechanics in press publications.
For Submission Guidelines, visit the Scholarship and Lore: Games for Learning Series website or email us.
Game Design Thinking Minor
The Game Design Thinking Minor offers students an interdisciplinary approach to the study of games and game design. Drawing upon several disciplinary approaches from across the university, it is structured to allow students to explore and apply the principles of good game design to a broad range of potential career options. Contact the Center for Learning through Games and Simulations for more information or to declare the minor.
Certificate in Applied Game Design
Central Michigan University's Center for Learning through Games and Simulations (CLGS) and Gen Con are partnering to bring you courses in applied tabletop game design – game design for your workspace and your playspace. Industry experts team with academic experts to create online synchronous courses where most of the time is spent engaged in active learning, interaction, and collaboration with your instructors and classmates. Courses use the Gather.town platform for meeting and playing. This is a non-credit bearing course and certificate.
Mission

The Center for Learning through Games and Simulations at Central Michigan University promotes the use of games, simulations, and play in learning. The use of games facilitates an active-learning agenda with a high level of student engagement. The goal is to have the students learn course material while simultaneously building skills in leadership, public speaking, critical thinking, problem-solving and analysis.

Purpose
Children often learn skills faster through play than most other methods. Somewhere between childhood and becoming an adult our society has made learning a chore rather than a pastime. Go to any college campus and you will find students constantly learning through play. In a game of ultimate Frisbee, for example, college students will learn new ways to throw a Frisbee to help their team win. The purpose of this institute is to bring play and fun into the classroom thereby facilitating a greater enjoyment of learning and better retention of the material.
Goals
Make learning fun.
Promote leadership.
Broaden student experience.
Apply information to real-world problems.
Promote interdisciplinarily.
Learn through informal settings/play.
Understand complex problems.
Understand human agency, choice, and contingency.
Support
The Center for Learning through Games and Simulations is grateful for the support of the following offices and organizations:
Breneman Jaech Foundation.
College of the Arts and Media.
College of Business Administration.
College of Liberal Arts and Social Sciences.
College of Science and Engineering.
The Herbert H. and Grace A. Dow College of Health Professions.
LUDUS Foundation.
Office of Curriculum and Instructional Support.
Office of Research and Graduate Studies.
President's and Provost's Fund for Innovation.