Barstow Artists and Speakers
Through the Barstow Endowment, we bring world-recognized artists and thinkers to our campus for lectures, workshops and residencies.
​​​​​​Midland architect Stephen L. Barstow (1941–1992), donated his estate and endowment to the CMU Department of Art & Design upon his death. His generosity has provided students with invaluable exposure to practicing contemporary artists from a variety of disciplines. His contribution continues to fund student Art and Design scholarships, the Barstow Artist-in-Residence Program, the Barstow Lecture Series, and Barstow Artist Workshops.
Artist-in-Residence
Each year The Barstow Artist-in-Residence Program provides a residence, studio and university resources to a professional working artist. As the artist-in-residence dedicates time to their studio practice and research, they also engage directly with you through mentorship, individual workshops, studio visits and exhibition opportunities.
To learn more about our current Artist-in-Residence and the AIR program, or to view a list of past AIR recipients, click the link below.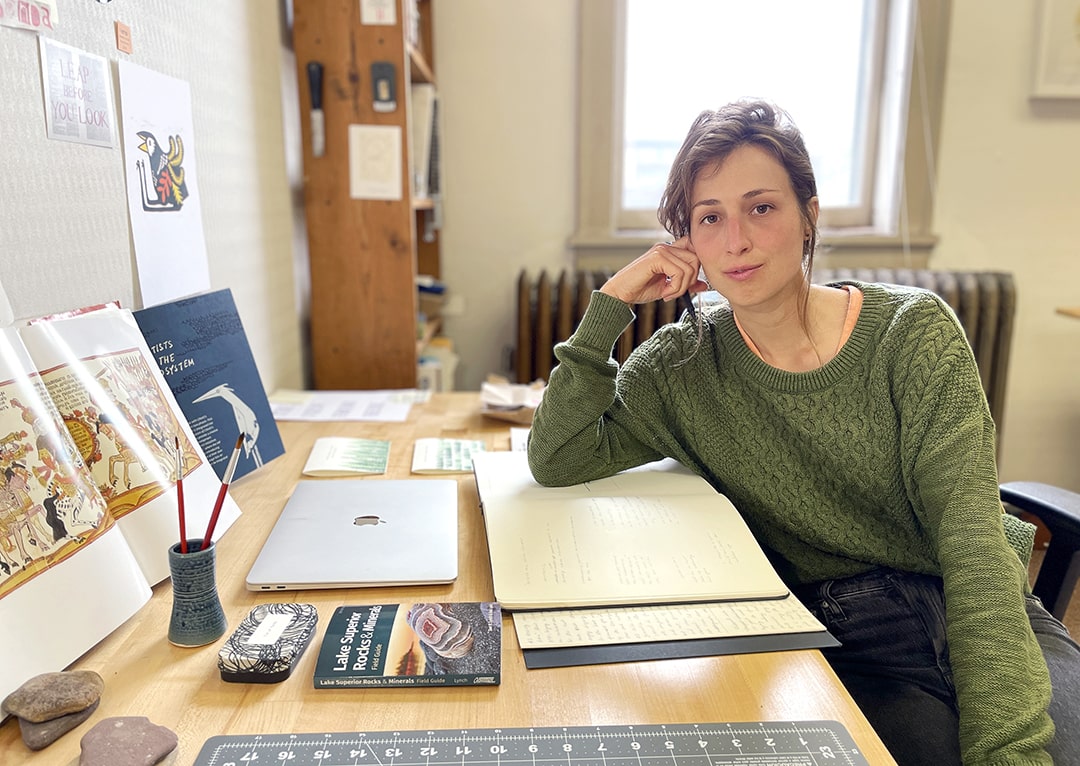 Julie Benda Artist Statement
I create through many mediums, including drawing, cartooning, book design, public engagement and wood sculpture. I consider each of these tools a form of communication, and describe myself as a sculptural storyteller, narrative artist, and comedian on paper. Whether I'm re-telling, reframing, or challenging predominant narratives, these words and pictures are meant to offer an alternative perspective and invite new ways of seeing the world around us.

Much of my work over the last decade has been influenced by my childhood growing up in the heart of the northern hardwoods in Michigan's Upper Peninsula. There, I lived extremely close to the land, which laid a foundation for my interest in themes of adaptation, habitat, interconnection and relating to the landscape.

As serious and urgent as the topics are to me, their expression changes based on content, audience and context. I work with my tools to elicit the sensations I personally find most inspiring to individual and communal change; surprise, curiousness, humor and delight. I try to ask the question: "What story is not being told?" and "How do I make it worth hearing?".

Ultimately, I believe that the stories we tell lay the foundation of culture. My goal is to use narrative, poetry and humor in all its diverse forms to create a sense of place, kinship and responsibility to one another.

Julie Benda - Bio
Julie Reneé Benda is a printmaker, sculptor and public artist. Originally from the Upper Peninsula of Michigan, she earned her MFA from the Minneapolis College of Art and Design and has since been the recipient of the Metropolitan Regional Arts Council Next Step Grant, Minnesota State Arts Board Artist Initiative Grant and the Jerome/MCBA Mentorship. Her work has been featured by Make MN Magazine, MN Original and McSweeney's Internet Tendency.

She grew up at the end of a road, at the edge of a cliff in the cartographically dismissible Upper Peninsula of Michigan. Her formative years were largely spent collecting firewood and attempting to gain a suitable audience amongst a lot of maples and pines.

She now creates carves, writes, and draws for humans.
Lecture series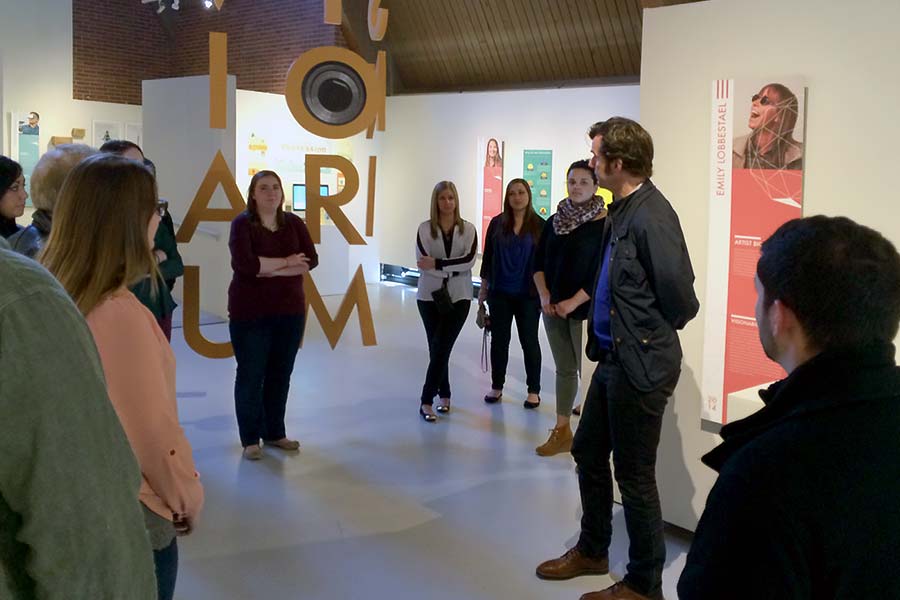 The Barstow Endowment brings in nationally and internationally recognized artists who speak about their diverse fields of research.
The goal of the lecture series is to expose our students to a broad range of approaches to creating, thinking, and talking about art and design. Nationally and internationally renowned artists, designers, and art historians visit the campus of CMU to speak and engage with our students, faculty, and community. In addition to giving a lecture, the visiting artists also participate in critique sessions and portfolio reviews with students in our programs, giving the students the opportunity to receive valuable feedback on their work from an experienced, practicing artist. All lectures are free and open to the public.
Past Barstow Lecture Series participants have included Stefan Sagmeister, Shana ParkeHarrison, Eduardo Kac, Pedro Meyer, Sandy Skoglund and others. For a complete list of past speakers, click below.
Artist workshops
The Barstow Workshop Series emphasizes demonstrations and exhibitions conducted on a regular basis throughout each semester, each of which are open to the public. Workshop artists include designers, photographers, painters, sculptors, art historians, printmakers and interdisciplinary artists.

Artists are chosen by the faculty based on student input, and the events work to enhance the theories and techniques being taught in studio courses.
Past Barstow workshop leaders have included: Jeremiah Britton, The Beehive Design Collective, Robin Schwartzman, Cassie Hester, Thomas Allen and Mark Menjivar.