Finding new paths to success
Students and faculty throughout CMU thrive in remote learning environment
Lynn Dominguez in Recreation, Parks and Leisure Services Administration is used to going along on the guided nature hikes her students lead as part of their RPL 552 Environmental Interpretation course.
But the pandemic upended nearly everything Central Michigan University students and faculty are used to, and so her students ventured out alone into parks and backyards all over Michigan to fulfill their assignment with cellphone videos.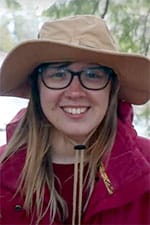 "I started noticing all the pine needles and moss all over the trails at the Ludington State Park, and I honestly didn't know much about the different things that are all over the forest floor," said Amber Sadler, a senior majoring in recreation and event management. "That's how the idea originated."
She created themes, goals and objectives; messaged classmates to compare ideas; and took to the trails to record her video.
Meanwhile, on the other side of the state, a few College of Medicine team members suited up in personal protective equipment to run medical scenarios at the simulation lab in Saginaw as students and residents watched and learned from home.
Finding remote learning solutions and successes became a new way of life for students and faculty this semester. Here are a few more examples.
Song and dance
School of Music faculty member Alicia Marie Valoti set out to involve her entire viola studio class in a musical video. She ended up also involving alumni from around the world.
"Each of the violists you see was a CMU student of mine in some way," Valoti said, "and each, including myself, recorded three different parts to be mixed together.
"The students come from Brazil, China, Ecuador and many different parts of Michigan, and in fact, in some of the videos, students recorded themselves in their home country."Graduate assistant Shawn Boucké edited and produced the video.
In the Department of Theatre and Dance, Heather Trommer-Beardslee's DAN 232 Dance Composition students also needed to find a way to perform together. The resulting assignment became a video, "Still Dancing Together," to which each dancer contributed a solo performance.
"Students used the choreography skills they had been working on in class to continue learning and creating together despite the physical distance," Trommer-Beardslee said. Class member Alynne Welch edited the video.
'Live from Home'
Not being able to work together in a studio presents challenges for a news team. Broadcast and Cinematic Arts faculty members Aaron Jones and Maggie Mayes developed "News Central: Live from Home" as an innovative way for students to broadcast the Monday-Friday news program on the department's Facebook page.
Meanwhile, integrative public relations students received real-life lessons in crisis management by watching videos CMU Police Chief Larry Klaus created as he and the department managed the impact of the pandemic on campus. Elina Erzikova's JRN 551 Case Studies in Public Relations class discussed the handling from a PR perspective.
Preschoolers plug in
CMU's Child Development and Learning Laboratory connected with its preschool students and their families through an online learning service called Storypark. Daily video sessions with songs, stories and movement activities kept the children engaged and their teachers and student teachers focused on learning, said Human Development and Family Studies facultymember Holly Hoffman.
MOVE doesn't stop
Community members with Parkinson's disease or multiple sclerosis rely on the CMU physical therapy program's popular MOVE for Health exercise class. Unable to host it in person, student leaders in the program created a YouTube video to keep participants moving.
Honoring an Honors tradition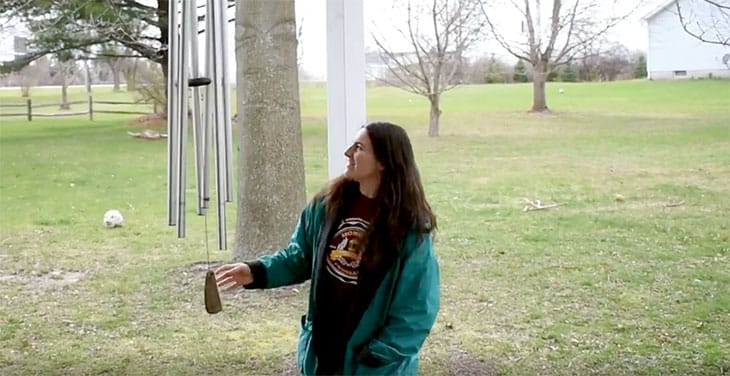 CMU Honors Program students wait years to ring the gong in Powers Hall to celebrate completing their senior capstone research projects. The stay-home order only spurred their creativity. Students took to Facebook to "virtually" ring the gong using everything from wind chimes to a dinner bell to a metal bowl to the power of Photoshop.
Pipeline goes online
The nine-week Health Careers Pipeline program recruits a diverse group of ninth and 10 graders from area high schools who are interested in health professions careers. It was scheduled to begin the first week of Michigan's stay-home order, so organizers took it virtual with interactive games and videos and drew nearly 100% participation, said April Osburn, executive director of the Mid-Central Area Health Education Center.
Threads can't be broken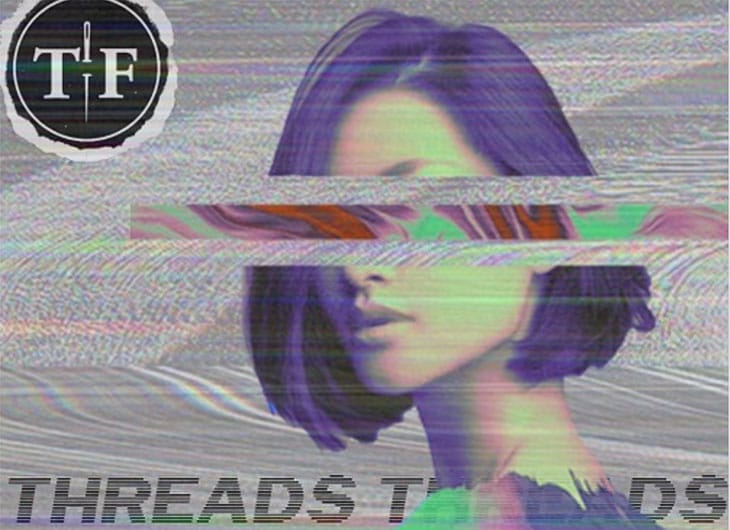 The annual student-run Threads Fashion show, scheduled for April, took on a new look after the pandemic canceled campus events. Instead of sending models to walk the runway, organizers called on alumni to post supportive videos on Facebook and continued to create social media posts with the event's look and theme.
"Threads Fashion show is continuing to promote the brand," said faculty advisor Ian R. Mull. Organizers also created a Threads Fashion show 2020 program, offered for sale, to spotlight the designers who would have been in the show.
Lessons from nonprofit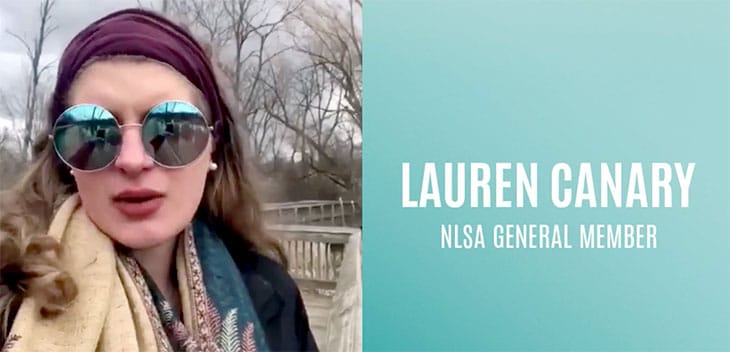 Even from home, the Nonprofit Leadership Student Alliance stuck to its 5 p.m. Thursday meetings. The academic registered student organization's members aim for careers leading nonprofit organizations. Turning their attention to the ways nonprofits are meeting needs during the pandemic, they produced a video to showcase what they've learned.
"The learning comes from students staying connected and committed," said Political Science and Public Administration faculty member Emma Powell, who works with the alliance. "I am so proud of this group I could probably write a book."
Shifting sales strategy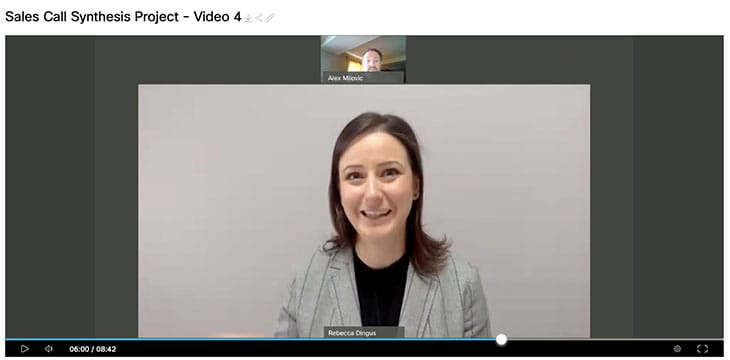 Marketing and Hospitality Services Administration faculty member Rebecca Dingus' MKT 340 Personal Selling course normally builds up to sales role-plays between Dingus and each of her students. This year, recognizing that not all students could meet virtually from home, she and a colleague from Marquette University recorded four versions of a sales call. Pairs of students critiqued them using the knowledge they'd gained from the course.
"They got to watch me sell four different ways," Dingus said. "It created a much richer learning experience than what I ever could have predicted." She plans to use the new assignment even when classes transition back to campus.
Sharing science stories
Anyone wanting to find successes in the College of Science and Engineering can look to the college's Facebook page.
"We've been highlighting faculty and students since the quarantine started," said Rob Wang, the college's communications coordinator. Among them:
Faculty members Jason Keeler and Jordan Watts teach with Maslow's Hierarchy of Needs in mind at this time, understanding that students need food, shelter, friendship and a sense of self-esteem before they can expect to succeed academically.
Junior mechanical engineering major Katya Dominguez shifted from a canceled study abroad program in South Korea to being able to quickly register for online classes and two independent studies.
Actuarial sciences and statistics sophomore Julie Colling shares strategies for keeping up with studies and taking time to reduce stress.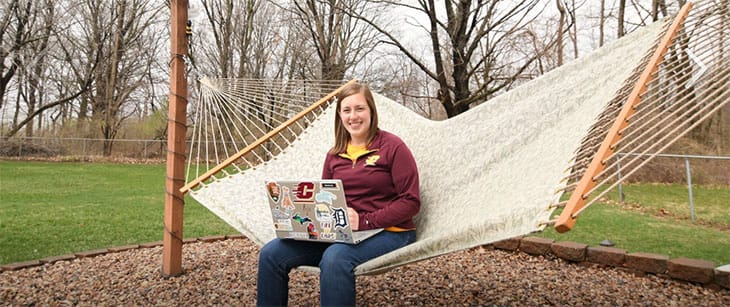 Forward into summer
With all campus events, camps and gatherings canceled through June 25 and the first session of CMU summer classes online only, remote connections will grow past the end of the spring semester.
The Speech-Language Specialty Clinic for area children is just one example of a vital program taking new form. About 40 virtual campers in the annual nine-week speech and language therapy program will connect through telepractice one to three times a week beginning May 26. Telepractice links the CMU student clinicians and the clinical instructors supervising them for assessment, intervention and consultation with children and their parents.
Another example is the Center for Excellence in STEM Education's summer camps, which will be held virtually as they begin in June. The free classes open for registration May 18. This year's camps will be smaller to allow for meaningful connections and will offer curbside pick-up for needed materials.