Mid-Central Area Health Education Center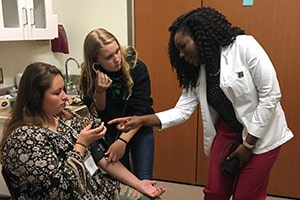 The Mid Central Regional Area Health Education Center and other regional partners play an integral role in teaching and training the next generation of health professionals along with the College of Medicine at Central Michigan University.
This regional center is non-profit organization committed to serving our community and regional partners including service agencies, health departments, and the health profession colleges at the four universities located in the region, municipalities, high schools, community colleges and other groups interested in increasing workforce in the health professions.

The Area Health Education Center (AHEC) program was developed by Congress in 1971 to recruit, train and retain the healthcare workforce committed to underserved populations. The five Michigan's regional centers include:
Upper Peninsula Regional Center
Northern Lower Regional Center
Western Regional Center
Southeast Regional Center
Mid Central Regional Center
Who We Serve
Implemented in 2010, the Mid Central Regional Center serves nineteen counties in Central Michigan including: Arenac, Bay, Clare, Clinton, Eaton, Gladwin, Gratiot, Huron, Ingham, Ionia, Isabella, Mecosta, Midland, Montcalm, Osceola, Saginaw, Sanilac, Shiawassee and Tuscola. The academic partner in this region is Central Michigan University's College of Medicine.
Mission
Enhance access to quality primary and preventive healthcare for residents in the 19-county catchment area, by increasing the size and diversity of healthcare workforce through community partnerships.
The three pillars of the Michigan AHEC Program include the following:
Identify "pipeline" programs for middle and high school students to be encouraged to pursue careers in health professions.
Improve health care distribution to the State of Michigan by identifying and facilitating student housing for clinical rotations. In addition to housing resources, the Mid Central AHEC identifies community resources, volunteer and engagement opportunities. Connecting students to community populations helps facilitate future engagement and network alliance building for health career students to remain in their clinical practice regions and continue providing more sustainable healthcare in rural and urban underserved areas following their training.
Assist in identifying current or new educations programs (CMEs or CEUs) and partners for health care practitioners that may benefit the populations they serve in our medically underserved regions.
Educational Videos