About Broadcast and Cinematic Arts
Broadcast and Cinematic Arts offer two majors to produce graduates ready to create media and film content for the world. We teach students the theory and skills necessary to produce impactful content to move people. And, we provide students the opportunity to put what they learn in the classroom to work in our student-run media. It's not enough to learn how to do it. You must use the skills and knowledge through hands-on practical experience.
Take your media project ideas and create productions for the world to see. The broadcast and cinematic arts major prepares you for electronic media's exciting and creative world. From the moment you walk on campus, you can develop skills for careers in television, film, news and sports broadcasting, radio, and more. Don't dream of the story you want to tell. Make it happen.
Join one of the most comprehensive electronic media programs in the country. Create media content with other students like you who want to make an impact through producing and managing audio and video content for radio, television, news, sports, YouTube, TikTok, or podcasts. Develop the skills and put them into practice through experiential learning student media activities from your first day on campus.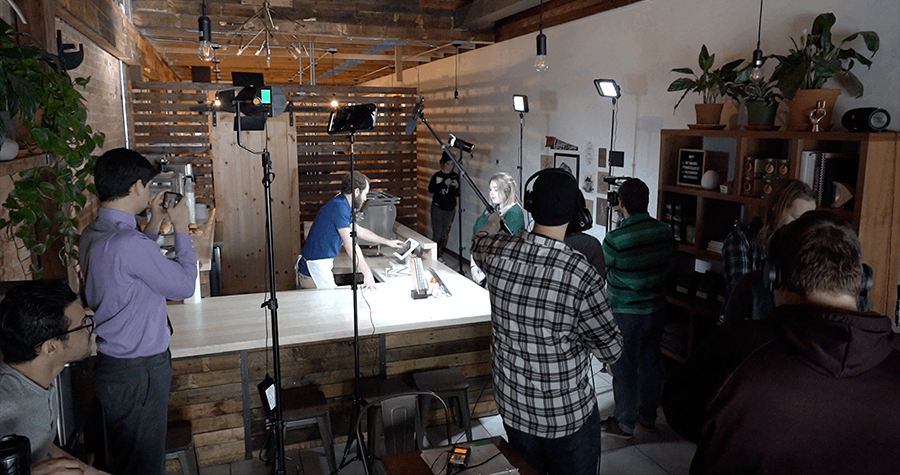 Content creation is king. The cinema arts major provides experience in all areas of film production, from scriptwriting to production to post-production. From the big screen to the small screen, through cinematic and commercial projects, you'll acquire the essential skills to tell your story—graduate with a strong portfolio ready to pursue careers in film, video, screenwriting, and more.

Acquire an understanding of all aspects of film in Michigan's only BFA program in cinema arts. Shape rough ideas into well-crafted scripts. Learn about the various design and aesthetic principles of film. And craft your film production with access to high-quality film equipment and software. You'll graduate with critical hands-on experience and a solid digital portfolio to help you pursue careers in film, video, screenwriting and more.