Communication Graduate Program
Our Master of Arts in Communications provides a strong background in classical and contemporary communication theory as well as research and methods. Class sizes are small, and our instructors are committed to maintaining supportive and personal interaction with you throughout the program.
Mission statement
The mission of the Master of Arts in Communication is to provide a quality education that will assist students in developing an advanced understanding of communication theory, research and practice and to prepare them for further graduate study and/or professional work. Toward this end, faculty will pursue two inter-related educational objectives:
​Develop graduate students' understanding of and independent thinking about the knowledge base, scholarly activities, and critical practices of the communication discipline.
Enable graduate students to apply and disseminate their knowledge of communication theory and research in ways that reflect the values of diverse perspectives and emphasize the ethical implications of communication.​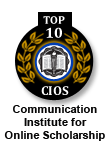 According to the Communication Institute for Online Scholarship—a company that maintains a vast database of research articles, books and scholarly journals - the Communication program at CMU has been identified as a Top Ten program for research among more than 700 programs in the US and Canada due to its commitment to research article productivity in the field's journal literature. The areas that have been recognized are debate, diplomacy, and the Indian -SubContinent.
Graduate program highlights
We offer the Master of Arts in Communication for individuals interested in pursuing a graduate degree in communication. This program is particularly relevant for:
Students pursuing a doctoral degree and/or career in higher education/academic administration.
Secondary speech teachers are interested in building upon their knowledge about communication processes.
Individuals seeking an enhanced understanding and application of communication theory and research.
Professionals are interested in improving their comprehension of organizational and interpersonal communication.
Individuals interested in exploring communication in both scope and depth to enhance their careers in business, government, non-profit sector, or as a step on the road to a doctoral program are invited to apply to our Master of Arts in Communication.
Admission requirements
Applicants must have one of the following:
An overall GPA of 3.0 or higher.
A 3.0 GPA in the last 60 hours of undergraduate credit.
A 3.0 GPA in the last 15 hours of communication courses.