Road Scholar Programs
The world's largest education and travel organization for adults
Inspired by the youth hostels and folk schools of Europe and guided by the needs of older adults seeking new experiences and personal enrichment, Road Scholar is based on the belief that retirement does not mean withdrawal from the meaningful activity and that the later years should be viewed as an opportunity to enjoy new challenges.
Road Scholar is a not-for-profit organization with 40 years of experience offering low-cost, short-term residential programs for older adults. CMU's Road Scholar programs are among the most popular in the country.​​
---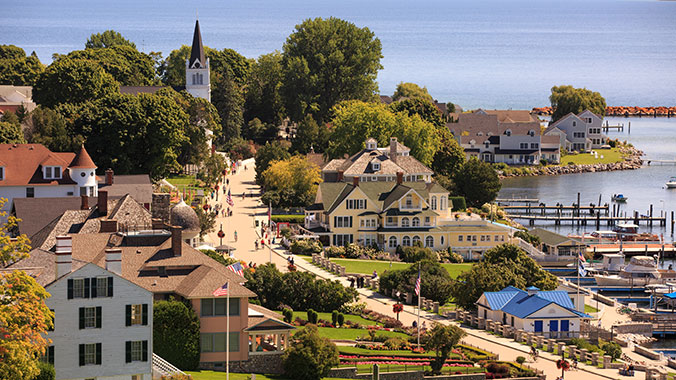 Mackinac Island programs
​Mackinac Island: The Jewel of Michigan
Join us for a dynamic week as we explore the treasures of Mackinac Island. Legend and fact will emerge as you study the island's glorious history, geology, natural beauty, architecture, and modern life. Discover old-world traditions as you learn about the island's early economic and military importance as well as its development as a Victorian resort. Customs and cultures will come alive through lectures and field trips with local residents and area experts.
A field trip to Fort Mackinac, a carriage ride around the island, and afternoon tea at the historic Grand Hotel will enhance your visit. Hilly terrain is physically demanding with considerable walking and hiking (approximately 1-2 miles per day). Sturdy, comfortable shoes are recommended. Activity level: Active.
2023 Dates
June 4-9
August 20-25
August 27–September 1
September 3-8
September 10-15
September 17-22
September 24-29
October 1-6
2024 Dates
May 12-17
May 19-24
June 9-14
August 4-9
August 11-16
August 18-23
August 25-30
September 1-6
September 8-13
September 15-20
September 22-27
September 29 – October 4
October 6-11
Learn more about this trip