Maxine Berman Academic Achievement Award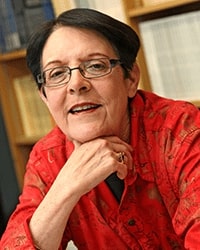 About Maxine Berman
The Maxine Berman Academic Achievement Award was established in 2018 by Dr. David Jesuit and friends of Maxine Berman. Maxine was an American politician who served on the Michigan House of Representatives between 1983 and 1996. Berman was raised in Oak Park and graduated from the University of Michigan. She then taught at Oak Park High School until running for political office. She was a member of the Michigan House of Representatives from 1983 to 1996. Upon leaving office, Berman established Capitol Strategies, Inc., a consultancy firm, and led the Women's Health Network of Michigan. Governor Jennifer Granholm appointed Berman as director of special projects in 2003. She left the post in 2008 and became the Robert and Marjorie Griffin Endowed Chair in American Government at Central Michigan University the next year, retiring in 2013. In 2015, Berman was elected to the Michigan Women's Hall of Fame . She died at the age of 71 on March 2, 2018, of lung cancer, in West Bloomfield, Michigan.

Criteria

One scholarship will be awarded. Application deadline is the spring semester. Questions should be addressed to David Jesuit, 989-774-2795, David.Jesuit@cmich.edu.
The Award recognizes the academic accomplishments and promise of a student enrolled in one or both of the seminar courses taught by the Griffin Chair (PSC 300/301).
Recipients will embody the qualities epitomized by Maxine Berman's long public service to Michigan and reflect her concerns for social justice.
Minimum GPA 3.00 on a 4.0 scale.
The award will be made only if highly qualified applicants apply.
Nominations are made by the Griffin Chair and, if there are multiple nominees, recipients are selected by the School of Politics, Society, Justice, and Public Service.

Recipients
2022 - Michael Buzzy and Matthew Campbell
2021 - Kennedy Scott
2020 - Madison Emelander
2019 - Christina Yunan
2018 - Mackenzie Flynn