Academic Advising in the College of Liberal Arts and Social Sciences
Before scheduling an appointment, please follow the links below to find your assigned advisor. Have questions? Email CLASS Advising.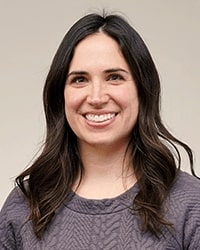 Liz Daum

Interim Coordinator of CLASS Student Services/Advising
Anspach Hall 115A
Phone: 989-774-7506
Email Liz Daum

Liz Daum completed her Bachelor of Social Work degree from CMU and is currently working on a Master of Arts in Higher Education Administration. She brings experience as a Success Coach, helping students dream of their possibilities while co-creating action plans to work toward their goals. She enjoys advocating for and supporting students' journeys toward a degree.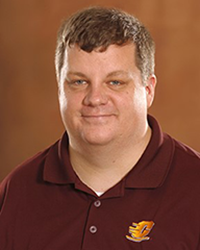 Joshua Adams

Interim Coordinator of CLASS Recruitment
Anspach Hall 114B
Phone: 989-774-7506
Email Josh Adams

Josh Adams is a former fixed-term faculty member in CLASS's English Language Institute. He has lived and studied in South Korea and he is published in the field of North Korean English Education. Josh loves D&D, Korean BBQ, and helping students find their path towards graduation.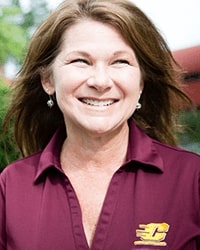 Darcy Beavan

Academic Advisor
Anspach Hall 118
Phone: 989-774-7506
Email Darcy Beavan

Darcy Beavan says all people are on a path to learning; working with those who are intentional about it is one of my greatest privileges. I've worked with students in Admissions, Adult Education and as a Success Coach here at Central Michigan University. The simple fact that someone is a "student," opens the door to meet them where they are, explore where they want to go and walk alongside them as they craft their unique way.
Izzy Castellon, MPA

Academic Advisor
Anspach Hall 119
Phone: 989-774-7506
Email Izzy Castellon

Izzy Castellon has 10+ years experience working at CMU as an advisor to global students. He earned a BS and MPA at CMU. Being a first-generation college student and having worked full-time while pursuing both degrees, he understands the importance of balance between family, work and school. He looks forward to connecting with students on a holistic level!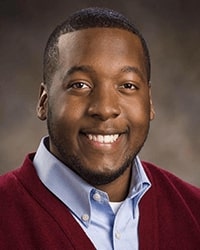 Alfred L. Harper III, M.Ed.

Academic Advisor
Anspach Hall 115B
Phone: 989-774-7506
Email Alfred Harper

Alfred Harper is a graduate of Central State University (B.S in Business Administration) and Wright State University (M.Ed in Student Affairs in Higher Education). He is originally from Cleveland, Ohio and enjoys nature walks and hiking. As a passion, he enjoys helping students identify their purpose and guiding them to see how their career and purpose align with each other.
Signing your major or minor
​Contact the appropriate faculty member or department (see below)​.
Visit them during office hours or schedule a meeting.
After you sign your major: Faculty advisors keep a copy, you keep a copy, and the original can either be campus mailed to the Registrar's Office or you can drop it off yourself (Warriner 212).

Check Degree Progress​ (formerly Advising Workbench) in the days following to confirm your major or minor was entered correctly. ​

Follow the links below to determine your advisors for signing undergraduate majors or minors in the following programs:
Department of Philosophy and Religion
Department of Sociology, Anthropology and Social Work