Hart-Milliken Speaker Series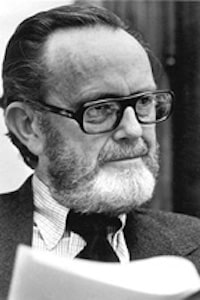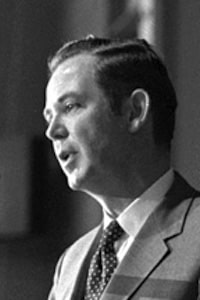 Philip A. Hart and William G. Milliken Endowed Speaker Series for Integrity in Politics
The legislative process in America today often is tarnished by political partisanship, but two respected Michigan politicians demonstrated efforts in finding common ground through bipartisanship.
This endowed speaker series is named in memory of former U.S. Senator Philip A. Hart and former Michigan Governor William G. Milliken. A legendary trait of the careers of Senator Hart, a Democrat, and Governor Milliken, a Republican, was their ability to work together with members of opposing political parties.
To honor their distinguished careers and encourage a spirit of political compromise, Central Michigan University has established the Philip A. Hart and William G. Milliken Endowed Speaker Series for Integrity in Politics.
About the Speaker Series

Philip A. Hart, who served as a U.S. senator from 1958-1976, and William G. Milliken, who served as Michigan's governor from 1969-1982, both led distinguished careers in public office and still serve as noteworthy examples of cooperation and tolerance in a political climate where partisanship and divisiveness have become all too common obstacles that tarnish, rather than enhance, the legislative process.
This speaker series challenges interested parties — students in particular — to approach politics in a way that embraces America's diversity of ideas and perspectives and to strive to replace negativity and partisanship with creativity and innovation in shaping public policy.
The series will be hosted annually on CMU's Mount Pleasant campus and provide a forum where students can listen, learn and engage in meaningful dialogue focusing on a range of current political and policy-making issues.
The endowment's advisory board seeks keynote speakers whose work embodies the ideals of leaders like Senator Philip A. Hart and Governor William G. Milliken. They select individuals from the public and private sectors who have demonstrated a commitment to stimulating positive change in American politics and policy-making. They seek individuals who promote the greater good of the communities and people they serve through a spirit of reason, cooperation and inclusiveness.
Although the series is national in focus, special consideration may be given to speakers with ties or expertise in issues of significance to Michigan and the Midwest.
Central Michigan University is proud to honor the legacies of Senator Hart and Governor Milliken through this speaker series and strives to inspire and shape the leaders of today and the future.