A Guide to Successful Communication in the Online Classroom
Much like a physical classroom, it is important to maintain a respectful relationship with both your peers and your instructors. It is essential that students feel safe and at ease when communicating and asking questions. To ensure this environment there are some important steps to keep in mind. Remember that:
Your instructor and your peers are human
In the online learning environment, tone and body language are removed leaving what has been written open to the interpretation of the reader. It is easy for what you have written to be misinterpreted by others so be sure that you write in a clear and concise manner. Use icons (☺​) to convey the tone of your message to the reader.
In a discussion board conversation where you might find someone disagreeing with or challenging your beliefs, think "Would you say it to a person's face?" before you write your response. Keep in mind that your instructors and peers should be challenging your beliefs in order to consider new ways of thinking.
What you say in the online environment is written down in words
You cannot retract an e-mail. Think before you write and send anything to a fellow classmate or your instructor.
Your e-mails take up the time of the recipient
As a student, you have every right to contact your instructor if you have a question, concern, or simply need more verification. However, it is important to remember that their time is just as valuable as your own. It is a good habit to look for the answer to your question in the syllabus, on the discussion board, in announcements, in archived live meeting sessions, or in e-mail correspondences you have had in the past before e-mailing your question to the instructor.

You won't be judged for your appearance but you will be judged on your writing
Because of the nature of the online learning environment, you will not be judged on your appearance, personal background, accent, etc., but you can be judged by the quality of your writing. Take the time to review everything you write before you make it public by making use of grammar checkers and spell checkers.

If you are a student who finds it difficult to write or would simply like to polish up those writing skills, contact the Writing Center or go to the Library Services for resources.

These are important things to do when sending an e-mail to the instructor
Below you will find a mock e-mail to an instructor. Remember to:
Send the e-mail from your [globalID]@cmich.edu account.
Include your course name and section number in the subject line.
Address the instructor with their proper title (if they hold a Ph.D. address them as Dr.______
or Professor ______).
Identify yourself in the first sentence of your e-mail.
Clearly identify your question or concern. Be specific —​ identify the folder or title of the assignment, the chapter or page number from the book, which question number, etc that you are r​referencing. If possible, provide screenshots of the item in question.
Include contact information if you have a preference over e-mail.
​Conclude with a "Thank you" for their time/consideration​.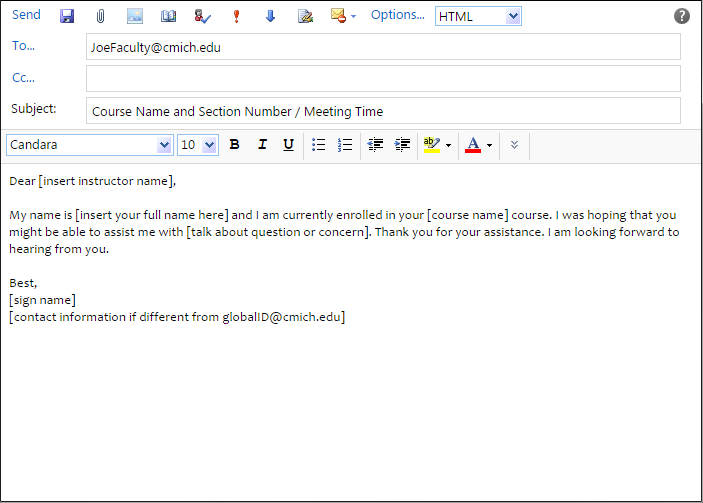 ---