Adobe Digital Lounge
Support:
The Adobe Digital Lounge is open when the library is open. Stop by during Drop-In Adobe Help times to ask questions and find assistance with your creative software.
Spring 2022 Drop-In Help Hours:
Spring hours are not set yet.

Please email us to arrange support or open a help desk ticket.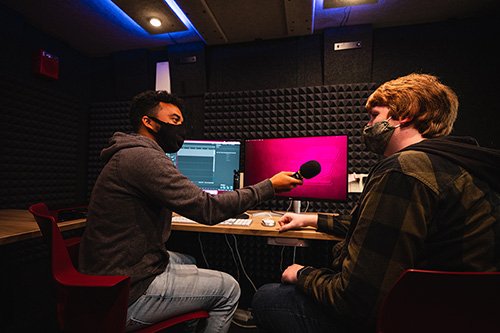 Unique aspects of the space:
Sound recording space (Available first-come, first-served)

Audio equipment
Video/audio editing station
Equipment and software consultation services
Mediated space for groups and individuals
Adobe Creative Cloud is available on all computers in the library
Equipment Available for use in the Adobe Lounge:
Please note: At this time the library DOES NOT check out headphones.
Audio Interface - Scarlett 18i8

With 2 headphone adapters


Microphones – Heil PR-20 UT with cables (x3)


Microphone Stands

Desk (x2)
Standing
Euro Boom


Green Screen with clamps


Headphone Amp with cable to audio interface


Tripod Selfie Stick with remote


Webcam


Ring Light