Museum Studies Student Resources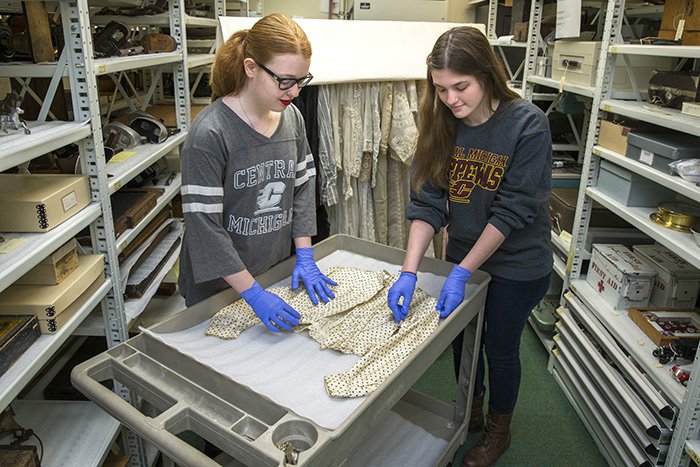 Central Michigan University's Museum Studies minor program is designed to prepare you for a career in the museum field. Your courses will give you the practical skills needed to work in these facilities, planning and installing exhibits, preparing education programs for the public, and caring for the collections.
This 24-credit hour minor, when matched with an appropriate academic major such as geology, earth science, art, teacher education, geography, recreation, history, biology, or anthropology is designed to give you the necessary background to pursue a career in the museum field. The courses also may be taken at the graduate level in conjunction with work in a related field.

Graduates of CMU who have taken museum courses have secured museum positions ranging from preparator to director in institutions nationwide. With a minor in museum studies, you may find work in a variety of settings, including: aquaria; art galleries; botanical gardens; corporate archives and collections; historical houses and sites; monuments; museums; national and state parks; nature centers; and zoos.
Funding and scholarship opportunities
Walter P. Nickell Memorial Fund
Dr. Walter P. Nickell was a noted Michigan naturalist, ornithologist, and teacher who served as a faculty member at the Cranbrook Institute of Science for 33 years. Known affectionately as the "Birdman of Cranbrook," he was awarded an honorary Doctor of Laws degree by CMU in 1964. CMU's Museum of Cultural and Natural History is honored to hold several bird and bird nest specimens collected by Dr. Nickell.

The Walter P. Nickell Memorial Fund was established by the family of Dr. Nickell to provide scholarships to students pursuing a career in museum natural history work. Student interests or majors are not restricted and all are encouraged to apply, although preference is given to Museum Studies minors. Scholarships are granted to students of good academic standing that are in financial need, and are assisting with projects within the Museum of Cultural and Natural History. Award amounts will be dependent upon the number of awards granted.
Internship Award
The Museum of Cultural and Natural History Internship Award is funded by gifts from Central Michigan University alumni, staff, retirees, and friends. A competitive monetary award will be given to one or more students each year to assist with access to, and participation in, internship opportunities. This award is non-renewable and award amounts vary based on need.