Services through the Center for Children, Families and Communities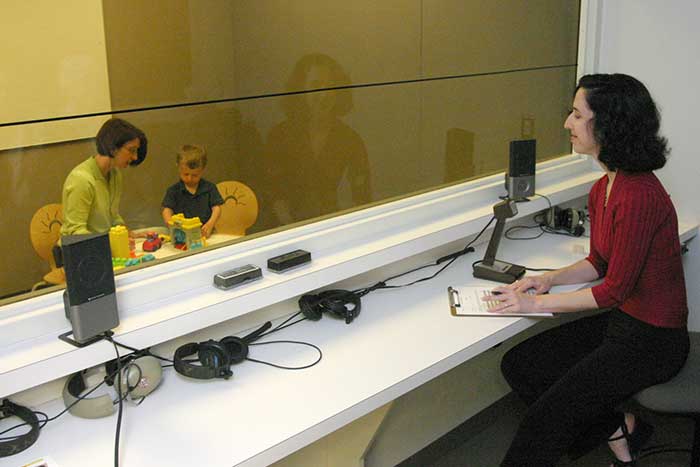 CCFC director Larissa Niec demonstrates Parent-Child Interaction Therapy
Mental health services
Parent-Child Interaction Therapy
​PCIT is an evidence-based behavioral family therapy program designed to treat the conduct problems of children 2 to 7 years of age. PCIT has been used effectively with a variety of populations including low-income and culturally diverse populations. Taken together, the research on PCIT has shown the intervention to improve the discipline strategies of parents and the behavior problems of children at home and at school. Parents report less stress related to interacting with their children and more confidence in their ability to manage their children's behavior using non-abusive techniques. PCIT has demonstrated long-term maintenance of treatment gains. It is considered a best-practice intervention for families in which physical abuse has occurred. Currently, PCIT is being disseminated internationally and has demonstrated efficacy with families across Asia and Europe.
​Evidence-based mental health services
In addition to these areas of expertise, the CCFC offers a comprehensive array of psychological services for children, adolescents, couples and families, including:
​Psychological Assessments.

Cognitive-behavioral or behavioral therapy for common childhood problems such as depression, anxiety, issues related to divorce, and elimination disorders.
​Organizational consultation
In addition to mental health services, the CCFC offers comprehensive consultation to organizations that work with children and families. Services include:
Program evaluation;
Program development;
Strategic planning;
Grant writing;
Training and capacity building.
Some of the CCFC's activities within this domain have included:
Program evaluation of the PCIT program in its second year at Starfish Family Services (Livonia & Westland, MI).
Technical assistance and grant-writing support to the 29th District Court, Family Division (Ithaca, MI) in the writing and submission of a successfully-awarded funding proposal to the State of Michigan Department of Human Services.
Technical assistance and grant-writing support to ConnectFamilias Inc. (Miami, FL) in the writing and submission of a successfully-awarded funding proposal to the Health Foundation of South Florida.
The design and implementation of a community-wide needs assessment for residents of the Little Havana neighborhood of Miami in partnership with ConnectFamilias Inc.
Consultation with and support of Community Tampa Bay Inc. in the evaluation of its trademarked AnytownTM leadership program for youth.​