Individual Research Rooms
Description: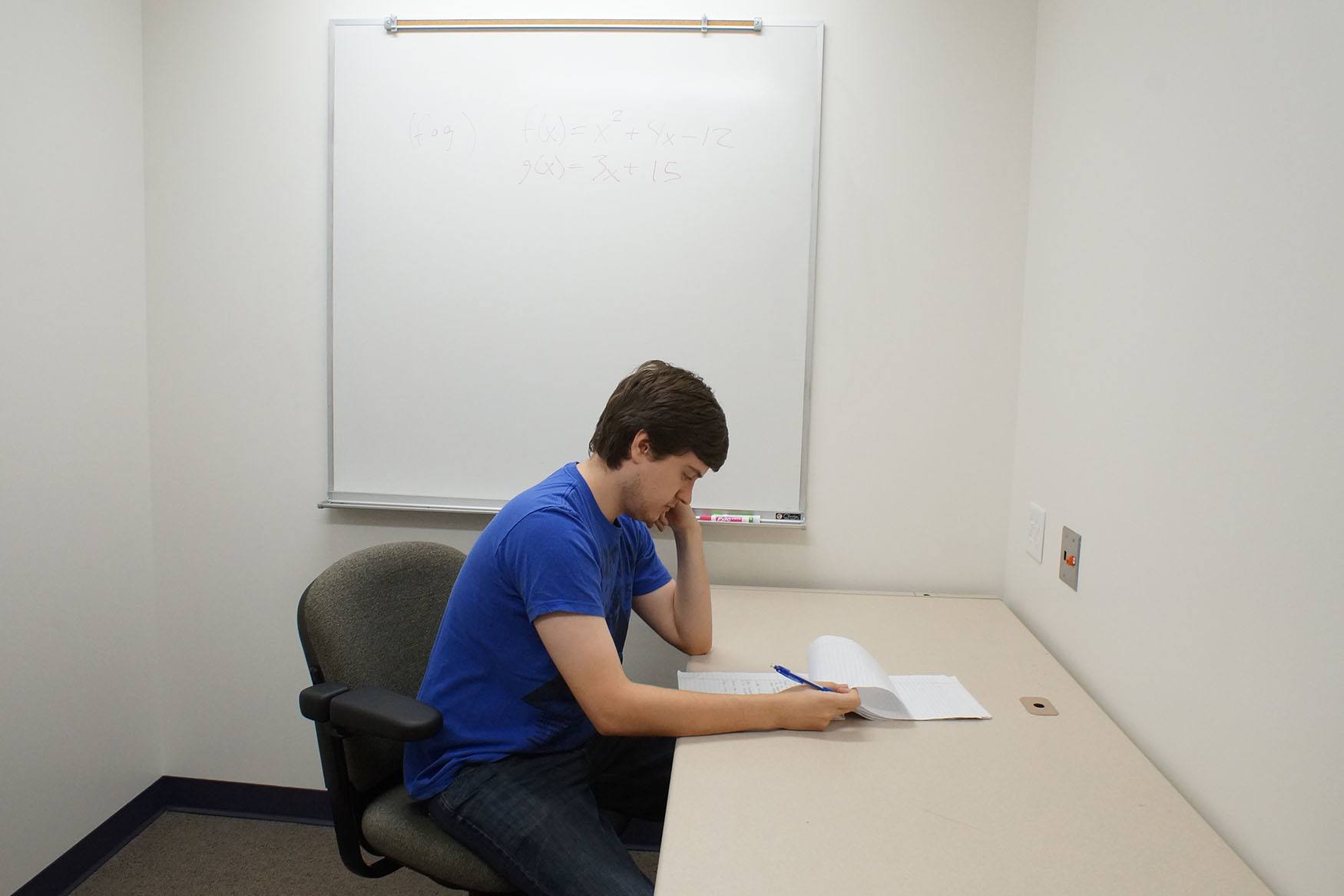 The CMU Libraries has 15 Individual Research Rooms located on the 3rd floor for use by faculty, emeritus, and doctoral students. Research rooms are intended to provide a convenient location within the library for those individuals engaged in research using library material.
Research rooms are officially assigned at the beginning of each semester and can be requested for only 1 semester. However, if rooms are available or become available, mid-semester, they will be assigned to the next qualified applicant. Individuals who are interested in applying for an Individual Research Room may fill out the online application.
Individual Research Room Policies:
Procedures for Requesting an Individual Research Room Who is eligible? CMU faculty and doctoral students may request an IRR.
Individuals will be assigned an IRR for one semester only. Renewals are not permitted.
Application period for the upcoming semester:

October 1 through November 30 for spring semester
February 1 through March 31 for summer semester
June 1 through July 31 for fall semester
The application form is available online.
Rooms will be assigned in order of request date and time by patron type as follows:

Doctoral students registered for dissertation credits and faculty on sabbatical leave the semester the room is requested.
Regular faculty
Fixed-term faculty
Emeritus faculty Doctoral student - all programs; registered for courses semester room is requested
All applicants will be notified of a decision by email.
After the application period concludes and rooms are assigned, any rooms unassigned at the beginning of the semester will be available for assignment to doctoral students in any program who are registered for dissertation credits or doctoral courses.
You will receive the key for your Individual Research Room for the semester from CMU Libraries Business Services located in the Dean's Suite on the 4th floor of the Park Library. CMU ID cards are required to obtain your key.
Accepting the key indicates you agree to abide by the library's research room policies.

Policies Governing the Use of Individual Research Rooms
Individuals will be assigned an IRR for one semester only. Renewals are not permitted.
Approved uses of the individual research rooms include:

Scholarly research and writing.
Using the library's print and online collections for research purposes.
Individual research rooms are not to be used:

As an office.
As a study room.
First-time use of your key requires filling out an Individual Research Room Key Receipt form.
The key will be given only to the person to whom the research room is assigned.
Individual Research Rooms must be vacated 15 minutes before the library closes.
If the key is lost or not returned there will be a $50.00 replacement charge and a non-refundable $15.00 processing fee.
Rooms are available only during hours the library is open.
The door should be locked when leaving the room.
Personal furniture is not allowed and additional library furniture is not to be moved into the room nor should furniture be removed.
Posters and other items should not be affixed to research room walls or windows.
This area follows the Library Food and Beverage Policy.
All library material must be checked out. Material that cannot be checked out, such as reference books, journals, etc. cannot be kept in the room.
Library staff will check research rooms periodically. Material not checked out will be removed and returned to the shelves.
All individuals assigned an Individual Research Room are expected to follow all Park Library policies.
Rooms are meant to be used for individual research.​
The Library is not responsible for any lost or stolen items.
Last Updated: 8/5/20
Room Features:
Each room comes furnished with a:
Desk
Chair

Bookshelf

Wastebasket