About the Griffin Endowed Chair
The Robert and Marjorie Griffin Endowed Chair in American Government was established through private donations to honor three decades of service by two of CMU's esteemed graduates — former U.S. Congressman, U.S. Senator and Michigan Supreme Court Justice Robert P. Griffin (1923-2015) and his wife, Marjorie Anderson Griffin (1922-2017).
Andrea LaFontaine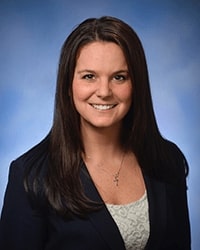 Robert and Marjorie Griffin Endowed Chair in American Government
Term Began: 2021
Central Michigan University​
Anspach Hall 202
Email Andrea LaFontaine

CMU alum named next Griffin Endowed Chair
Andrea LaFontaine will lead university's efforts to elevate political awareness and activity

Andrea LaFontaine, executive director of the Michigan Trails and Greenways Alliance, has been named Central Michigan University's next Griffin Endowed Chair in American Government. The Griffin Chair leads the university's efforts to elevate political awareness and activity among students, faculty and citizens.
As chair, LaFontaine will teach two university courses and host community forums on topics related to Michigan government and policies. She replaces David Rutledge, who has held the position since 2017.
LaFontaine has a strong connection to CMU. She completed a bachelor's degree in political science in 2009 and a Master of Public Administration degree in 2011. In 2014, she was recognized as a CMU 10 Within 10 recipient. She also was a student in courses taught by past Griffin Chair Bill Ballenger.
"I remember his class sparking a deeper interest, understanding and awareness for the political and legislative process in Michigan," LaFontaine said. "I also have a deep admiration for the Griffin family. The Griffin name is synonymous with integrity, and it is an honor to serve in a role associated with Senator Griffin's legacy."
LaFontaine spent much of the past decade working in the state Legislature, starting as an intern, then as a staffer and eventually as an elected official. She was elected to the state House of Representatives in 2010 and served three consecutive terms representing constituents in Macomb and St. Clair counties.
After leaving office in 2016 due to term limits, she worked for the Michigan Department of Natural Resources and in 2020 became executive director of the Michigan Trails and Greenways Alliance. She also has served as an election inspector and a parks and recreation commissioner.
"All of these experiences have shaped and continue to shape my perception and understanding of our democratic process," LaFontaine said.
Established in 2000, the Griffin Endowed Chair honors CMU alumni Sen. Robert P. Griffin, who graduated in 1947, and Marjorie Griffin, who graduated in 1944. LaFontaine is the seventh person to hold the position.
Responsibilities of the Griffin Endowed Chair
Teach an undergraduate course
The course will focus on current U.S. government policy issues affecting Michigan. It will give students firsthand exposure to complex political issues and feature guest speakers from government and industry.
Conduct a series of political forums
The forums will be of relevance to Michigan, culminating with an annual symposium on Michigan politics. Key experts from government, business, academia and elsewhere will be invited to participate in the forums.
Supervise development of a Michigan political journal
The journal will cover current and historical issues in Michigan government. The journal will encourage dissemination of political research to Michigan lawmakers, government and opinion leaders, and it will feature articles by professional political researchers and others.
Oversee collection of Michigan political material
The collection will include research, data, campaign memorabilia and much more. These materials will supplement the Clarke Historical Library holdings, which already include 410 boxes of Griffin's U.S. government papers. The long-term goal calls for establishment of a center for Michigan politics, which will serve as a central source for scholarly and public research.
Past Griffin Endowed Chairs
David Rutledge, Chair from 2017-2021
Gary Randall, Chair from 2013-2017
Maxine Berman, Chair from 2009-2013
U.S. Senator Gary Peters, Chair from 2007-2008
William S. Ballenger, Chair from 2003-2007
Craig Ruff, First Griffin Endowed Chair from 2000-2003
About Robert and Marjorie Griffin
The Griffin endowment is named to recognize the significant public service contributions of distinguished CMU alumni Robert P. Griffin, former U.S. senator, and his wife, Marjorie, former Clarke Historical Library board member.
Robert P. Griffin
The Honorable Robert P. Griffin (1923-2015) served 22 years in the U.S. Congress. He was elected to the U.S. House of Representatives in 1956 and was appointed to the U.S. Senate in 1966 following the death of Senator Patrick McNamara. He was elected later the same year and reelected in 1972, serving through 1978. He was the Republican minority whip from 1969-1977.
After his Senate terms, Griffin continued his public service on various boards while practicing law privately until 1986 when he was elected to an eight-year term as associate justice of the Michigan Supreme Court.
After graduating from Dearborn's Fordson High School, Griffin began his Central Michigan studies in 1941. His education was interrupted in 1943 by World War II. He earned two battle stars while serving with the 71st Infantry Division of the U.S. Army in the European Theater, returned to Central Michigan in 1946 and graduated in 1947 with a bachelor of science degree. He married Marjorie Jean Anderson the same year.
Griffin earned his juris doctor degree from University of Michigan in 1950 and later was awarded 11 honorary degrees, including a doctor of laws (LL.D.) degree from CMU. He donated his U.S. Congressional papers to Clarke Historical Library at Central Michigan University after he left the Senate.
Senator Griffin died April 17, 2015, at the age of 91. Read Sen. Griffin's obituary
Marjorie Anderson Griffin
The valedictorian of Ludington High School, Marjorie Anderson Griffin (1922-2017) attended Central State Teacher's College to become a teacher, graduating in 1944 — once again as valedictorian of her class. She was very active as a Central college student, serving as president of the Association of Women Students and as the first chairman of the Central's Victory Loan Fund for returning veterans.
Griffin taught two years in Greenville, Michigan, before returning to Central Michigan as a faculty member in Park Library. She later served a decade as a member of the Board of Governors of the Clarke Historical Library.
Mrs. Griffin died on February 1, 2017, at the age of 94. Read Marjorie Griffin's obituary