College of Medicine Dean's Welcome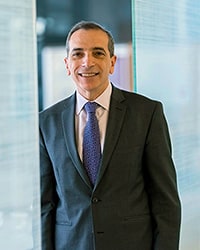 The faculty and staff of Central Michigan University's (CMU) College of Medicine are focused on our mission to educate future generations of well-trained physicians, developing new solutions from innovative research, improving access to high-quality health care and forging strategic partnerships to build thriving communities and better lives for all people in Michigan.

The College has made impressive progress since our founding ten years ago.
Our M.D. and Residency programs attract high-caliber applicants – and CMU graduates are successful and positively impacting in our region, state and beyond.

We have achieved accreditation for every aspect of our organization – and our community-based inclusive approach enables coalition building, broad engagement, bold goals and entirely new positive outcomes.
The College has established early research efforts in basic sciences, and we are focused on growth with an emphasis on public health and clinical issues relevant to our region and state.
We collaborate with a strong network of education and clinical affiliates including our primary partner Covenant HealthCare, Ascension St. Mary's Hospital, Aleda E. Lutz VA Medical Center, Great Lakes Bay Health Centers, HealthSource Saginaw – and three regional campuses across the state with Ascension St. John's Hospital, MyMichigan Health and Corewell Health Southwest Michigan (Lakeland).
Our health care system – CMU Health – supports clinical education and adds value to shared efforts to train new physicians while providing compassionate patient-centered care. With our partners, we are transforming health care in the Great Lakes Bay Region, producing new physicians for Michigan, growing health care capacity and caring for medically underserved populations.
If you are a prospective medical student, we support your journey and encourage you to join us in our mission.
If you are a prospective resident, consider CMU and our local communities as your first choice.
If you are a community leader and want to partner with us, let's connect.
Together, we can make a difference in health care, community outcomes, the region's economy, and for the students and residents we educate and train.
George E. Kikano, M.D.
Vice President for Health Affairs, Central Michigan University
Dean, Central Michigan University College of Medicine