Student Research
Research is an important mission of the CMU College of Medicine. As a growing medical school, our research programs are still evolving, but encompass basic, translational, clinical and public health service areas of research. Our faculty, MD students and graduate students work with state-of-the-art technology and the latest techniques to tackle the world's most pressing medical issues and find sustainable solutions based on research. We are pursuing projects that will contribute to groundbreaking discoveries in medicine while training medical students in proper research methodology. Their work includes understanding and finding better treatments for a variety of common chronic illnesses that affect many people within Central and Northern Michigan.
College of Medicine Research Symposium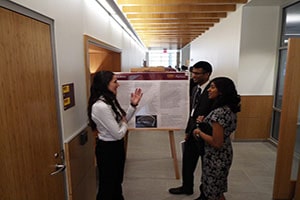 The College of Medicine and Central Michigan University - Medical Education Partners hosts an annual spring symposium in the Saginaw Education Building. This is an opportunity for our faculty, residents, and students to gain valuable experience presenting their research in a local venue. Abstracts are judged and winning abstracts are given oral presentations. The best posters and the best oral presentations win awards. The symposium attracts nearly 100 abstract submissions and it is a great time for sharing our enthusiasm and celebrating our research accomplishments.
Student Research Forum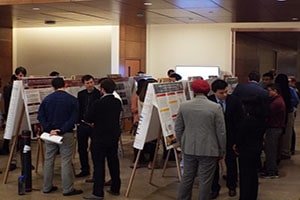 The College of Medicine sponsors an annual medical student research forum held at the Medical School on a Saturday in the spring. This forum provides an opportunity for medical students to submit an abstract and present their research accomplishments to the medical school faculty, staff and other students. While all medical students are eligible to present, the forum tends to attract our first and second year students. The submitted abstracts are judged and the top six are invited to give an oral presentation, while the others prepare poster presentations. The best poster and oral presentations are judged and awards are given. The forum attracts more than 30 abstracts.

Summer Research Scholars Program
The College of Medicine supports a Summer Research Scholars Program. The program is targeted to first year students interested in a summer research experience between their first and second year of education. Interested students identify a faculty mentor and write a short research proposal that is competitively reviewed. Student authors of the top 10 - 12 proposals become College of Medicine Summer Scholars and each receives a $3,000 stipend to complete the described research with their mentor in the summer. Summer scholars are subsequently expected to present their research at the following College of Medicine/CMU Medical Education Partners spring symposium.

Student Research Opportunities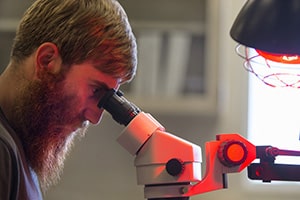 We offer extensive opportunities for MD program and graduate students to gain real-world, hands-on medical research experience. Students are encouraged to work with faculty members and academic advisors to match interests with opportunities on an individual basis. The College of Medicine collaborates with Central Michigan University's
Office of Research and Graduate Studies (ORGS)
.
Together, we foster the highest quality research, scholarly and creative activities, teaching and service for medical research and graduate studies.