College of Medicine Education
Explore our MD and residency programs, which are dedicated to improving access to quality health care in underserved communities.
MD program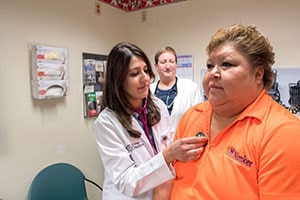 Our
MD Program
trains new physicians with a focus on improving access to high quality health care in rural and medically underserved areas in Michigan. Our students benefit from an innovative, holistic approach to learning, where traditional coursework is enriched by hands-on training through simulation labs, clinical rotations and community-based assignments.
Our
residency programs
are committed to serving the underserved and addressing Michigan's public health concerns. With the Saginaw-area's large and varied patient population, as well as our partnerships with the primary referral hospitals for patients from mid- and northeastern Michigan, the breadth of patient experience here is unmatched.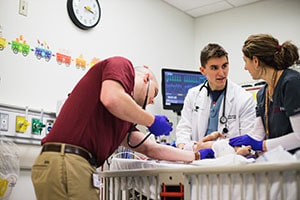 The Institute for
Medical Simulation
maintains facilities in Mount Pleasant and Saginaw, Michigan. The Institute is accredited, staffed by experts, and offers the most advanced technology including virtual reality simulation, high-fidelity manikins, clinical skills training, robotic surgery training, standardized patient, and highly specialized scenarios. Our nationally recognized staff and state-of-the-art facilities support medical education and training for medical and health professions students, resident doctors, area physicians and nurses, and emergency medical services professionals.
Continuing Medical Education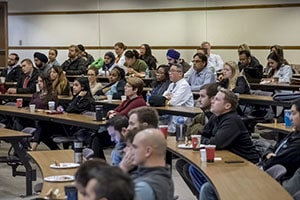 CMU College of Medicine is an accredited provider of
continuing medical education
for physicians, nurses, and members of the interprofessional healthcare team. Here they benefit from education and training on evidence-based medical knowledge, patient care and procedural skills, practice-based learning and improvement, inter-personal and communication skills, professionalism, systems-based practice, and values and ethics. CME plays an important role to improve clinician knowledge, competence, professional performance and ultimately patient care and health outcomes for all populations. The College delivers education that is relevant to clinicians' needs, evidence-based, evaluated for its effectiveness and independent of commercial influence.
Education highlights
MD-MBA dual degree
The MD-MBA dual degree builds knowledge of effective business management and administrative practices critical for physicians to function effectively in today's changing health care environment.
Comprehensive Community Clerkship
The CCC is a clinical program that immerses students in a single medical practice to experience health care within a community.
Research
​Research is an important mission of the CMU College of Medicine. As a newly developing medical school, our research programs are still evolving, but encompass basic, translational, clinical and public health service areas of research.