Campus Locations
Mt. Pleasant Campus
For Mt. Pleasant campus parking guidelines, please visit the Parking Services website.
CMU College of Medicine Main Building
1280 East Campus Drive
Mount Pleasant, MI 48859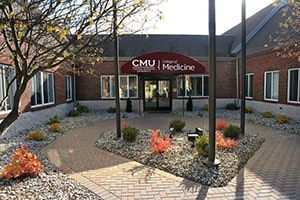 CMU College of Medicine
South Building
2520 S. University Park Drive, Building D
Mount Pleasant, MI 48858
Saginaw Campus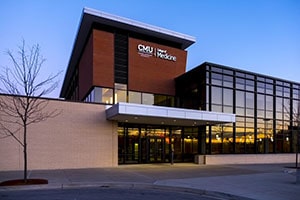 CMU College of Medicine
Saginaw Education Building
1632 Stone Street
Saginaw, MI 48602
Office of the Dean
Phone: 989-774-7570
Admissions
Phone: 989-774-7882
Email: cmedadmit@cmich.edu
Faculty
Refer to the faculty and directory for a listing of departments and personnel in the CMU College of Medicine.
Medical or patient concerns
Visit cmuhealth.org to find our clinical locations and services.
Locations
The CMU College of Medicine has two main administrative office locations in Mount Pleasant, MI and an education building located on the campus of Covenant Healthcare, in Saginaw, MI.