Medical Simulation
The ultimate goal of all medical simulation is to improve patient care and patient outcomes.
The Institute for Medical Simulation maintains facilities in Mount Pleasant and Saginaw, Michigan. Both facilities are accredited, staffed by experts, and offer the most advanced technology including virtual reality simulation, high-fidelity manikins, clinical skills training, robotic surgery training, standardized patient and highly specialized scenarios.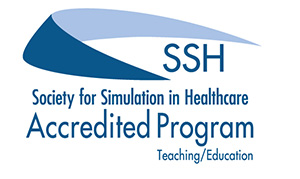 Through the use of the latest medical simulation technologies we enhance knowledge acquisition, skill proficiency and crisis management expertise for the diverse educational programs with the CMU College of Medicine for educating MD students and training resident physicians.
We offer a variety of medical simulation services for licensed healthcare professionals and emergency medical services technicians throughout the Great Lakes Bay Region. The lab is equipped with virtual operating room, obstetrics, intensive care unit, emergency department and pediatric environments for training in a variety of situations.
Our simulation curriculum is created and customized based on program objectives and the skill level of participants.
Director's message
The CMU College of Medicine Institute for Medical Simulation includes the Covenant HealthCare Medical Simulation Center in Saginaw, Michigan as well as our facilities on the university's campus in Mount Pleasant, Michigan.
When people read my title on my lab coat or scrubs, I am often asked: "What is medical simulation?" Simply, medical simulation is creating an artificial system, or simulation, to mimic a real-life clinical situation, for medical training and development.
The ultimate goal of all medical simulation is to improve patient care and patient outcomes.
Medical simulation ranges from the very simple to the very complex. We have a host of "task trainers" that can help learners develop their dexterity and manual skills, from a simple blood draw to highly technical medical procedures. We often utilize actors, known as standardized patients, to act in the role of a patient, to develop learner skills in history taking and physical examination. Our most sophisticated simulations create complex medical scenarios that allow learners to develop their effectiveness in teamwork, communication, and medical care in emotionally charged situations.
Many people, simply from watching television or movies, are most familiar with what we call our high-fidelity simulators. These life-size manikins can perspire, bleed, cough, and talk. They have eyes that react to light, realistic heart and lung sounds, and pulses, for example. Some can even deliver babies! Our most sophisticated simulators now enter the realm of virtual reality, where our learners can perform complete surgical procedures in a virtual world. Put on the virtual reality goggles and you can now be in a fully staffed operating room, even if you are alone in the lab room.
We work in conjunction with our partnering hospitals, Covenant HealthCare and Ascension St. Mary's Hospital, to train our CMU medical students and our physician residents in training. However, our "mission" also includes the training of staff physicians, nurses, medical assistants, local paramedics, air transport teams and other health care professionals. We travel "beyond our walls" to offer training in other regional medical centers. We have even developed a full curriculum for premedical college students pursuing careers in healthcare.
So, what can our Simulation Center do for you?
We are always exploring new opportunities to serve our neighbors and our healthcare providers with simulation-based education to create a community with the best medical care possible. Please feel free to call our Center with any questions, or to schedule a tour of our facility. We love to show off our outstanding laboratory and to share ideas of how to best utilize it in making patient care better.
Robert A. Sasso, MD, FACOG
Director of Medical Simulation
Mission
Our primary mission is to provide outstanding undergraduate and graduate medical education, through the platform of medical simulation in all of its domains, in order to develop highly skilled, highly competent, compassionate physicians.
We plan to be a principal local and regional resource for all medically related professionals to hone and maintain their skills and competencies, and to provide new and timely education in the rapidly expanding healthcare field.
We shall provide community access to important medical information and basic medical skills through the platform of simulation education.

Vision
We envision to be an emblematic center of excellence for medical simulation education and to create an ever-improving training environment in which to assist in the creation of a safe, skilled, accessible and caring medical community.
Excellence in medical education