Saginaw Medical Library
​​​​​​​​​​​​​​​​​​​​​​​​​​​​​​​​​​​​​​​​​​​​​​​​​​​​Patrons must have a CMU Health Library Card to borrow materials from the library, as well as obtain access to a majority of the subscription resources on the Knowledge Services website. If you do not have one,
here's how to obtain a library card.
Monthly Feature: ClinicalKey Clinical Overview - Immunizations in Adults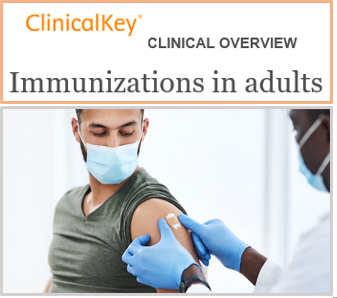 Key Points:
Immunization against infectious diseases involves using artificial means to induce, enhance, or provide immune protection from disease.
Immunization is an essential part of routine health maintenance and an integral component of global public health policy.
At the initial visit, review immunization history and assess need for catch-up vaccines; at every interim examination, assess need for boosters or new vaccines based on age, interval change (eg, development of a comorbidity), or development of a contraindication Click here to read ClinicalKey, Clinical Overview of Immunizations in Adults.