High-fidelity Patient Simulators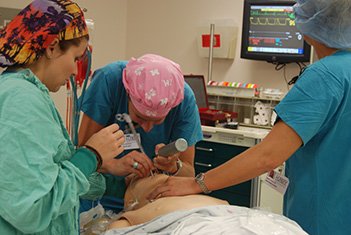 Covenant HealthCare Simulation Center is equipped with seven mid and high-fidelity human patient simulators, including two pediatric and two maternal birthing simulators. Starting with desired learner outcomes, our faculty and staff develop life-like simulation scenarios and program our simulators to create a rich learning environment.
Training sessions are recorded with our digital AV server, and recordings are subsequently used during learner debriefings.
Laerdal
Laerdal SimMan 3G
Laerdal SimMan 3G Trauma
Laerdal SimMom
Laerdal SimNewB
Laerdal SimJr
Laerdal SimMan ALS