Dean's Biography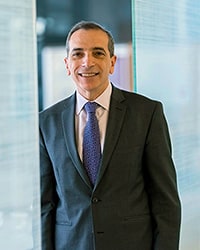 Dr. George E. Kikano, M.D. became dean of the Central Michigan University College of Medicine in July 2015, and vice president for health affairs in August 2018. He also serves as chairman of the board of CMU Medical Education Partners and is a CMU professor of medicine.

Kikano is passionately committed to teaching, community partnerships, access to care and the College of Medicine's mission―to prepare diverse, culturally competent physicians to provide comprehensive health care to medically underserved people and regions. His vision and approach to community-based medical education have advanced CMU's innovative and integrated model of medical education.

As vice president for health affairs, Kikano is responsible for the unification of all CMU health-related programs, functions and clinical services. His role also includes aspects of regulatory compliance, reporting, quality, information security, and privacy.
Prior Experience

Before joining CMU, Kikano was the Dorothy Jones Weatherhead professor at Case Western Reserve University. He served as the chair of the Department of Family Medicine and Community Health at University Hospitals and Case Western Reserve University for more than 12 years. Under his leadership, the Department of Family Medicine and Community Health was recognized as one of the best departments of Family Medicine in the nation. Kikano also served as the vice dean for community health at CWRU and is the founding director of the Weatherhead Institute for Family Medicine and Community Health. Kikano's extensive background includes several other leadership positions and executive experience with managed care, hospital management and ambulatory operations.
Professional Credentials
Kikano received his bachelor's of science and doctor of medicine degrees from the American University of Beirut in Lebanon.

He completed his residency in family medicine at the University Hospitals of Cleveland. He is board-certified in family medicine and earned certified physician executive credentials at the American Association for Physician Leaders, formerly the American College of Physician Executives.
Community Innovator
As a committed leader for Michigan and the region, Kikano works to drive progress on health issues and collaborative efforts across educational institutions, area corporations, community organizations, and state agencies. This includes serving as the vice-chair of the board of directors for the Michigan Health Improvement Alliance and a board member for the Great Lakes Bay Regional Alliance. He is also active in regional health economic development and THRIVE initiatives and leads CMU's Interdisciplinary Center for Community Health and Wellness.
Practicing Physician
In addition to his leadership role at CMU, Kikano is a family physician for CMU Health in Mount Pleasant, and he continues to care for patients at the Cleveland Clinic. Since 2002, he has been recognized as one of the Best Doctors in America and spent more than 13 years on Cleveland Magazine's and Live Magazine's Area's Top Docs in Northern Ohio.
Achievements
Among his many honors, Kikano received the Charles L. Hudson, M.D. Distinguished Service Award from the Academy of Medicine of Cleveland and Northern Ohio. He is a fellow of The American College of Physician Executives. He received the Kenneth Reeb, M.D. Award for Excellence in Teaching and the Directors Award for Outstanding Achievement by University Hospitals of Cleveland Ohio. He was recognized as a Health Care Hero by Crain's Cleveland Business.

Kikano served as a board member, president or chair for numerous areas, regional and national and international organizations. He has published more than 50 medical articles in peer-reviewed journals and has been an investigator on several federal grants focusing on education and research. Kikano also has been involved in international projects related to primary care and sponsored educational conferences in Lebanon, coordinated exchange programs in Ukraine, and most recently taught and established major research initiatives in China.