Dean's Biography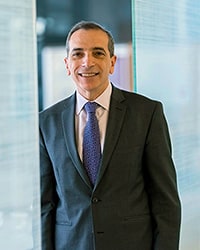 Dr. George Kikano is the vice president for health affairs and dean of the College of Medicine at Central Michigan University, a Division I, doctoral-research institution of higher education located in Mount Pleasant, Michigan. He began his tenure at CMU in 2015, first as the dean, and in 2018, receiving the additional appointment of vice president for health affairs. He is also the chair of the board for CMU Medical Education Partners, CMU's sponsoring organization for graduate medical programs and an academic practice plan. Prior to CMU, Kikano served Case Western Reserve University and University Hospitals in a range of senior leadership roles in academia and health systems management. Kikano continues to practice family medicine at both the Cleveland Clinic and CMU Health.

Recognized for his strategic vision and mission-driven approach to community medicine, Kikano drives progress through collaborative efforts at the local, regional and national level. Kikano currently holds national, elected leadership positions on the American Association for Medical Colleges Council of Deans and the Educational Commission for Foreign Medical Graduates and Foundation for Advancement of International Medical Education and Research.
Kikano also serves as the vice chair of the board of directors for the Michigan Health Improvement Alliance and a board member for the Great Lakes Bay Regional Alliance. He is active in regional health economic development and initiatives and leads CMU's Interdisciplinary Center for Community Health and Wellness.
A record of success

During his time at CMU, Kikano led the accreditation process of a new college of medicine and established long-term affiliation agreements with hospitals and clinics to enhance the program's stability. The institution continues to attract record numbers of student applications, significantly grow the research enterprise and holds a historic match rate of 98%. Under Kikano's leadership, the number of sponsored residency programs doubled, and the CMU Health practice plan significantly expanded. The college's success is evident in the fulfillment of the mission—to educate diverse students and train culturally competent physicians to provide comprehensive health care and services to underserved populations in Michigan and beyond. CMU Health is proud to count several graduates of the CMU College of Medicine and residency programs among its ranks.
Beginning in 2020, Kikano led CMU's response to the COVID-19 pandemic, effectively creating an environment where students, both undergraduate and graduate, could safely and successfully continue their education, and faculty and staff could continue to effectively teach and serve students in the healthiest conditions possible. At the same time, Kikano championed meaningful research and access to care, including telehealth instruction, for the local and regional community.
Prior to his work at CMU, Kikano was chair of the Family Medicine and Community Health department at Case Western Reserve University and University Hospitals of Cleveland for 17 years. Responsible for complex clinical operations, the education of medical students and residents, and a large research portfolio, Kikano built a nationally recognized academic department within a highly complex health care system. During this time, Kikano was successful in engaging regional partners and donors to implement several community programs addressing critical health care needs for underserved populations, including care for seniors in their homes. A tireless advocate for improving community health, Kikano also served as a medical director of UH homecare services, UH Connect (a concierge program for friends and volunteers of the health care system), director of medical management for St. Michael's Hospital and chief medical officer for the UH Managed Care Service Organization.
Honors and awards
Among his many honors, Kikano received the Charles L. Hudson, M.D. Distinguished Service Award from the Academy of Medicine of Cleveland and Northern Ohio. He is a fellow of The American College of Physician Executives. He received the Kenneth Reeb, M.D. Award for Excellence in Teaching and the Directors Award for Outstanding Achievement by University Hospitals of Cleveland Ohio. He was recognized as a Health Care Hero by Crain's Cleveland Business.
Kikano is a past president of The Academy of Medicine of Cleveland and Northern Ohio, an organization representing more than 5,000 physicians. He has been elected to the boards of directors for numerous regional and international organizations. He also has been involved in international projects related to primary care and sponsored educational conferences in Lebanon, coordinated exchange programs in Ukraine, and most recently taught and established major research initiatives in China.
Kikano has published more than 50 medical articles in peer-reviewed journals and has been an investigator on several federal grants focusing on education and research.
Professional credentials
Kikano received his Bachelor of Science in biology and Doctor of Medicine from the American University of Beirut in Lebanon.
He completed his residency in family medicine at University Hospitals of Cleveland. He is board-certified in family medicine and earned certified physician executive credentials from the American Association for Physician Leaders, formerly the American College of Physician Executives.