Dean's Ambassadors
The Dean's Ambassadors program engages a distinct group of student leaders in activities representing the college. Ambassadors play a central role in admissions, student affairs, outreach, development, and dean's events throughout the calendar year.
Dean's Ambassadors serve the college in a variety of capacities: as college tour guides, hosts for special guests, volunteers at college events and community functions, participants in admissions activities and interview days, and more. Members showcase the excellence of the college to the community and are models of professionalism, hospitality, character and College of Medicine pride.
Students are selected through a competitive application and interview process. After selection, ambassadors have opportunities to take part in training in areas such as leadership, professional development, university organization, diversity and inclusion, and other areas.
Benefits
Dean's Ambassadors have unique opportunities to network with important university constituents and enhance their professional skills. Ambassadors gain invaluable real-world experiences and build their resumes while representing the Central Michigan University College of Medicine. Workshop and development events for ambassadors are scheduled throughout the academic year. Dean's Ambassadors also receive an official polo, blazer, name tag, certificate of appreciation and letter of commendation from the dean at the conclusion of their service.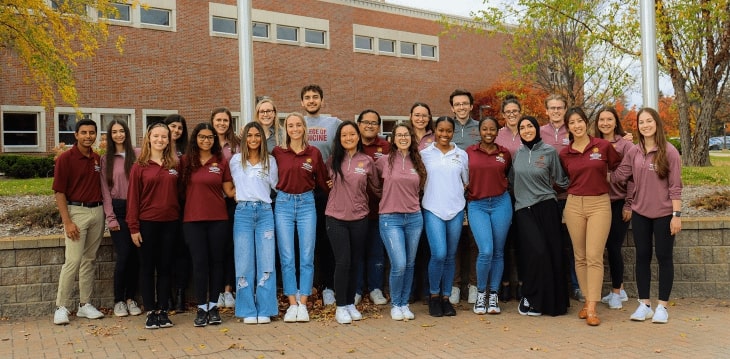 Time commitment
Ambassadors should expect to invest significant time in the program. Though there is no minimum amount of participation required, ambassadors will be asked to participate in frequent College of Medicine events throughout the year.
For more information contact:
Get involved
Dean's Ambassadors are a select group of College of Medicine student leaders who represent the college. Current students can apply for the upcoming year in the spring. New M1 students will receive information about the Dean's Ambassadors over the summer and can apply during orientation week.

Process
Complete an application. Your application will include a personal statement of approximately 300 words expressing your interest in the Dean's Ambassadors Program. This statement should include the reasons you believe your background and experiences make you a good fit for participation.
Submit two (2) complete reference forms. References should be individuals who know you in a professional or academic context.
Interview. Select candidates will be invited to interview for a place in the program.
Application materials
Dean's Ambassadors Application

Request a Dean's Ambassador
Dean's Ambassadors can assist with college, university and community functions. To request the participation of one or more of the Dean's Ambassadors, please contact College of Medicine Admissions at cmedadmit@cmich.edu.