Emergency Medical Services Fellowship
Emergency Medical Services Fellowship | CMU College of Medicine
Excellence in emergency care
The Emergency Medical Services (EMS) Fellowship is the path to becoming an EMS physician and expert in pre-hospital emergency medical care. Operated jointly by the Central Michigan University (CMU) College of Medicine EMS Fellowship and the Saginaw-Tuscola Medical Control Authority (STMCA), the synergy created by the two organizations gives Fellows a range of opportunities and experiences in emergency medical systems.

This one-year program immerses Fellows in the day-to-day operations of a high-performance EMS system that spans urban, suburban, and rural areas. Upon completion, the Fellow will have a practical and academic understanding of EMS.
Become a well-rounded EMS physician

The College's unique program and approach embraces a decentralized and distributed model which places Fellows in on-scene, clinical field response scenarios. In addition to field experience, Fellows gain experience in management roles, and learn about the operational and business aspects of a state-of-the-art advanced life support agency.
Rigorous training and extensive clinical care opportunities

Fellows provide on-scene and direct medical oversight. They work closely with the EMS Fellowship Program Director and have unrestricted access to all EMS events occurring within the system. This includes the following opportunities:

Participation in system quality assurance initiatives involving dispatch triage, on-scene treatment, and protocol development

Special operations opportunities: tactical EMS, dive team, disaster medicine, air medical, county Emergency Operations Center (EOC)

Conferences and educational activities: National Association of EMS Medical Director course, continuing medical education stipend (for primary board review, review materials, or other educational activities)
Application process
During the 2022-2023 application cycle, we will not be accepting applications at this time.
Applications to the EMS Fellowship will consist of:

A brief, one page letter of interest.

Current curriculum vitae.

3 letters of recommendation from:


The applicant's residency director

The applicant's faculty member responsible for EMS activities

A physician at large

The above documents will be submitted to the EMS Fellowship program director. The program director will then review the materials and decide if the applicant will be granted an interview.
Application requirements
Completion of an ACGME accredited residency program.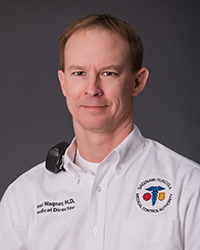 Noel Wagner, MD
Fellowship Program Director